There's no doubt that when the economy enters a recession, hotels have to work extra hard to win business. The COVID pandemic has brought this to a whole new level. With the global hotel sector on its knees, no hotelier has the luxury of waiting for business to bounce back. Now is the time to get creative and innovative, focusing on new initiatives to drive your market share in this new reality.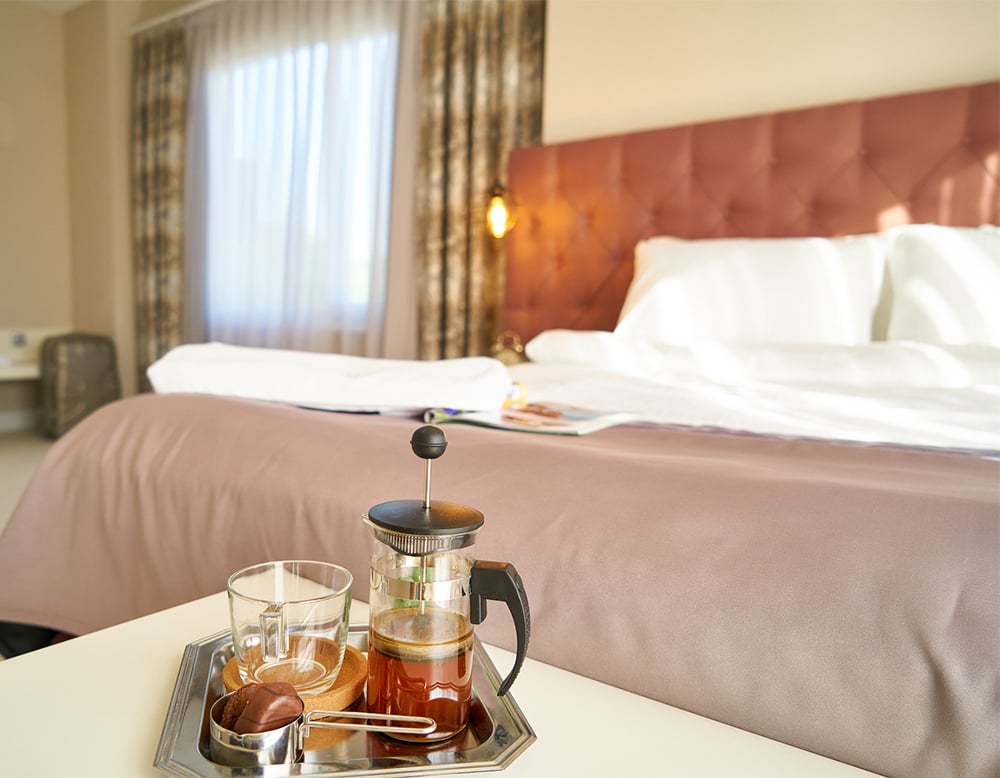 Let's start by assessing the market forces. For the coming 12 months at least, international travel will continue to be massively hampered. Whether you're a business hotel or leisure resort, you're going to have to reframe your marketing message and aim towards a new target market — your local and regional travellers. This is where the idea of a luxury staycation comes in.
Put your hotelier perspective on hold for a minute and think about the perspective of that local traveller you're marketing towards. They've been stuck at home for the last 10 weeks, struggling to balance work life with personal life, learning to operate through Zoom and Teams just like the rest of us. What's their pain point and what do they need that you can give them?
The answer is clear - they need a break. The solution to your problem of low occupancy can align beautifully with the solution to their need for an escape - it comes together in the form of a luxury staycation.
4 ways to position yourself as the ideal location for their staycation
1. Give them what they can't have
Even as economies reemerge from the COVID lockdown, we're all aware that we're not going back 'normal' anytime soon. One of the biggest things that's been missing from our lives is the dining experience. Even where restaurants have re-opened, the atmosphere is very different from what it used to be. The idea of having a temperature gun put to your head before entering a restaurant is off putting to a lot of people.
Why not turn your hotel suites into a private dining enclave? This can be a great added bonus to a staycation because it's not just offering people an escape from home, but it's offering them that intimate dining experience that they so miss. One hotel in Sweden has utilized this concept to great success, and it can be incorporated into your staycation concept.
2. Care for your guests
2020 will go down as a year that few will ever forget, and quarantine has taken a toll on us all. More than ever, people want to feel like you care about their mental health and emotional wellbeing. Consider building wellness activities, however small, into your offerings. For instance, offering complimentary yoga mats or access to guided meditations. Upgrading your book collection, offering guests access to wellness themed books - these could be chosen via email prior to arrival and be fully sanitised and waiting in the guest's suite upon arrival. Consider expanding your movie collection to include comforting family favorites. Or adding cocktail making utensils and ingredients, along with recipe cards, so people can have fun making their own drinks in the comfort and safety of their own room.
3. Luxury amenities
Place focus on those elements that symbolise 'luxury vacation' in the minds eye of your guest. When creating your staycation package, look to include a bottle of champagne, an upgrade to a suite, maybe a cooking class. Make it a generous and enticing package. This will give you things you can push through your social media channels to raise awareness and get people talking. Remember, people are sold by what gives them an emotional reaction. While the square footage of your room is nice to know, the idea of them being able to take a bath in their suite, sipping champagne and eating chocolate covered strawberries will probably do a lot more for making sales than showcasing the thread counts for your sheets.
4. An element of fantasy
The idea of a staycation is to get away from day-to-day life. You need to sell your guests on the fact that they can achieve this without traveling to a faraway place. To do this, you'll need to create that sense of escape within the grounds of your own hotel. Consider creating a weekly or monthly event schedule focused on movies, music, wellness, meditation, entertainment that will run for the duration of this pandemic. As long as there is COVID, your hotel will be going the extra mile to keep guests happy and provide a mini escape from reality.
The upside of a revolving themed idea like this is that it can be pitched to gain media attention and to ensure your guests feel like they're getting access to a limited-time special offer.
Summary
Since the arrival of COVID-19, people across the globe have been under more stress than ever. This means that staycations are more important than ever - they're one of the few opportunities for people to get away and recuperate.
Hotels are having challenges on many fronts, but the idea of a staycation is one promising avenue where you can support people by doing what you do best: taking care of them. If approached correctly, you can deliver excellent customer satisfaction and create guests for life, while also driving revenue in such a challenging environment.
About the Author
Colin Hannan runs a global hotel and real estate consultancy called Proven Partners. They provide bespoke services such as real estate development, hotel financial planning, hotel marketing and concept design all focused on helping luxury hotels and resorts drive more bookings and sales. Follow him on Linkedin or read the Proven Partners Blog for more insights into the luxury hotel and real estate industry.