For hoteliers, a positive review on TripAdvisor is golden. But because the travel giant has a number of stringent rules in place that guide guest feedback, sometimes these positive reviews never see the light of day …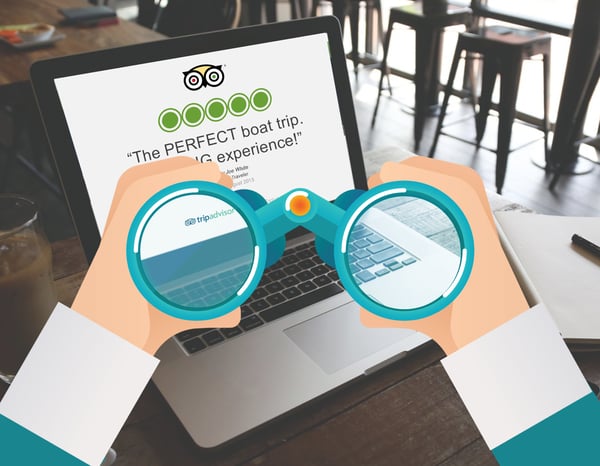 Some restrictions are obvious, like using profanity or giving out personal information, while others are more obscure and could see a potentially wonderful review being deleted – leaving the guest confused and the hotel owner frustrated.
Whether you're using an application like GuestRevu's questionnaire form (which allows guests to conveniently post reviews straight to TripAdvisor after their stay), or have your own in-house feedback process, it's useful to outline what an acceptable review constitutes.
While there is little that you can do as the hotelier once a review is submitted to TripAdvisor – it's up to your the reviewer to query it – we've collected and summarised all of TripAdvisor's review guidelines below to give you a better idea of what they filter for:
The obvious
Don't write fraudulent reviews
TripAdvisor dedicates a lot of time and resources towards ensuring that good reviews are not written by anyone affiliated with the hotel, or writers paid to dish out favourable feedback, and uses sophisticated fraud detection processes to catch fake reviews.
Keep it family-friendly
TripAdvisor does not accept any profanity, personal attacks, hate speech, threats or anything similar. The same goes for reviews that seek to solicit illegal activity or contain graphic descriptions of death and injury. Only first-hand reports of death and criminal activity will be considered on an individual basis after assessing the facts.
Reviews must be relevant to travellers
It goes without saying that others read TripAdvisor reviews to gain a better understanding of a particular establishment, so content must be relevant to travellers. It's not a platform to air opinions on the latest Donald Trump debate, or ask for a nice chicken ala king recipe. Questions posed directly to hotel owners will also be removed. TripAdvisor has specific forums for that.
The same goes for photographs – these must remain relevant to the review of the property, and duplicate photos are not permitted.
Respect private information
Don't include email addresses, passwords, personal telephone numbers, financial information or anything similar. Names are accepted, but TripAdvisor will remove surnames upon request.
Reviews must be non-commercial
Any commercial or promotional content, no matter how sneakily placed within the review, will be deleted. Again, TripAdvisor is a forum that provides advice to fellow travellers, it is not meant to be used to advertise a service or business. Reviews with links to external websites are also banned.
Keep content original
Plagiarism is not accepted, nor is using extensive quotes from external sources. TripAdvisor wants only individual traveller's best, genuine advice.
The not-so-obvious
Reviews must be recent
To keep content fresh and accurate, reviews must be written within a year of visiting a particular establishment, and TripAdvisor also stipulates that only one review may be written per hotel experience. Additional reviews per experience can only be submitted three months after the last review was published.
Don't use slang or HTML
Reviews that use unnecessary abbreviations, an unrecognised alphabet or are hard to read in general are deleted. The same goes for slang words, HTML tags and excessive use of ALL CAPS. Reviews must be helpful and a pleasure to read.
Reviews must offer first-hand accounts
No second-hand information or rumours are permitted. Even if you have a friend who had an incredible time at a particular hotel and you want to recommend it to others with the best intentions, people still want to hear it from the horse's mouth, so to speak. Only first-hand reviews are accepted.
Correct listing on TripAdvisor
The review must correlate directly with the exact property it refers to. If a guest writes about one particular hotel and accidentally tags another within the review process, it won't be published. The same applies if he or she wanted to write about the hotel's restaurant and tags the hotel itself.
The review never appeared – what now?
Keep in mind that it's up to the guest to query why a review hasn't been published, even if you know there's nothing wrong with it. You can still help them ensure they've written about the correct property if your hotel has more than one, and that they received the 'thank-you' confirmation email.