While bringing in website traffic certainly is one of Google's most important functions, it's not the only way hoteliers can leverage success from the search giant.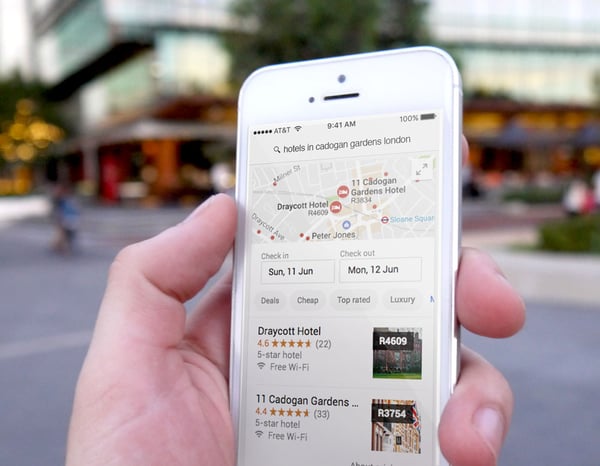 Google offers a variety of different services that can help hotel marketers expand their reach, increase online visibility, and ultimately improve their business – and better yet, they're easy to implement and most won't cost you a cent.
Below, we take a look at some simple and effective ways hoteliers can boost their brand with Google.
#1: Get listed on Google My Business
Google My Business (previously known as Google Places) is a must-have, free-to-use platform for hoteliers. It combines Google Search, Maps and Google Plus (also known as Google+) to help your hotel connect with potential guests by making it much easier for them to find you in an online search.

Ever notice the big blocks of information that appear in your search results or on the right-hand side of your screen when you do a Google search? These are called Knowledge Graph Cards and they are Google's way of highlighting relevant, context-specific information regarding your search.

For example, people will very often use a blanket search term like 'hotels in London' when using Google, rather than searching for a specific hotel directly. And it goes without saying that when they do, you want to be among the hotels listed on the Google Maps and Google+ entries in the search feed – especially if the search is made in the nearby vicinity of your hotel.
A comprehensive Google My Business listing will ensure that:
Your hotel will be pushed much higher up Google's search rankings
You're able to make the booking process far easier for potential guests by uploading photos, videos, GPS coordinates, phone numbers and more
Reviews are also pulled through to your unique information feed displayed on the Map entry, or to the right of the search results page (also known as a Knowledge Graph or Card) - and if they're positive, people will be more compelled to make a booking
Your listing will be linked to your Google Analytics page so you can monitor your traffic and popular page hits
It's free to use, mobile friendly and allows you to upload multiple locations if you have more than one property in a city.

When a user is searching for hotels via Google maps, having your Knowledge Graph Card full of rich information could make deciding to book with you that much easier.
Simply visit Google My Business and follow the prompts to get the ball rolling. Managing multiple properties can get a little confusing, but luckily you can follow Google's handy guide to simplify the process – check it out here.
#2: Update your Google+ pages
Google+ is Google's very own social network that allows you to connect with other users who have the same interests and ideas. While the success of Google+ is often debated, its impact on your SEO, and the fact that it's connected to your other Google features, makes it something worth paying attention to.
What you need to know:
Your Google+ page data forms part of your Google My Business listing, so make sure your information is up-to-date. It will add even more value to the Knowledge Graphs displayed in Google's search listings
Google+ pages are good for your SEO (or organic search rankings)
Guests can submit reviews that users will see when searching your hotel or seeing your hotel featured in a knowledge graph
Remember: any information or posts you publish on your Google+ page will feature in Google's search results so make sure it's fresh and unique
After creating your Google My Business account in the point mentioned above, Google will automatically create a Google+ page for you. If you haven't done so already, make sure you add text and images to your profile.
This is where it can get a little confusing. If you already had a Google+ page, adding a profile to Google My Business will create a duplicate Google+ account (which you don't necessarily want). So to avoid that, if you already have a Google+ profile for your hotel, make sure you've connected it via your Google My Business dashboard.
TIP: Visit the Google+ homepage and do a search for your hotel to make sure there is only one listing. Duplicated listings could result in the wrong information being pulled through to the search results.
You can go a step further by using your Google+ account to create networks among guests to foster loyalty, attract and recruit people passionate about your brand, and keep abreast of happenings in your area by networking with nearby attractions.
#3: Give your guests a visual tour with Google Street View
Google's popular Street View functionality isn't restricted to, well, the street. Marketers looking for a new approach can give potential guests an engaging online tour of the hotel's interior by using this innovative platform, also called Business View. With a collection of high-quality images, you'll be able to put together a beautiful 3D showcase of your hotel for curious online viewers, and inspire greater confidence among potential guests.
According to a study done by TripAdvisor, good quality photos not only drive higher user engagement but are also a key component to the decision making process: compared to hotels without photos, hotels with at least one photo saw a 138% increase in travel engagement. If this is the impact an image can have, immersing your guest within a virtual tour could make booking at your hotel an even easier decision.

The DoubleTree Club by Hilton Hotel Orange County Airport gives users a great interactive tour of their hotel
It can offer an innovative, fresh way for your hotel to market itself. And remember, first impressions mean everything.
Google highly recommends hiring a professional to film the 360-degree tour. While this isn't a free service, the lasting benefits in the long run will be worth the money spent now. Click here to find out more.
#4: Get even more traffic with Google Hotel Ads
If you want to take your Google search listings to the next level, consider using Google Hotel Ads. Google Hotel Ads can be used by OTAs or hotels themselves to make sure that their stock and prices are also listed across Google's different platforms (searches, Maps, Google destinations, etc.).
Having a Hotel Ads account will also open the door to Google's new Book on Google functionality. This feature will allow travellers to make a direct booking without leaving the main search results page. If you have a Hotel Ads campaign running, adding the 'Book' button is essentially a free service provided by Google.
What you need to know:
To get started, you need to work through a 'Hotel Ads Integration Partner' (find one here). These are the guys who will give Google your hotel rates, availability information and manage your campaign.
You can choose a PPC (pay per click) or commission based model
#5: Understanding Google's new event search feature
Google is constantly looking for ways to improve the mobile user experience. As part of that quest, the search giant has been busying itself with a new event search feature that, much like point one mentioned above, will allow mobile users to enter a blanket search term like 'events near me', and return search results most relevant to their geographic location.
What you need to know:
Google has partnered with a growing number event websites like Ticketmaster, Bandsintown, Eventful, Meetup, Yext, Vividseats, EventBrite, Seatgeek and a few more, to drive their search results.
All you need to do to make sure you hotel's events are displayed is sign up to one of these partners.
At the moment, it looks like this feature is being predominantly rolled out in the US, but keep an eye out for updates going forward.
As you can see, Google is far more than a simple traffic generator. The search giant is quickly becoming a 'one-stop-shop' for all things travel related, and if used properly, can help you increase your online footprint and attract more business.