The battle for bookings is nothing new — properties have been vying for coveted direct bookings and rebelling against the commissions charged by online travel agencies (OTAs) practically since they arrived on the scene. But the battlefield is shifting thanks to the introduction of Google Hotels.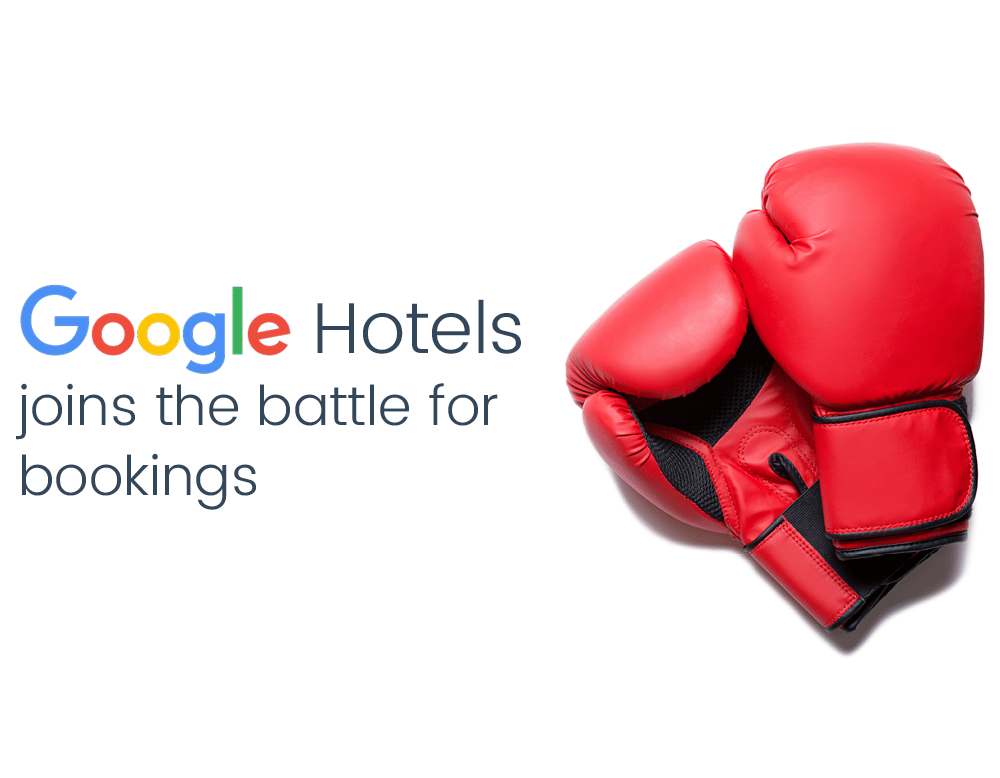 What is Google Hotels?
Following the success of Google Flights, the search engine giant quietly launched a brand new feature to its ever-expanding repertoire in March 2019, helping users to find the perfect property for their next trip.
Picture the scene: a traveller is planning a getaway for business or leisure, and naturally their first stop is Google. They type in something simple, perhaps "Hotels in London", and what will they see? Beyond the Google Ad for the most popular OTAs, they will find what looks much like a booking platform: a list of available properties along with their prices, ratings, reviews and features on the left, and a view of the area ala Google Maps on the right sporting pins with pricing for every available property in the area. Click on a property on the left, or a pin on the right, and you'll see a more detailed overview - photographs, reviews, a location summary, a link to the property's website, and pricing from a range of sources including OTAs, and the property itself if it has made its pricing available.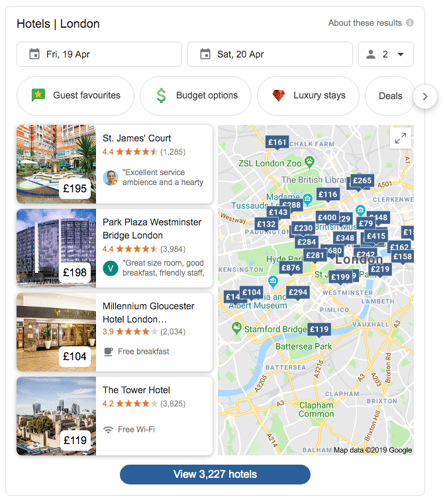 This is Google Hotels, the latest feature for the oracle of online information, which provides users with a quick and easily navigated breakdown of accommodation providers in the area that they are looking at, including the latest deals, filters to help travellers find precisely the features that the want and need, and even the option to book their stay directly from the platform.
This is the perfect opportunity for travellers since, as Gilbert Ott of God Save The Points puts it, "I love searching for hotels on 15 different websites just to get an idea of the best prices and places to stay, said no one ever." But what impact does this new feature have on the tug-o-war that is the battle for bookings? Does it give an advantage to OTAs? To properties themselves? Or is it a new contender entirely, positioning itself as a new challenge for both sides to overcome?
Ding, ding — Let the battle begin
Round One: Where do properties sit when it comes to Google Hotels?
At first glance, it would seem that Google Hotels is a great opportunity for properties to encourage travellers to book with them directly. The overview that Google Hotels provides for each property may look much like a Google My Business page by linking to the property's own website, displaying their photographs and highlighting their latest reviews, but it also gives accommodation providers the opportunity to list their own pricing alongside that of OTAs, and offers them more control over where and how their guests are able to book with them.
As Raini Hamdi of Skift points out: "Providing users the option to "visit our website" and also to phone the hotel directly via mobile or send a message... gives more ways for users to get in touch with hotels directly, bypassing the intermediaries which are listed further below."
Better still, properties that are already making use of Google Hotel Ads will receive a bigger bang for their buck, being displayed first within Google Hotels search results, and highlighted amongst "Deals", encouraging guests to book direct.
However, if you're not already advertising via Google Hotel Ads, adding your property's pricing to the platform is not as simple as making sure that your website is listed, or even as simple as setting up and keeping your Google My Business listing up to date.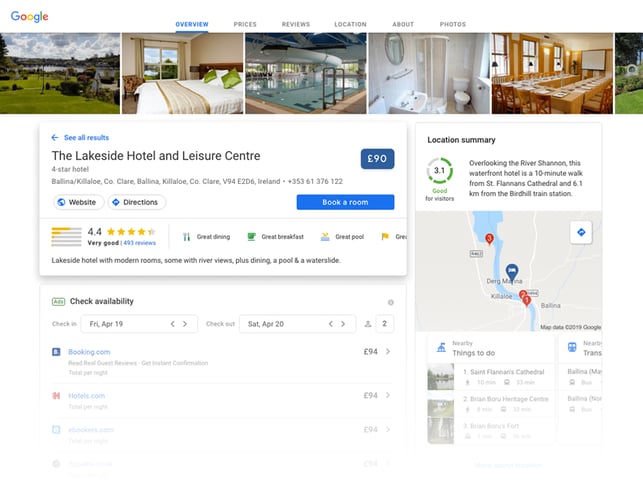 A glance at the documentation that Google has put together for making sure that your pricing reflects correctly (and is ready for Hotel Ads too), shows that getting your property set up on the platform is at least a four-step process, often requiring some technical expertise or assistance from one of Google's third-party integration partners.
This means that, from the get-go, getting yourself listed on the platform requires some financial outlay if you don't already have someone with technical experience on staff, which, for smaller properties, is often the case. Greg Sterling of Search Engine Land explains that, even with (and possibly as a result of) the introduction of Google Hotels, "it's getting much more challenging to be visible in organic results for hotel category searches... Accordingly, hospitality brands are now all but compelled to buy Hotel Ads to appear anywhere above the fold."
And it's not just the financial aspect that stops Google Hotels from being an ideal platform for direct bookings. Trish Leighton of Vizergy notes, "after browsing a few hotels, I noticed how difficult it was to get to the hotel website directly and how much effort was placed into directing clicks to the Hotel Ads."
Though properties are able to list their own pricing and have buttons that link to their websites, the opportunities for directing travellers to those websites are often lost amongst OTA and competitor listings, or amongst the other range of calls to action that the Google Hotels overviews offer to travellers, mitigating the direct booking benefits that it may have held for accommodation providers.
Round Two: What about OTAs' relationships with Google Hotels?
You would think that the opportunity to have your properties listed prominently on Google's latest feature, and continuing to get commissions when users choose to book through your platform would be seen as an overwhelmingly positive boon for OTAs, however the addition of Google Hotels is not all sunshine, roses and pockets full of cash for OTAs either.
OTAs certainly have the advantage over independent properties and smaller groups when it comes to having multiple properties listed, multiple opportunities for travellers to be booking through them on the new platform, and the benefit of their reviews being displayed prominently in overviews for each property.
However, the fact that users are able to book directly from Google's platform rather than being directed to OTA websites is expected to have a significant effect on the traffic and popularity of third-party booking sites, particularly when Google makes booking from one platform such a pleasure.
As Chetan Patel of Onyx Hospitality Group explained to Triptease shortly after the new platform had been released, "Google seems to be taking over the role OTAs have played in the guest journey so far, and are arguably doing a better job at it."
Does this mean that the battle for bookings is over? If so, who has won?
The introduction of Google Hotels has certainly disrupted the battle for bookings that has been underway for over two decades, but while it offers benefits to both properties and OTAs, it doesn't give either side an edge over the other. Rather, the two parties that benefit the most from the new platform are travellers, and Google itself.
More than anything, this latest innovation on Google's part goes to show that accommodation providers can benefit from working together with OTAs — ensuring that their property is listed with as many agencies as is feasible, and that listings are consistently kept up to date. That way, their property has more opportunities to stay top-of-mind for travellers, even if they are not inclined to book direct.
After all, as Skift's Dennis Schaal explained, when hints of Google's intentions were floating around back in October 2018, "when it comes to Google and its hotels redesign, few things are all or nothing. TripAdvisor can worry that Google now has more traveler photos and reviews, but some of them are from TripAdvisor. Hotel websites and phone numbers get featured, but clicking on a book button brings customers to an online travel agency site. In travel, it's never winner take all."