New research has shown that reviews are the third most important factor for guests when booking accommodation, after price and location. But the ways guests interact with online reviews is in more flux than ever, both reflecting and affecting the guest's booking journey.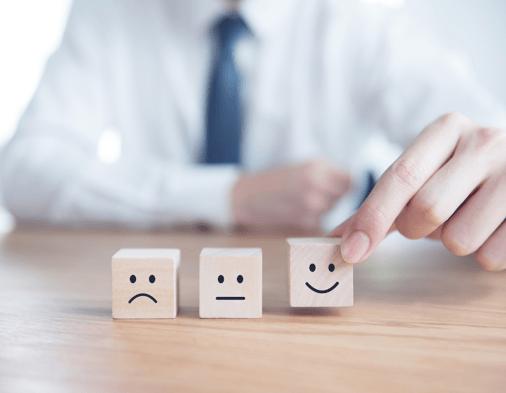 To keep ahead of your competitors and make sure your hotel is getting noticed by the right potential guests at the right time for the right reasons, you need to understand how guests are navigating the shifting landscape of online reviews.
Guests don't believe everything they read online – but they still read it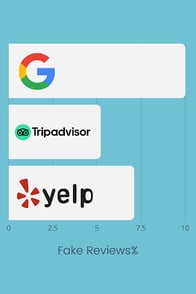 Guests are becoming increasingly aware of fake reviews. According to Uberall's recent study, "The State of Online Review Fraud", two thirds of consumers on Tripadvisor, Google, Yelp and Facebook are aware that they may be reading fake reviews. The study also suggests that fake reviews are present across platforms, with 10% of Google reviews, 7.1% of Yelp reviews and 5.2% of Tripadvisor reviews being found to be fraudulent.
The recent Review Transparency Report by Tripadvisor announced having taken down almost a million fictitious reviews last year, from profiles that appeared to be paid off to either give gleaming reviews that boosted reviews scores for properties, or pessimistic reviews that would discredit competition. Paid reviews are still an issue in hospitality, and Tripadvisor identified 65 new paid review sites in 2020 alone, while 34 605 properties were penalised for fraudulent activity, and 20 299 members were banned for failing to follow community standards.
Tripadvisor has been consistently working on solutions behind the scenes to refine how they keep fake reviews in check and continue protecting their customers, but of course, all of these platforms are community-driven, so reporting fake reviews when you notice them is important – whether they're about your property, or your competitor's.
Review sites have adapted to covid-era health and safety concerns
Tripadvisor also introduced their "Travel Safe" tool last June, to provide a platform for hospitality professionals to share their safety measures in line with the pandemic, from check-in protocols, to even sharing whether staff are fully vaccinated.
Inquisitive guests can use search filters on their end to find businesses that comply with those precautions, which reassures guests of their safety being the hotel's priority, and makes it easier to decide on where they go next. Tools like these give guests peace of mind where they may have otherwise been on the fence about the credibility of properties, because social proof does all the talking.
Guests are loyal to practicality, more than any particular review site
Travellers no longer feel obligated to stay loyal to prominent review sites, or continue seeing them as all-encompassing entities. Though guests do still value the social proof that comes from reviews, they are evolving, and prefer to keep their options open – until they come across sources with valuable information, that facilitate a seamless booking journey, and provide credible reviews.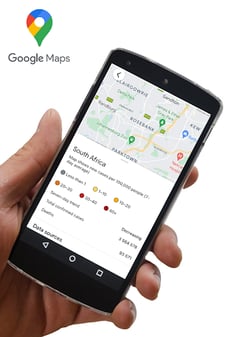 This is why we've seen Google emerge as a more popular choice for travellers recently, because of information, accessibility, and relevance. For example, a guest using Google Maps on their phone to navigate a new area, also has access to an additional "covid layer" now, which gives them information about how COVID-19 cases are trending in the area, and safety precautions at local businesses and other pandemic-related alerts. All of this adds more practicality to the technology already being used by guests on their travels, and it's for the benefit of guests who seek more updated information to ease their safety concerns as they plan ahead for when they're ready to travel.
In the past, many guests would look through one popular review site and feel it was enough to make an informed decision, without considering the chance of misinformation or fraud. Those days are gone, and hoteliers should make sure they have made every detail available, and easily accessible to their prospective guests.
Hotels need to have a presence on multiple review sites
The relationship between review sites and travellers is sensitive, because guests are always looking for convenient travel options that match their comfort in the hyper-digital world we find ourselves in today. Hoteliers need to stay abreast of the booking journey right from the start, and align with booking sources that are compatible with the needs of their guests, while protecting them from the influence of fake reviews.
Hoteliers need to stay visible online, and ensure that they are placing themselves in all the digital avenues that will optimise their online reputation, to all the intended audiences. The decline of Tripadvisor's monopoly on the online review market is evident in the rising volume of engagement on Google reviews and other reviews sites like Yelp, and this shift in review source preferences is also leaning towards more social media and digital marketing.
Hospitality professionals need to perform well consistently to gain honest and positive feedback from guests, which creates a strong online reputation for their brands from those social media check-ins and comments from satisfied guests. Referrals and NPS scores are also important to digitally inclined potential guests, who base most of their booking decisions on positive reviews from past guests, and sometimes travel influencers.
The hard thing about online reputation management is the consistency needed to perform well enough offline, to gain great feedback from guests online. Earning promoters, repeat bookings and referrals is a great way to spread your property's visibility and create a strong presence on multiple digital platforms, especially because guests like to open their options on the tools they use to search for their next stay.
Fake online reviews from guests can be detrimental to real-life reputations, maybe now more than ever, because people are making more conscious decisions about the brands they align with. It's vital that you keep up with where your guests spend their time looking for bookings, and make it as convenient as possible for them to find your property, and all there is to know about it.