It's getting harder for hotel marketers to show consumers who they can really trust online – most hotels now have well designed websites, decent booking packages, and even good reviews on reliable OTAs.
All of this comes at a time where domestic travel is on a steady rise, and competition is getting tougher for those who want to lead the staycation market right out the lockdown gates. Consumers are quite spoilt for choice, and choosing often comes down to authentic "user generated content" online, because, no matter how good your marketing team is, a business's own marketing messages often come across as exaggerated (at best) or spammy (at worst) from the audience's viewpoint.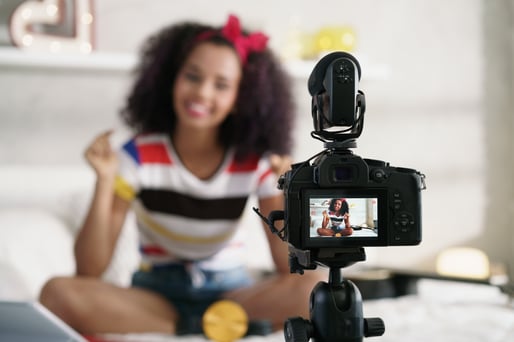 So, how can you ensure your hotel's staycation experience stands out from the rest online, in spite of likely not having much of a marketing budget to work with?
One intriguing option for staycation providers is incorporating a well laid out influencer marketing strategy, tailored to each hotel's recovery plan. We answer a few questions about influencer marketing for hotels, and why it may be more beneficial in the long term to focus on nano-influencers specifically.
What are Nano-influencers?
Nano-influencers are people with up to 10 000 followers, and they are who could bridge the gap organically between your hotel and its next guests. They work at a lower cost too, compared to macro-influencers with exponentially more followers, and brands are taking a closer look at them for their engagement growth potential with the right audiences. They present themselves as 'everyday people', and that's why, when they share content, audiences are likely to connect to the product or experience more; because someone they have an interest in what they do (but is not an out-of-touch celebrity) is advocating for everyday people to give it a try.
A great example of a nano-influencer is Courtney Todd. She's an estate agent by profession, and has a little over 3600 followers on Instagram who take an interest in the posts she shares about the perks of the (mostly domestic) hotels she visits, some of the food she enjoys on trips, travel giveaways and a few hidden gems of those locations. Her content and engagements are all organic, and it gathers anything from 40 comments to 400, depending on the content. Having that kind of interest and targeted engagement channeled through to your hotel is where you can gain more ground against other staycation providers, and you don't want to miss out if you have a nano-influencer near you that aligns with your brand.
Why work with a nano-influencer?
While macro-influencers can reach a million followers, they sometimes don't create rich interactions with the intended audiences. Their celebrity, while giving them massive reach, also means that they may appear to not fit the lifestyle of everyday people, which ultimately defeats the purpose of a campaign with that intent.
According to Later, nano-influencers boast the highest post engagement rates of all influencer types (4%), and in some cases it seems that the larger following an influencer has, the lower their engagement rate.
Consumers like to put a face they can trust to an experience or product they identify with, and nano-influencers do well at achieving that, along with creating content that generates genuine engagement that they can keep up with when they share those experiences on social media. This translates to more valuable interactions with your hotel brand, and converts to increased queries and bookings down the funnel.
Relatability is key when marketing staycations, especially while everyone has a similar amount of pent up travel interest, and would like to satisfy it with domestic trips they can go on alone, or with friends and family. Nano-influencers are likely to be more emotive in this regard and build stronger connections with guests. This is no discredit to macro-influencers; because ultimately the marketing value of either depends on the intent of each campaign.
How do I choose the right influencer?
Gather your big data, and use it to choose a nano-influencer that best aligns with your brand's values, target audience, and is most suited to building relationships through engaging with the audiences relevant to you. For example, you could collate all your guest feedback data, use it to find the key demographic markers such as age that can be used to segment your content and engagement strategies.
Avoid focussing too much on short term gains, as that often rushes the guest's booking journey, and then you miss out on conversions that may have developed over a little more time and engagement. Nano influencers are the right people to mitigate those odds, by simply aligning with the brands they share content for. You just need to make sure to choose someone you know will represent the segment you laid out.
How do I know my nano-influencer campaign is working?
There is no blanket approach to influencer marketing, and that is where most brands fall short. The journey should always be personal to the needs of each brand, and it begins when hoteliers ask themselves if they are aiming to use their content to prioritise raising awareness, or to generate higher-quality engagement levels with prospective guests. Pinpointing the right KPIs (Keyhole suggests a few in this great article) to measure the campaign's success will steer the campaign efforts in the right direction, and that translates to revenue gains for your property.
Nano-influencers are more precise when it comes to reaching more targeted audiences, compared to their more diversified counterparts with bigger followings. And apart from being the most affordable form of influencer marketing to improve engagement and increase website traffic, the biggest highlights that come with a marketing strategy that involves nano-influencers are social proof and optimising local SEO. Focusing on the potential of these two strong points can be a catalyst to your hotel's journey out of pandemic-induced stagnance.
Why do people trust nano-influencers?
In our e-Book with the hotelier's guide to social proof marketing, we speak about how social proof builds trust, validates buying decisions, adds credibility, and is easy to do. Nano influencers are arguably the best medium to bring your property's social proof to the forefront in the digital age, and even get your audience to engage, to the point of marketing your brand for you.
Quick stats on the changing media habits
According to

Forbes

, only 1% of millennials trust advertisers, while 33% of them trust blog reviews for their purchases.
An article by Big Commerce says 40% of social media users reported they purchased a product online after seeing it used by an influencer on YouTube, Instagram, or Twitter.
Increased usage across all messaging platforms has been biggest in the 18-34 age group. WhatsApp, Facebook and Instagram have all experienced a 40%+ increase in usage from under-35-year-olds, according to a study by

Kantar

.
Forbes reports

that Boomers are also 19% more likely to share content on Facebook than any other generation.
People are spending more time looking at screens than ever, and your online visibility can expand to meet all the groups you aim to attract with the right content, influencer(s) and engagements. Nano-influencers start conversations that lead your prospective guests through your booking journey, while also teaching you the ways in which your guests prefer to be spoken to; refining your messaging even further and helping to keep you up with trends and competitors.
How does influencer marketing help guests find me?
According to Search Engine Optimisation experts at Moz, the quality and authority of sites that link to you are among the top search engine ranking factors. The engagements created by influencers are an organic method to increase the chances of higher authority websites looking into your website and adding your links to their site. The digital age is one of reach, and having the help of influencers and their audiences engaging and sharing your brand improves the ranking you have on search engines in this way.
If your brand serves content that drives the experience of travelling not only to your property, but within the local community as well, that gains you more trust as a competent hospitality professional that puts the guests first, and as a credible source of information that search engines want to direct their users towards.
Working with influencers will organically boost your local SEO, increase your content reach, raise awareness and attract more of the audience you want to turn into guests. And at a time where domestic travel is likely to take off the most for the foreseeable future, one of the most strategic marketing tactics to work on for your local SEO to grow and attract is working with nano-influencers.
Banding together with local attractions contributes to the amount of content you have at your disposal, while increasing the chain of links back and forth between your brand and others you align with. Now is the time to give an influencer the opportunity to share those experiences you and your neighbours provide with their audiences. This has a special effect on your audience, and will position your hotel experience as a heightened part of a community experience, instead of a mere transaction or property.