Customer service has now extended beyond "the customer is always right" and providing a 5-star service, to also creating an opportunity for competitive advantage.
Providing an exceptional customer experience is a necessity and we as individuals have come to expect this to be part of the norm from the companies that provide the products and services we purchase. There are now more ways than ever to create exceptional experiences that excite your guests and positively impact your business.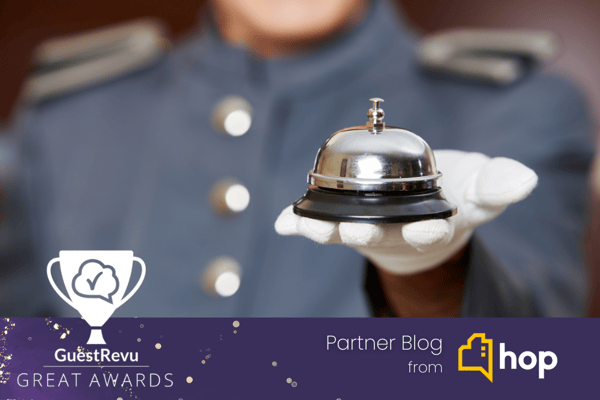 Where do you start to create this?
There are many different factors that can enhance your guest's experience, it's imperative that you know your audience and that your communication is clear and uses language relevant to the demographic you are targeting.
Creating an ideal guest persona is a perfect way to put yourself in the mind and shoes of your guest. By reviewing your guests' portfolios in your CRM and spending some time completing additional research you should have enough information to adequately answer questions such as: what are potential guests looking for when they want to book a room, and does my website easily provide this information? Is my "book direct" offer enough to make them book on my website, rather than through an Online Travel Agency? Does my website spark interest and keep users engaged?
Inside out
When it comes to guest experiences, the majority of businesses will look straight to their website to see if it's creating a great user journey. Whilst your website is your online shop window it's important to start inside your property. Look at how your business operates, and your team engages with your guests daily. What reviews are your guests leaving? Do you respond to each one, good and bad?
Learn more about bridging the gap between guest and management perceptions
What is the first thing that catches your guest's eye when they walk into your property? How long does it take for them to be greeted? How easy is it to navigate to reception? Consider using a mystery shopper or a friend to check this out for you.
While these may seem very basic, they can be the deciding factor as to whether your guests return, or go elsewhere in future. It should therefore give you an ideal starting point to the fundamental process of providing that exceptional guest experience, from start to finish.
Does your team receive any training on customer service? Is there a process they need to follow when dealing with complaints? Ensuring these are part of your internal policies will assist when dealing with guest complaints and deliver consistency across your team. Again, this is basic, but sometimes we are so focused on the bigger picture, we forget the basics and how important they are.
Another area of customer service that will often go overlooked is the follow-up, whether by telephone call or email. On many occasions when a guest is assisted with an issue that they raised at the property, they all too often never hear from anyone again.
A follow-up call or email is a great way to show your guests that you care. You are truly dedicated to making sure that they are either satisfied with the resolution, gain a testimonial on the amazing experience they had during their stay and provide a link to your review platform of choice. They won't forget that you took the time to reach out to them and you may even get a recommendation to their friends and family, or better still – a repeat booking!
Marketing
It takes effort and planning to produce a clear marketing strategy that will deliver results. These days it feels like consumers have the attention span of goldfish, so whatever marketing you do needs to deliver your message quickly, succinctly and with creativity. Whether by e-mail, print, social media, or elsewhere online, make sure your content is memorable and provides a reason for your guests to engage with it and not just view it!
If your completed market research determines that your guest demographic is environmentally conscious, then show them that your property is too. Demonstrate through your marketing and website that your property places a high importance on sustainability.
If your target audience is a mixture of many demographics, then ensure your communications are segmented, and target different audiences with tailored messages. Remember, one size does not fit all!
The objective is to bring all these experiences together to create a strong guest rapport with your brand, which then builds guest loyalty and encourages new and repeat bookings.
Websites and Social Media
It's a fact that your website and social media channels are one of the first places your potential guests will go, especially if they have already checked you out on one of the Online Travel Agencies (OTAs) such as booking.com. Not only are they seeing if they can get a better deal by going direct, but they also want to learn more about your property, see what's available and check out the reviews.
Are you taking advantage of this? One way is to ensure that your website is easy to navigate, and you have clear call-to-actions that resolve user intent, so that visitors can reach their final destination with ease (a good example is a prominent "Book Now" button). If your website is clunky and complicated this will provide potential guests with a bad user experience and they will book with one of your competitors.
Take a look at these website design tips to help you drive direct bookings
Your social media is the same. How often are you posting? Once a week, once a month? You need to be posting consistently, but posting content that creates engagement with your audience driving them to your website to ultimately book a stay with you. It should also encourage them to share your posts with friends and family. It's a fine line between delivering regular engaging content, and being considered too pushy, or even desperate. With this mind, be sure to vary your content between informative, entertaining, engaging and just a little selling! Resist the urge to post too often and remember that they may also be seeing your paid social ads in their feed.
Remember it's a team effort
Your whole team should be involved in creating magical and memorable experiences for your guests.
Ensure all of your staff are empowered to deliver exceptional service to your guests through every single interaction. Take the time to look at the complete guest journey and ensure that it fully immerses them in your brand so that they want to return, time after time.
Creating the experience, you want for your business.
Creating a competitive advantage doesn't have to be a massive task. With the right team and strategy behind you, this can be achieved with relative ease. Delivering an authentic, unforgettable guest experience from marketing, to booking to checkout and beyond, will ensure customer loyalty and give you that competitive advantage every time.
About Hop
Hop is a cloud-based property management solution for the hospitality industry, including independent hotels, hotel groups and self-catering accommodation and provides solutions globally, Hop offers a Channel Manager, commission FREE Booking Engine, Property Management tools such as a Housekeeping module, real-time Revenue Management, Event Management, CRM and many other hospitality service integrations such as Epos, Locks, TV's and Accounting Software.