While the wealthiest 5% of travellers might not be particularly numerous, their purchasing power means that it is well worth the effort for hoteliers at luxury hotels to try to entice them to visit.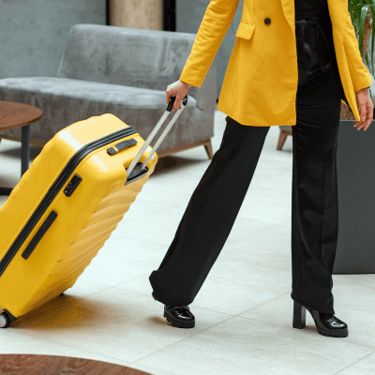 Although the luxury travel market is small, it is growing (luxury travel is expected to be worth around $195.27 billion by 2021, according to a recent report) and it is already disproportionately lucrative to its size. A recent study found that the wealthiest 5% of American travellers spend a total of $390 billion per year on leisure travel alone.
This affluent 5% also travel far more than average American traveller, taking about 14.3 trips per year (compared to around 4.8 trips taken by the average), and spending around $3,115 per person per vacation – again, much more than the average American holidaymaker.
So what are these luxury travellers looking for when booking a holiday and what can you do to entice them to book with you?
Focus on offering a unique experience
Wealthy travellers aren't just after photographs (like millennials who are beginning to enter the luxury market). Luxury travellers are after unique, memorable experiences. Among the most affluent 1% of American travellers, more than two thirds (69%) say that they regularly take part in "once-in-a-lifetime" activities while on holiday.
Luxury brands that have made offering such experiences part of their image are already reaping the rewards. Four Seasons, which has made unique experiences part of its brand narrative, is one of the top five brands with which the wealthiest 5% of travellers are most familiar.
What you can do
Content and sentiment analysis of reviews has shown that mentions of "experience" and "location" most often accompany high ratings, regardless of the tier of the hotel being reviewed, which shows that all hoteliers – not just those operating in the luxury arena – should be concentrating on creating unique and memorable experiences for guests.
Putting together packages for guests that focus on activities and experiences can help to entice wealthier travellers to book with you, especially if you offer these packages exclusively to people who book direct. If you don't offer in-house activities and experiences, you can strike mutually beneficial deals with activity providers in your area.
Even if you're not offering package deals, you should still leverage the experiences your area has to offer. Specialist hospitality marketing group, Proven Partners, suggest providing guests with a curated list of local restaurants, pubs and other activities in the form of an in-room lookbook, "instagrammable" printed map, or even an interactive online map.
Hoteliers can also strive to create an experience for potential guests online, using creative content and images to tell a story that allows potential guests to immerse themselves in the experience while they are still in the early stages of planning their travel.
Make sure that the website reflects the luxury you provide at your hotel – it is the first impression guests will have of your establishment, and the last impression they will have of what to expect before they set off on their trip.
Offer better value, not a better price
Money, on its own, doesn't matter to luxury consumers – if you can maintain value, as any luxury establishment should, you won't need to cut pricing. Research suggests that if you can maintain a good online reputation, you can actually increase prices without losing out on occupancy or market share.
Because they are looking for an experience, not a bed, luxury travellers are less likely to be enticed by lower prices. What they want is an experience that is worth what they are paying.
What you can do
If you find that price is coming up frequently as a point of contention for your guests, you are not providing an experience worthy of the luxury niche, and while you may be able to improve satisfaction by lowering your prices, your target market will no longer be the luxury consumer.
If you would like to maintain your "luxury" status, you need to improve your guest experience to make it worth the price, rather than lowering your price to match an inferior guest experience. This also applies for seasonal specials and deals – don't offer lower prices, offer better benefits.
When competing with OTAs and trying to encourage guests to book direct, luxury hoteliers should avoid touting a "better price" angle – rather offer even more exclusive and luxurious amenities (although you do, of course, want to keep tabs on you room rates to ensure that you are not charging more than an OTA).
Strive for individual attention and personalisation
The luxury traveller expects individual attention, especially if he or she is a repeat guest. Starwood Hotels, for example, assigns personal assistants to guests who stay with them for 100 nights a year or more, and guests at The Portrait Roma hotel in Rome are invited to make use of their "lifestyle team", who are on hand to personalise each guest's stay and help them to explore Rome. Don't think you need to offer a personal assistant to achieve a personalised experience, however; proving personalisation is becoming easier and easier with the right technology.
What you can do
Personalisation can and should start long before a guest arrives at your hotel, and it can begin before a traveller has even decided to book with you with targeted advertising and dynamic website content
What is a simpler way to start? Sending guests a pre-stay questionnaire when they confirm their bookings gives you the opportunity to ask them the questions you need to make their stays memorable. Not only can you ask them the basics (do they have any food allergies or physical special needs), but you can also ask whether they would prefer a mountain or a pool view, which floor they would like to stay on, and which brand of tea you should leave in their rooms. Getting to know key details about your guests before they arrive gives you the opportunity to make them feel even more valued when they check-in and discover everything they need is already prepared.
A post-stay questionnaire should be a given in any establishment, but this questionnaire needn't just be used to improve your offerings and guest experience – information collected in your post stay questionnaire can be added to a guests profile so that, as he or she stays with you more frequently, you can get a fuller picture of their likes and dislikes and make their holidays more specialised and memorable, and you can make your marketing correspondence with them more relevant to their interests.
When it comes to your website, modern content management systems allow you to create a website for your luxury hotel that customises which content is shown based on the user's physical location and browsing history of the site – it is even possible to set up your website so that it recognises past guests and greets them by name.
The ultimate appeal – reputation
Keeping in contact with past guests, asking for feedback, and taking this feedback seriously can also help you excel in one of the most important areas for luxury hotels looking to maintain and increase bookings – online reputation management.
As luxury travellers are looking for experiences, not just accommodation, it makes sense that they would seek out advice and opinions from travellers similar to themselves to verify that your hotel offers the experience it claims it does. Indeed, the study on the most affluent American travellers found that the wealthiest one percent "is more likely to be influenced by peer reviews than the average traveller."
So, when attempting to appeal to the most affluent, having a large collection of positive "social proof" in the form of reviews and social media posts from your target market's wealthy peers will stand you in particularly good stead – especially if you are diligent about sharing positive feedback with prospective guests on your own website, social media and other marketing channels.