It's been said over and over again: hospitality isn't just about providing a place to stay, it's about creating an experience. From the moment a prospective guest first sees your hotel brand while browsing Instagram for holiday ideas, to the fond reminiscences with travel companions years later, every part of the guest journey matters. But of course, at the centre of any hotel stay is the in-room experience.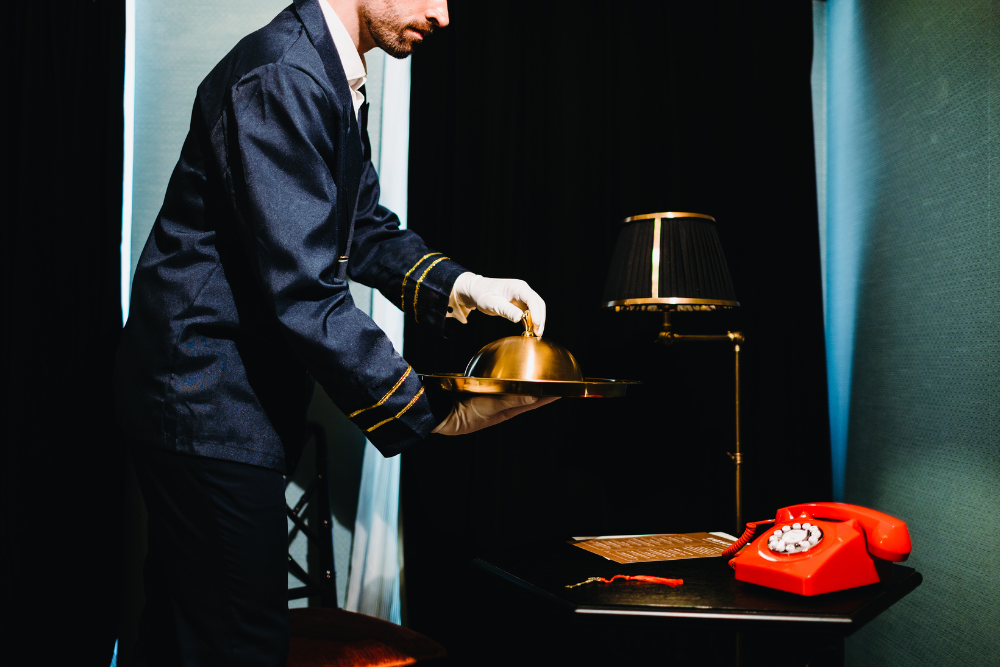 Frustratingly, though, the guest's in-room experience is often quite invisible to hoteliers – and rightly so. For the duration of a guest's stay, the room is theirs. It should be so clean they feel like the first person to ever have slept there, the housekeeping should be so discreet as to have been done by magic. Unlike asking a restaurant guest how their steak is, it's quite inadvisable for management to approach a guest reading in bed to ask if the lighting is sufficient.
Refining your guest's in-room experience doesn't have to be a guessing game, though. We spoke to the experts at SuitePad (the hospitality industry's leading in-room tablet solution for hotels) to get some of their top tips on ensuring your guests love every moment of their stays, especially when they're in their rooms.
Tips for enhancing in-room experience
1. Find out what your guests expect before, during and after their stay
When it comes to a great in-room experience, attention to detail is non-negotiable, but attention to personalised detail is even better. Each guest is unique and therefore enhancing their in-room experience needs to be done with the individual guest in mind and with a focus on personalised care.
While this is always easier said than done, using technology to help personalise your guest's journey can enhance the guest experience and streamline hotel operations. As a starting point to understanding what your guest may be expecting hoteliers can look into historical data. Personalisation data can be gathered from segmented guest feedback, and when analysed over time this feedback can indicate exactly what each guest segment is looking for. With the historical guest data, you can better understand what each guest may be looking for from their in-room experience. For example, a business traveller may be looking for a desk space, fast WIFI connection and room service, whereas a family may be looking for information about excursions, television channel options and extra bedding.
Going a step further to enhance your individual guests' stay would be to conduct a pre-stay survey, asking each guest directly if they have any preferences, such as types of pillows, and what items they would enjoy in the mini-bar, or if they have a room aspect preference. You can't delight a guest without knowing what each guest values. Using an intuitive and easy-to-use guest feedback system, such as GuestRevu can streamline this process for both the guest and the hotelier. Once you know what your guests are looking for from their in-room experience then it's easy to action it.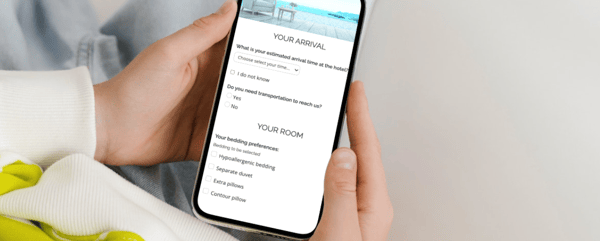 Finally, once the guest has arrived it is important to continue to attempt to enhance their experience by checking in with your guests and anticipating their needs. Moritz von Petersdorff-Campen, Founder & Managing Director at SuitePad recommends "regularly checking in on guests during their stay with an easy-to-use feedback system to ensure their needs are met promptly and they feel valued". This can be done by directly asking guests via an in-stay feedback tool, or by training staff to be attuned to each guest's 'unspoken needs'. This attention to detail can be the difference between happy guests and delighted guests.
Keeping in contact with guests in-room is also important to identify any minor issues, such as a dripping tap before they become a bad review at the end of the guest's stay.
2. USE IN-ROOM TECHNOLOGY FOR A MORE STREAMLINED GUEST EXPERIENCE
The modern guest, especially business travellers or those blending business and leisure (bleisure travellers) are looking for ways to streamline their lives using technology. Using technology to facilitate these extras that guests are expecting with their trip can enhance your guest's overall experience. Jelle Vandenbroucke, general manager at JW Marriott Houston Downtown told Hotel Management "Business travellers bring with them a certain set of set of expectations from a technology point of view, and that's not something that's going to go away—it's only going to increase."
There are a myriad of options available when it comes to in-room technology which can enhance a guest's stay or optimise the hotel's operations or both. From offering a clutter-free, multifunctional, in-room tablet that allows guests to control the television and make low-cost calls, to a digital concierge tablet that can harness the power of internet data to facilitate information sharing, bookings and upselling or having smart devices that control energy and water consumption, lighting and heating.
"Business travellers bring with them a certain set of set of expectations from a technology point of view, and that's not something that's going to go away—it's only going to increase."
- Jelle Vandenbroucke, GM, JW Marriott Houston Downtown
Sometimes the benefits of technology go beyond convenience for the guest or optimising the hotel's operations – they can create a fundamental difference in the way we travel, and experience our trip. For example, in-room technology can help to overcome the language barrier, guests can choose their smart tablet language and within minutes be more informed and more empowered with their understanding and communication with their surroundings and the hotel.
"Using SuitePad in-room tablets, guests can book a spa treatment, request an additional pillow, or order room service with just a few clicks," explains Moritz "making sure that the in-room experience satisfies their contemporary consumer habits and standards." Embracing such technology not only streamlines hotel operations, allowing staff to allocate their time more efficiently, but it also presents the guests with a personalised, intuitive service that caters to their preferences and optimises the hotel's upselling strategy.
3. Maximise touch points with your guests
"To enhance guest engagement you need to reach them where they are staying — in their hotel room," says Moritz. While it's true that guests don't typically travel to spend their days confined to their accommodation, the significance of the hotel room should not be underestimated. After all, it is the very essence of what they are investing in when they choose a particular hotel.
Interestingly, while the room experience is central to a guest's stay, it is something of an unknown area. Unlike other hotel spaces, staff can't physically observe how guests are experiencing their rooms or suites (thank goodness!), and generally, staff don't experience the rooms first-hand. However, in hospitality, ensuring a remarkable room experience is non-negotiable. The room sets the tone for the entire stay, and every detail matters - from the comfort of the bedding to the ease of controlling room amenities.
Understand how your guests experience your hotel
Implementing technology that enables push notifications in-room can allow hoteliers to communicate directly with guests in real time to ensure that they are satisfied with their rooms, addressing any issues. Moritz ads that "hoteliers can also inform guests about new hotel offers, services, and the latest events through personalised push notifications while the guest is still on their premises". Often having these real-time, push notifications can enhance the hotel's upselling endeavours while also enhancing convenience for the guest.
By maximising touch points within the guest's room, hotels create a dynamic, intuitive platform for engagement that resonates with today's tech-savvy traveller. The integration of technology in guests' rooms empowers hoteliers to ensure guest satisfaction which also presents opportunities for further engagement, upselling and ultimately guest delight. Having an easy-to-use device that makes communication immediate and simple can ensure that guests express both their wishes and grievances in real time, making it easy for the hotel staff to address and correct them and ultimately ward off any negative reviews.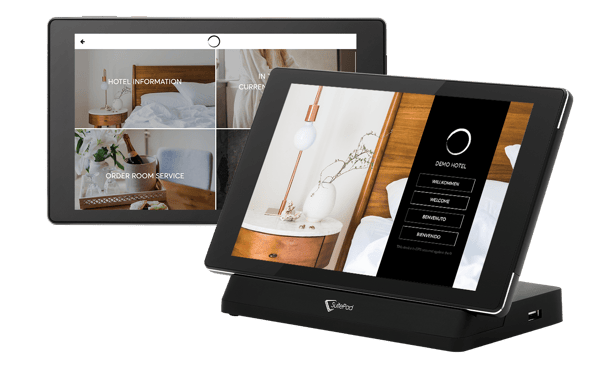 Hoteliers are able to communicate directly with guests throughout their stays, asking them pertinent questions as they become relevant. For example, many guests are acknowledging the impact of travel and our actions on the environment and because of this many travellers are looking for ways to go greener during their stay. Technology such as the SuitePad Green Option can allow guests to opt out of in-room cleaning or choose to reuse towels, making your guests feel in control of every aspect of their stay and the impact that their travels are having on the environment.
4. Create a Novel Experience
Lastly, one aspect of enhancing a guest's in-room experience that cannot be taught nor assisted by technology is to make the experience a unique one. This can mean different things to different hotels and especially to different target segments but any hotelier's focus should be on creating a unique experience for their guests, which they will remember, and talk about with their friends, family and even on social media.
Having unique in-room amenities or decor can make your hotel room stand out from the crowd and encourage repeat bookings. Having a novel experience can ensure that guests are blown away by their stay enough to write a review to share it. Amenities play a pivotal role in elevating a guest's stay. Beyond their intrinsic value, amenities can be a way to delight and surprise guests and can even become compelling selling points that can shape your hotel's marketing strategy.
You can read through our blog on weird and wonderful hotel amenities which includes musical instruments in every room at the Hard Rock Hotel. Or have a look at this blog by Travel & Leisure to see some truly unique in-room offers, including, for example, recycled paper and wildflower seed bookmarks from The Betsy.
In the increasingly competitive world of hospitality, the guest experience is at the heart of success, and it all centres around the room the guest calls their own for the duration of their stay. The guest's room becomes a private space, where comfort and convenience need to be seamlessly integrated. Employing technology as an ally, personalising services to cater to unique preferences, and maximising touch points for seamless communication are key strategies for crafting an exceptional in-room stay. Moreover, including a touch of novelty and uniqueness for each guest can leave a lasting impression and often result in an abundance of positive reviews.