Experiential travel is what the modern guest is after. Very often, to satisfy your clientele's wanderlust and exceed expectations, your hotel needs to provide not just a bed, or a room for the night, but an experience worth travelling and paying for.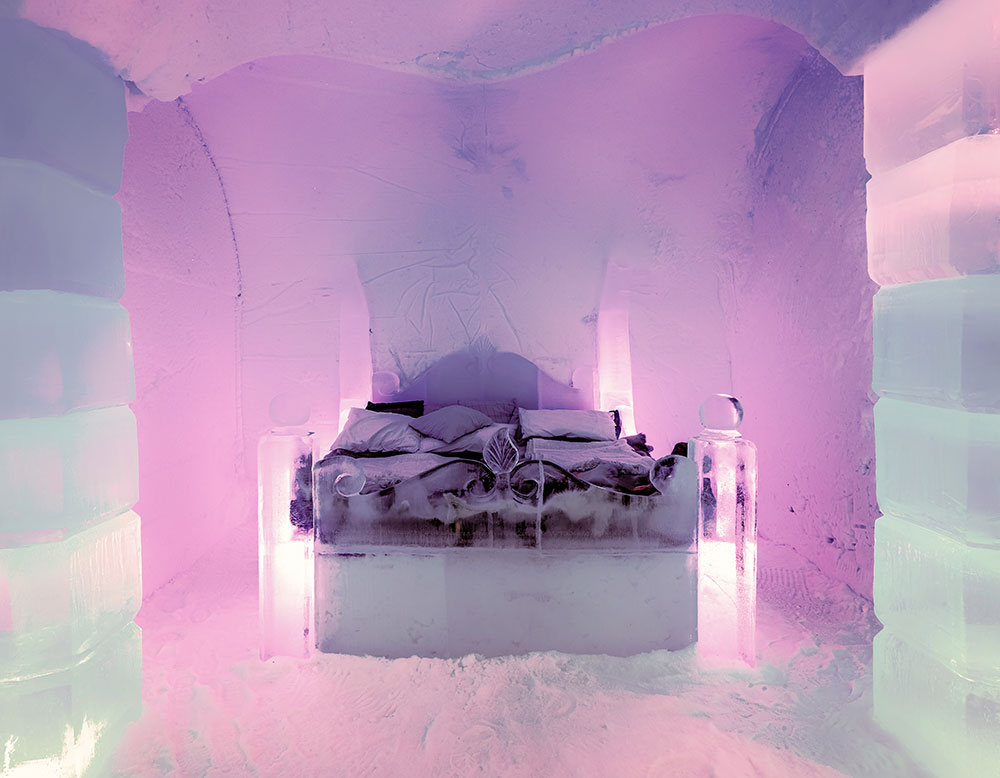 From -5ºc rooms to chalets perched on cliff faces, in this special festive season trend digest we take a look at some hotels that have taken guest experience to the extreme. Do these hotels go over the top, or could you learn something from them?
One of the best known and most well established hotels on this list is the Icehotel in Sweden. Situated 200 km north of the arctic circle, the hotel has been rebuilt from ice and snow every winter since 1989.
Despite growing demand for luxury elsewhere, at the Icehotel, the experience really is still all about the ice. Very few amenities are included in the "cold rooms", in which the hotel recommends guests only spend one night.




Toilets, showers and even storage for guests' belongings is located a few metres away from the famous ice rooms, but the guests don't need the add-ons. The artistry and effort that goes into creating the rooms is evident and permeates the experience.
"A hotel and art exhibition made of ice from the river Torne, each year reincarnated in a brand new design. A place to discover silence, northern lights, glistening snow clad forests, reindeer, cloudberries, kettle coffee and much more." – Icehotel
Ice is harvested from the Torne River, and the ice field is kept clear of snow to allow it to form in a way that makes it ideal for building the hotel. As summer ends, artists and sculptors from all over the world gather to create the hotel.




Guests sleep on beds of ice topped with reindeer skins, and can revel in the transient creation that surrounds them, which will return to the river as winter ends.
While pre-arranged limousine airport pickups fully stocked with champagne might be some guests' idea of an exceptional guest experience, Skylodge Adventure Suites requires that guest bring only what they can carry – 400 metres up a mountain.




If your guests are looking for experiential travel, it's hard to compete with with Skylodge. The transparent pods with their 300 degree views of Peru's Sacred Valley are suspended on a cliff face 1200 feet above the valley floor, and can only be reached either by hiking and ziplining, or mountain climbing.



A night in one of these sparsely furnished, eyrie-like hotel rooms isn't something guests soon forget, and not because of the service or the luxury (the pods don't even have showers). The whole experience, from leaving the valley floor to returning, is an adventure.
Visit the Skylodge Adventure Suites website >>
Tourists to the far northern tip of our earth often go out of their way to catch a glimpse of the fascinating aurora borealis, and the ingenious hoteliers at Kakslauttanen Arctic Resort have capitalised on this natural phenomenon and built an entire hotel experience around it.




Guests can stay in igloos made entirely of glass, through which they can gaze upon the northern lights as they drift off to sleep, or they can stay in traditional log cabins fitted with glass-domed main bedrooms.




Although the famous glass igloos are only open during aurora season (August to April), Kakslauttanen Arctic Resort offers guests an immersive Lappish experience year-round.



A variety of activities are offered depending on the season, such as reindeer or husky safaris, midnight sun chasing, aurora hunting and gold panning excursions. More than the activities though, creating an experience of accommodation is a specialty of the resort's, with other accommodation types including kelo pine log chalets, traditional snow igloos, an earth lodge with a turf roof, traditional house just short of a century old, and gold-digger's chalets.
Visit the Kakslauttanen Arctic Resort website >>
While unusual experiences trump decadence and luxury for some of the properties listed here, Ashford Castle embodies decadence fit for royalty — and can list monarchs (and movie stars) among its esteemed past clientele.


"Situated in a spectacular 350 acre estate, discover sumptuous rooms and suites, splendid interiors brimming with antique furniture, fine fabrics and unique features at every turn." – Ashford Castle


Guests at the 800 year old castle can try their hands at a variety of traditional country pursuits, including archery, falconry, clay pigeon shooting and horse riding, and luxurious accommodation completes the experience.
Visit the Ashford Castle website >>
While the entire Manta Resort is spectacular, what earns it a place alongside the other hotels with over the top experiences is its modestly named "underwater room".




The underwater room is actually a Swedish-engineered floating suit anchored amongst the coral just off the Pemba Island shore, which features a submerged bedroom, sea level living area, and elevated rooftop sun and stargazing deck.
"Coral has established itself on the anchoring lines and around the underwater structure. Octopus and even spanish dancers have been seen attaching themselves to the glass panes. The reef inhabitants can simply not resist attraction, which makes for exciting watching and a truly unique experience!" – Manta Resort
Meals are delivered to the isolated floating hotel room at pre arranged times, and otherwise guests are left to experience the sea and solitude at their leisure. The sea is the focus of this experience, and Manta Resort ensures guest can enjoy it fully, providing residents in the underwater room with snorkels and fins, and a kayak.




Visit the Manta Resort website >>
Each of these properties goes out of its way to create a one-of-a-kind, immersive guest experience, centred around what makes that property unique. While not all hoteliers can suspend their chalets on a cliff face or submerge a main bedroom in the ocean, you can focus on emphasising those aspects of your offering that guests enjoy the most, and ensure that your hotel gives guests not just a bed, but an experience.
Want to get more interesting insights into the hospitality industry? Click on the banner below to subscribe to our weekly or monthly emails, and get news about the latest trends delivered straight to your inbox.