In the battle against the gloomy impacts of COVID-19 on business, hospitality professionals are faced with the challenge of regaining guest confidence, and travel interest. Formerly a back-of-house function, housekeeping now has an additional guest-facing role, helping to inspire trust in your brand, and alleviate guest (and employee) covid anxieties.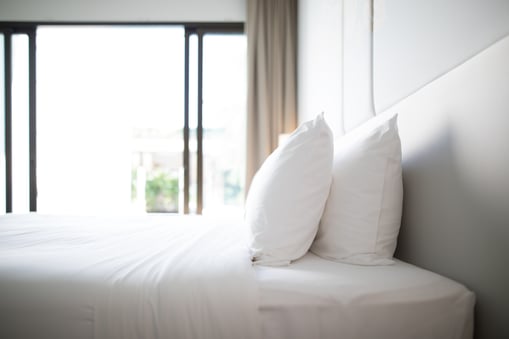 Now is the time to dust off the old housekeeping program that's kept your place of business gleaming since before the pandemic; and incorporate more relevant and sustainable ways to do your housekeeping. We've written about the 3 keys to excellent housekeeping in the past, and this blog is an update on how decisions around that should look, in a post-covid world.
1. Room design
The balancing act of affordably organising rooms to feel like a home away from home just got harder – now you need to prioritise the time and resources it will take to sanitise those picture-perfect rooms, too.
Changing the flooring is a great start to making room design changes around your property. Carpets and rugs are a challenge when it comes to keeping clean and fresh, and they are likely to be less popular with guests during this hygiene-intensive pandemic. This isn't because they're out of fashion, but carpets and rugs are generally seen as unsanitary; regardless of the efforts to deep clean them.
As Alan Rowell, VP of sales at Aspecta Flooring, told HotelManagement.net, "A lot of the fabrics and softer textiles, they're actually removing out of the guest areas and [opting for] more of a hard-surface approach."
The thought of losing a prospective guest because their booking doesn't align with a room's carpet drying time after cleaning (usually around 2-6 hours if done professionally, according to MSS Cleaning), is quite difficult to come to terms with. It's important to find surfaces like hardwood floors and vinyls that are appealing yet easy to disinfect, and if you're thinking around ceramic tiles as an alternative to carpet flooring, consider your epoxy grout options. It is more resistant to water and stains; as well as tough enough to withstand the stronger cleaning chemicals being used widely in hospitality.
And speaking of chemicals, as they do tend to carry acrid smells please choose wisely when it comes to the scent of cleaning chemicals you use in dining areas, to avoid it being off-putting for your guests' dining experience. There are some odorless options that are "guest-friendly", so you definitely want to consider those among the many "green cleaning" products around.
There have never been higher stakes when it comes to cleanliness in hospitality – one recent study found over 65% of Brits wouldn't patronise establishments with sub-par hygiene. Winning in this regard leans greatly on taking advantage of the psychology behind people's feelings of being in clean, airy spaces.
Whether you're just starting out, or planning a complete rehaul, decisions about room design are worth a lot of thought and consideration. And if you haven't made the switches already, consider how much guests will value white linen and towels, decluttered stairways, and furniture positioned in places that allow easy moving for cleaning, a clean traffic flow and sufficient ventilation.
Investing in your rooms having the most available natural light as possible, mixed with bright blinds or curtains will also add to guests' feelings of being in clean spaces with improved air quality; and choosing durable surfaces that visibly trap less dirt will be the best foundations for room design plans going forward.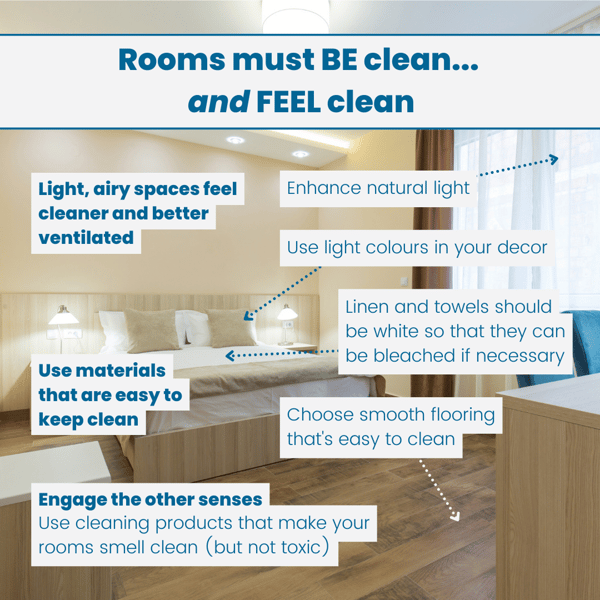 2. Consistent attention to detail
The increased emphasis on hygiene and cleanable materials requires nothing less than absolute attention to detail. The revised cleaning and operational schedules that some hotels adopt will do even better with assistance from technological solutions to ensure precision.
GuestRevu clients have Service Tickets that enable housekeeping and other operational staff to follow up on daily tasks. As complaints from guests, or calls for certain upkeep services come in directly through guest feedback, they can be turned into Service Tickets, which also record who followed up and handled them, and when they did so.
This makes it much easier to ensure teams can be held accountable for what's expected of them, and deliver commendable services on time, every time. Being on top of everything is not entirely about quick turnaround times though – the devil is in the details. Hotels need to build a culture of performing consistently and at high standards. Cleaning technology from the likes of CLEANTracker can elevate the consistency of housekeeping teams' attention to detail, and they have a way to track and prove it.
Their AI bot called ELROY combines what they call 'simple maths' and 5D (above, behind, inside, on top and underneath) technology, to collate data on the cleaning sequences that are developed by hotel management for housekeeping to carry out. This technology monitors the time housekeeping staff usually takes to thoroughly clean rooms, and 'zones' high traffic touchpoints in rooms to make sure cleaning them is done without missing, or rushing a step.
So the guest who previously had a problem with a spill in their room can now be acknowledged and followed up on in real time; and given proof of how well it was handled according to the standards that teams have established, thanks to technological solutions that support the existing cleaning structures.
And though it may seem like this will add onto the workload that housekeeping staff has, it actually doesn't – this tech is there to guide housekeeping, to guarantee that the repetitive tasks they do are always done in the most efficient way they know.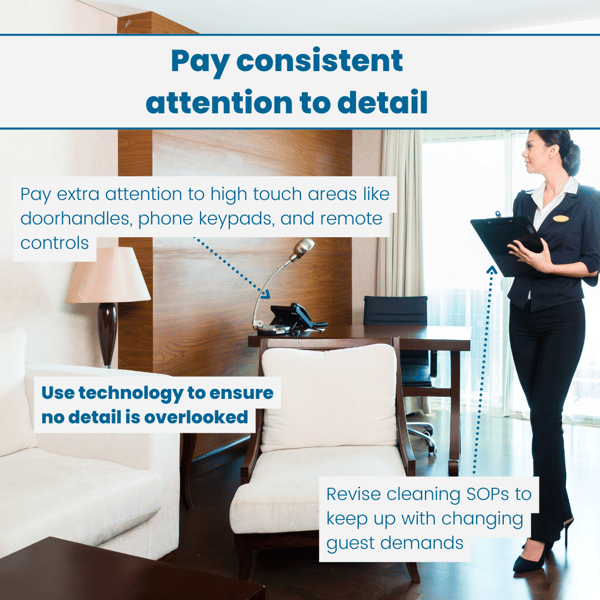 3. Staff motivation
Housekeeping can often be a thankless job, and at times the teams involved may find it hard to stay motivated to carry out their daily roles consistently, especially if they don't get the kind of feedback they would like from guests very often. That's why it's important to build high morale in housekeeping teams, which then translates outwardly to guests in a natural way.
Updating your housekeeping team on the changes to be made, and being open to their views is the best way to approach motivation, as your staff will appreciate their inputs being valued in the processes that will have to be carried out by them on a daily basis.
Train your staff and equip them with all the tools they will need to deal with the many scenarios they may encounter during the pandemic. Try having your own relevant checklist like this great one from INFRASPEAK, to guide them with realistic solutions and actions to take should they need to. Your staff should also be able to swap rosters at the drop of a hat, and still work efficiently in whichever position they may have to cover.
Create an environment that encourages excellence. Take the use of GuestRevu's Milestones as a tool for team motivation, for example. If your housekeeping structure is changing along with your infrastructure, the milestones feature can help you create benchmarks that visualise and gauge which changes work best over time.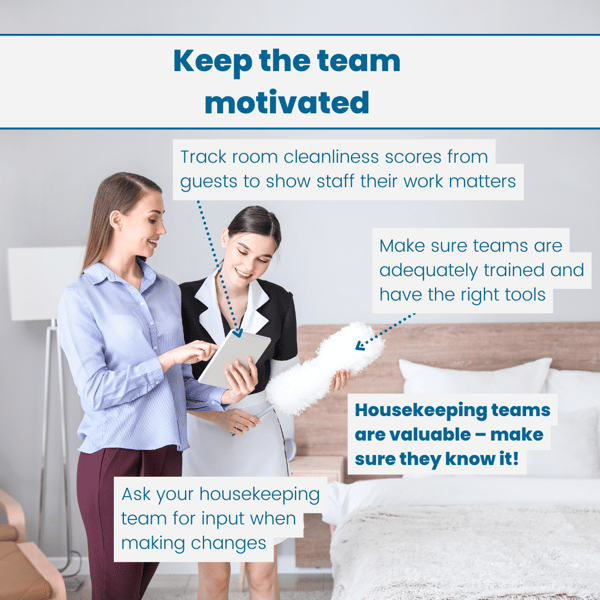 Being able to monitor the impacts of the many changes to your housekeeping program will give your employees a heightened sense of motivation, because they can see the results of their efforts directly. Management gets a positive reinforcement of the decisions they make to change the state of the property, and they get to analyse the returns on adjustments they invest in.
Housekeeping is a foundational aspect of managing any property, and the people looking after it need to be met with a conducive working environment that they will be well prepared for on a daily basis. This pours so much value back into the reputation of a hotel business, and especially during a pandemic that demands superior cleanliness, it is critical that housekeeping is prioritised because of the Front-of-House qualities and effects it has on guests.