With over 1 billion reviews and traveller opinions on Tripadvisor, there's still plenty of info for any travellers wanting to relieve their pent-up travel passion – and there are also plenty of examples of how (and how not) to respond to Tripadvisor reviews to get you back in the groove of managing your online reputation.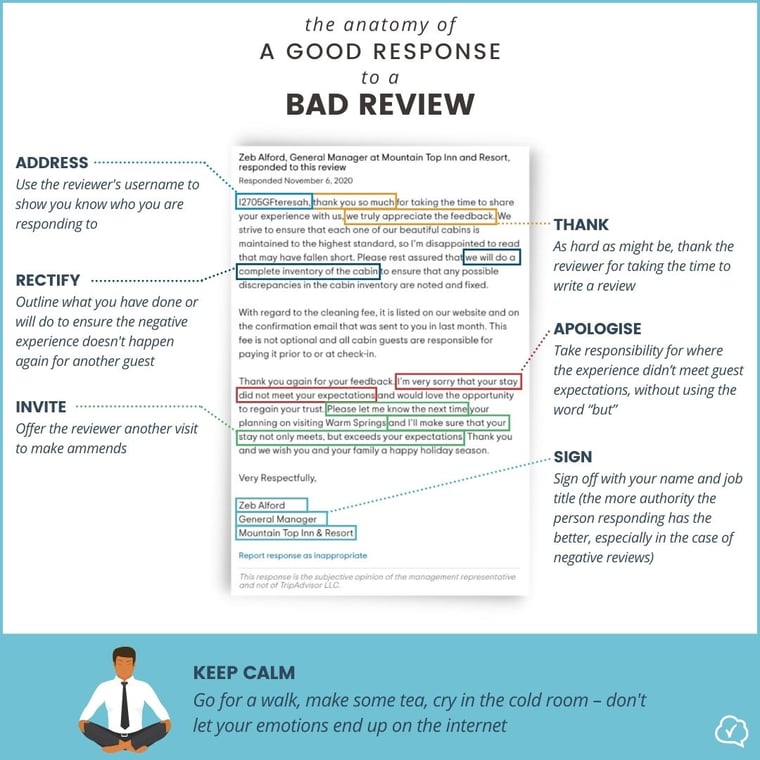 We scoured Tripadvisor for some brilliant (and abysmal) traveller reviews and then analysed these reviews, along with the management responses. As usual, there's plenty to be learned from these examples of responses to reviews.
How to respond to good reviews, with examples
Responding to a good review is so easy, some even wonder if it's worth doing. The reviewer was happy, so why spend time on these reviews? The answer, as always with online reviews, is twofold. Firstly, the reviewer took time out of their day to share feedback about your business, and, in the case of a good review, promote it to others. It's common courtesy to thank them, and it will further nurture the seed of loyalty the good experience has sown.
Secondly, this reviewer isn't the only one reading your reviews and responses. The way you respond to reviews, whether they are good, bad, or a bit of both, gives your potential guests, the ones browsing Tripadvisor (and other online review sites) an indication of the kind of interactions they will have with people at your establishment.
Responding to a good review is quick and easy, and there's a flop-proof recipe:
Address the user by their chosen username (if you're using online reputation management software and are able to link a review to a guest profile, be careful not to use their real name by accident)
Thank the reviewer for taking the time or making the effort to write a review
Reiterate one key point in the review for the benefit of other readers
Invite the reviewer to stay again
Sign off with your name and job title
Although it's tempting, don't just copy the same response for all good reviews. This comes across as impersonal and insincere, and can even undo some of the positive impression given by the reviewer.
Example: good response to a good review
The review is glowing, so it's hard for management to get the response wrong, but Natalia & Kostas get it particularly right with their succinct reply. They address the reviewer by their username, and reiterate that the review was 5 stars, and that guests are happy despite "the situation".
Their gratitude for both the review and the custom seems sincere, and as an added bonus, the response is well-formatted, making it easy to read. Although they don't include their job title, from the context of the review readers will have no doubt that the people at Elounda Heights put guest experience first.
More examples of good responses to good reviews:
Example: average response to a good review
This management response isn't as polished as the first one, but considering the struggle that this hotelier and many like her are going through, the authenticity seems appropriate, and she does remember to thank the guest.
Another example of an average response to a good review
Example: bad response to a good review
Amazingly, this hotelier doesn't even seem to have read the detailed, helpful, positive review left by their guest. There's no mention of the various services and experiences the guest mentions, they don't use the guest's name, nor their own, there's no indication that the response was even written by a human being. All in all, the guest has done far more for the hotel's online reputation than whichever anonymous staff member copied and pasted this response into Tripadvisor.
While using a template will save you time getting your management responses going, you should always customise the template to show you have read and appreciate that specific guest's feedback.
Another example of a bad response to a good review
How to respond to mixed reviews, with examples
A review that offers both praise and constructive criticism, while not quite so nice for the ego as a glowing review, is arguably far more valuable, and more important to respond to.
The way you react to a mixed review will dictate whether the guest, and all those reading the review, will focus on the positives or the negatives mentioned. It will also give guests a clear example of how you handle criticism and challenges – something that will be very important if anything goes wrong during their stay.
The formula for responding to a mixed review is similar to a good review, but with one extra step:
Address the user by their chosen username
Thank the reviewer for writing a review
Reiterate one key positive point mentioned in the review for the benefit of other readers
Acknowledge where the experience fell short for the guest, and explain what you have done or will do to ensure it does not happen again
Invite the reviewer to stay again
Sign off with your name and job title (remember that the person responding to reviews should be someone with enough authority to ensure feedback is acted upon)
Example: good response to a mixed review
Although not entirely perfect, this management response does tick the basic boxes. It's from someone with enough authority to make changes if necessary (the General Manager), and they sign off the response with their name and title. They also thank the guest for their review, and reiterate that the guest found the team hospitable.
They also apologise, and reassure the guest that their feedback has been shared with the rest of the team. Some more concrete solutions to the problem of the unpleasant odour, and a more personal tone may have been better, but overall it's a polite and professional response and on-brand for a large hotel chain.
Example: average response to a mixed review
The response here isn't terrible, but like many of the mediocre and poor responses, it doesn't seem as though management actually read the review they are responding to.
On the plus side, they thank the guest for their review, and for choosing to stay at the resort, and invite them back. They also acknowledge the guest's criticism of the restaurant, and say they will improve.
However, the obviously promotional paragraph about the resort's location, while well written and quite enticing, seems out of place, and doesn't refer to any of the specifics of the guest's review. The response also doesn't use the reviewer's Tripadisor username, nor is it signed off by anyone at the resort.
Example: bad response to a mixed review
While the content of the management response isn't wholly objectionable, it does commit several cardinal ORM sins. Firstly, it's from an anonymous team member. Whether the review is good, bad or indifferent, responses should always be from someone with a name, and preferably with a title that indicates they have the clout within the business to make the changes suggested by the reviewer.
The anonymous "Public Relations Manager" also doesn't give any indication that the specifics of the feedback have been taken on board, or that anything will be done about the noisy aircon. Overall, although they managed to thank the guest for their review, and invite them to stay again, the response comes across as impersonal and insincere – not qualities you want to be associated with your business.
While the text of this review is clearly mixed, the bubble rating given was 4 out of 5, could management have just posted in the standard review response template without even reading the review? One shudders at the thought...
How to respond to bad reviews, with examples
Getting a bad review is dreadful, no matter how experienced and thick-skinned you are. When it's warranted, it's devastating to know that despite your best efforts, you've failed a guest, when it's not, it's infuriating to see people who have taken advantage of your hospitality besmirching your good name with impunity.
But, bad reviews are where your management responses matter the most. Your response is an opportunity to turn the reviewer's opinion around by showing that you do care about their experience and will do what you can to rectify the problem. It's also a chance to show anyone reading that you're able to find solutions when things go wrong, accept and act upon constructive criticism, or politely and professionally tell your side of the story when faced with chancers and slanderers.
When responding to a poor review:
Step away if necessary. Stand up, get some tea, cry in the cold room, do what you need to do to make sure your emotions don't end up on the internet
Address the reviewer by their chosen username
As hard as it is, thank the reviewer for taking the time to write a review
Take responsibility for where the experience didn't meet guest expectations, and apologise sincerely (without using the word "but")
Outline what you have done or will do to ensure it does not happen again
Invite the reviewer to stay again
Sign off with your name and job title (the more authority the person responding has the better, especially in the case of negative reviews)
Example: good response to a bad review
Research has shown that negative reviews are likely to be longer than positive ones, and here is a perfect example of this trend. This review reads more like a report to management on the state of the accommodation than a travel review. Fortunately, the GM seems to have taken it as such, and not only responds admirably to the majority of the points raised in the lengthy review, but does so politely, professionally and patiently.
The easy parts of writing a good response are all done right: The manager uses the guest's username, he signs off the response using his own name and job title, and as the general manager, Mr Alford certainly has the influence necessary to affect the recommended changes. He also apologises for disappointing the reviewer, and invites them to come back and give the resort another chance.
The manager also explains exactly what they will be doing to rectify the issues raised – a full inventory of the cabin in which this guest stayed, and the promise to fix any issues discovered.
This review is also an excellent example of a professional but firm response to an unreasonable complaint. If anyone reading this review was about to be outraged on behalf of the guest because of the cleaning fee, the management response politely explains that this is clearly communicated in several places to guests (and does the job of communicating it once more).
Example: average response to a bad review
Although the misalignment in guest expectations and what the resort was able to deliver during the pandemic is understandable, the tone of the response is almost careless, and no attempt to acknowledge the guest's disappointment is made.
A better response would have apologised for the disappointment, and invited the guest back now that more of the facilities are operational. And of course, it would have been signed by name.
Example: bad response to a bad review
If you've worked in hospitality, you know that there are times when the customer thinks he's king, but acts like the village idiot. We have all had moments when we would like to be sarcastic, snide and condescending.
The guest may indeed have sat at the wrong table, they may have been the umpteenth person to do so, the manager may dread catching covid themselves, or having to close their establishment because one of their patrons does. The hospitality industry is stressful at the best of times, and during a pandemic, the stress has increased exponentially. This anonymous manager has reached the end of their tether, and it shows.
Hospitality, however, is only about sincerity when you're being hospitable. When guests begin to tip you over the edge, good hospitality requires a deep breath and a healthy dose of diplomacy (or acting).
This hotelier would probably have done better to stand up and get a cup of tea before writing their vitriolic response. It might feel cathartic at the time, but a management response preserved for eternity online in the public eye is possibly the worst place to take out your pent-up frustrations on your guests.
Of course, the management response does give you an opportunity to tell your side of the story, and the possibility that the reviewer's order was wrong because he may have sat at the wrong table is valuable information for anyone taking this review into their decision-making process. However, by couching this comment in condescending tones and sarcastic digs at Tripadvisor, the manager also illustrates to the reader that their temper is able to get the better of them – not a good trait if you're in the service industry.
A note on cancellations…
As a result of the numerous unpredictable lockdowns, changing travel bans and fluctuating regulations, many trips over the course of the last year and a half have had to be cancelled or postponed. This has meant that booking policies have been thrust to the forefront of guest experience, and online reputation. In their 2021 Traveler Value Index, Expedia stated that the ability to get a full refund was the number one most important factor for travellers deciding where to go, and one of the other major deciding factors was flexible policies to change bookings.
Unpleasant experiences with cancellations, refunds or postponements accounted for a number of particularly unhappy reviews on Tripadvisor. Of course, safeguards like deposits and cancellation policies exist for a reason, and there are circumstances in which offering a full refund simply wouldn't be practical. However, even if the guest never actually ended up even staying at your establishment, your response to their review is still vitally important.
When responding to a cancellation complaint:
Address the reviewer by their username
Show empathy for the traveller – not only did they not get their holiday, they also lost money
Explain your cancellation policy clearly for the benefit of other readers
If appropriate, offer an alternative solution for the reviewer, or explain any flexibility you have already offered – they may not have taken you up on it, but others reading will appreciate your attempt to find a compromise
Sign off the review with your name and job title
The management response that follows is a perfect example of how to respond to a disgruntled almost-guest:
Another good response to a review about a cancellation
It might seem a thankless, time-consuming task, but responding professionally and politely to online reviews can do wonders for your reputation. In a 2015 study, 85% of Tripadvisor users said that a thoughtful response to a bad review improved their impression of the property, and 65% said they would rather book at a hotel that responds to reviews than one that doesn't.