A glowing review is always great, but when accompanied by a perfect picture that captures the essence of what you offer, it's practically gold. While accommodation providers offer an experience that is, at its heart, made up of the idea of comfort or luxury, restaurant guests have the unique opportunity to capture exactly what your restaurant offers — delicious, wholesome and beautiful food.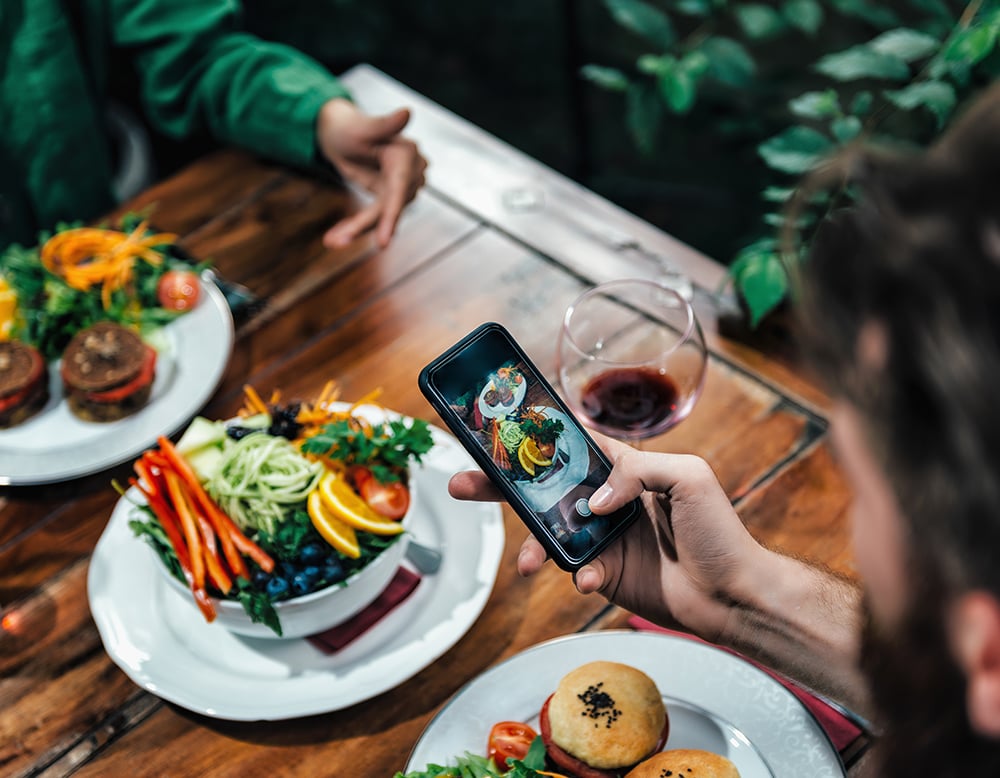 So how can you highlight the beauty of your food, and entice diners to take out their phones and share their experiences online? In short, how can you make your meals picture perfect and instantly Instagrammable? Here are a few tips for bringing out the best in your food, and inspiring FOMO in your diners' friends and following.
1. Make your colours pop
From picturesque sunsets to Tequila sunrises, there's nothing quite like colour to make someone want to take a picture. Having colours that pop from your plate will encourage your diners to snap away to prove just how mouthwatering their meal looked.
2. Embrace contrast in your plating
One way to make your meals truly pop out from the plate is creating some contrast. Bright colours work well against black plates, for example, while dark colours would work better on white.
3. Who says you need to use plates at all?
While serving drinks in mason jars may have transitioned past stylish and into the realm of kitsch, there is a good reason why this trend took off. It's the same reason that the most instagrammable coffee comes in a cone rather than a cup. Food and drinks being served in something that your diners don't expect makes them want to reach for their phones.
4. Think about lighting
You can make the most beautiful meal in the world, but it won't help if your guests can't see it. Candlelight is romantic, but doesn't bode well for photographs, so if you're really wanting your diners to share their meals with their following, think about the way that your tables are lit, and whether there's enough light to take a decent picture by.
5. Don't worry about perfection
It can be easy to fall into the trap of trying to turn out a picture perfect meal every time, but perfection isn't the be all and end all when it comes to making meals Instagrammable. The more real your meal looks, the more appetising it will be, and the more likely it will attract visitors to your restaurant. You wouldn't want people to think the pictures are Photoshopped after all!
6. Decide on a distinct style
There's all too often a temptation to cater to one and all, but when you're wanting your restaurant to be photographed, a distinct style will help to transport the viewer to your establishment. Photographing tables of food, rather than individual meals, is popular amongst Instagrammers, and you'd want your meals to complement each other rather than looking like they came from different kitchens.
7. Make it decadent
Oozing cheese, thick swirls of cream, and enough sugar to make your teeth hurt — these are aspects of food photography that speak to cravings, and will make mouths water. Showing off the decadence of your food will inspire your diners to share their indulgences, and fill their following with FOMO.
8. Lean into trends
Being a trend-setter is the dream, but often diners will want to see the trends that they've heard about on the internet or seen on Instagram for themselves, and you have a great opportunity to adopt the trends that fit your style at your restaurant. This will almost guarantee that your visitors will whip out their phones and hashtag away.
9. Make ingredients the centre of your dishes
Whether you're using ingredients in unique ways (chocolate and avocado milkshake, anyone?) or want to showcase a particular ingredient and how delicious and versatile it can be, make that ingredient shine, and your diners will be inspired to capture it on camera. If you make use of local produce, this is also a great opportunity for highlighting how you're trying to make a difference, and supporting your community.
These tips will help you to highlight your food in the best way possible, but if you're hoping to build an Instagram following, there are a few extra tips to bear in mind.
Don't forget to make it delicious
People may eat with their eyes first, but the way to their hearts is through their stomachs. Beautiful, Instagrammable food should also be delicious to make sure that your Instagram following keeps coming back for more.
Be sure to encourage guests to use your hashtag
The aim of building an Instagram following for your restaurant is, at the end of the day, to get more people through your doors. Encourage your diners to use your hashtag by including it on your menu, receipt, and anywhere else that you can think of, and your diners will become your mouthpieces, their photographs inspiring others to visit you.
Looking for more examples of these tips in action? Check out our Instagram page, and you'll find the posts that inspired this article, including some that we didn't have the space to include here.