Travelling perceptions are currently on every hotelier's mind – we are always trying to better understand when and where guests are planning to book their next stay, as well as how they felt their experience went. Thanks to the pandemic, this feedback is now more important than ever.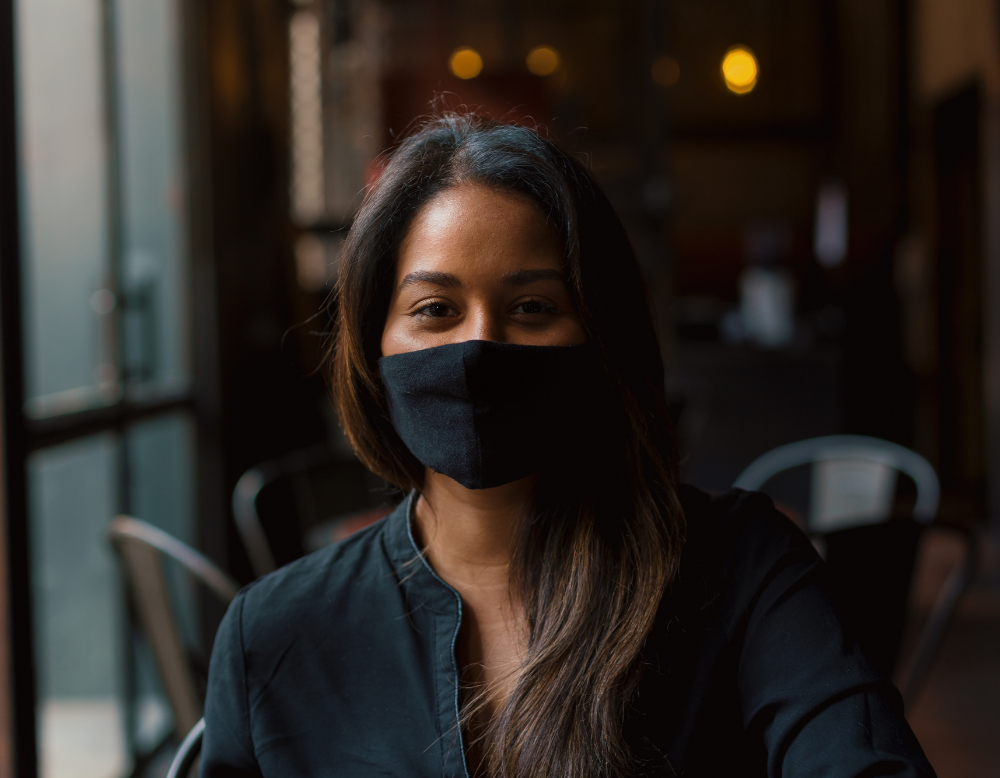 After the feedback from our future travel survey and the 11 000 guests who answered covid-related questions in client questionnaires between June and September 2020, we decided to follow up with another online survey at the end of 2020.

It's important to gather more insights as time goes, establish trends and analyse how changes in restrictions have affected the travel and hospitality industry. For almost a full year, it has been touch-and-go for guests and hosts at large – and realistically; we may still be living with many of those changes for a while.
Key survey questions
The questionnaire enquired about some of the impacts that local lockdowns and restrictions had on guests' travel plans, and used their feedback to gauge how they felt about all of the precautionary measures that hoteliers took to make sure everyone was safe from the spread of the pandemic at properties. A few of those questions looked into:

The age group that most respondents were in
How soon guests traveled after they were allowed to
The type of accomodation that the respondents chose
If flexible cancellations are important to them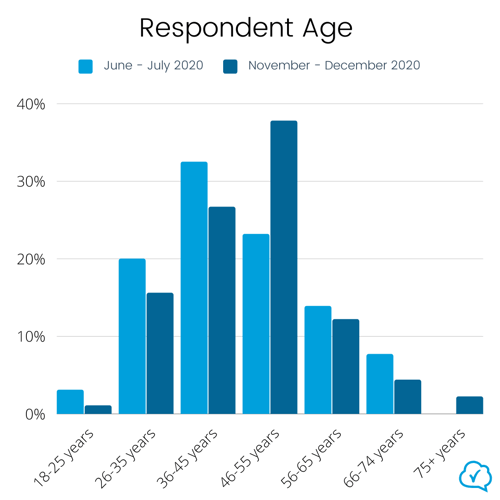 By asking for the respondents' age group we were able to get an idea of the average persona which helps us to frame the results we saw for each time period, and how travel perceptions might differ for the 26-45 year old range as opposed to the 46-55 year olds.

The constant changes in the travel landscape globally are made to adapt to the different COVID-19 restrictions and lockdowns, pending amendments at every turn. To keep up, it's important for you to gather all that you can about guests' feelings towards your hotel, as well as form a knowledge base of the kinds of people you're bringing in; so as to make all the necessary changes and move forward.

Preferred accommodation types
From the questionnaire, one of the many key responses we gathered was that 62% of respondents said the two factors that were most important when they chose their accommodation provider were cost and online reviews. Judging from these early indicators, hotels that hit the nail on the head with online reputation and pricing, will likely get a lot more direct bookings from people that are interested in travelling during the pandemic.

There are many highlights to see in the stats below, in comparison to periods between June/July and November/ December of last year. There are a few considerable jumps in the numbers between these two survey periods, which can be attributed to the change in lockdown restrictions and other environmental factors over the time.

Even more respondents are happy with covid protocols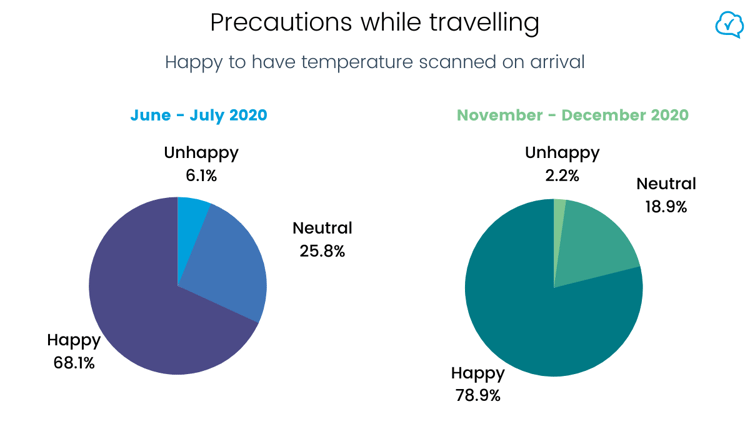 Most respondents during November/December revealed that they were content with the basic precautions taken at hotels – with up to 79.7% that were happy with their hands being sanitized upon entry; and 71.9% didn't mind wearing face masks in public spaces either, because they appreciated the amount of care that went into mitigating their risk of contracting COVID-19 at a property.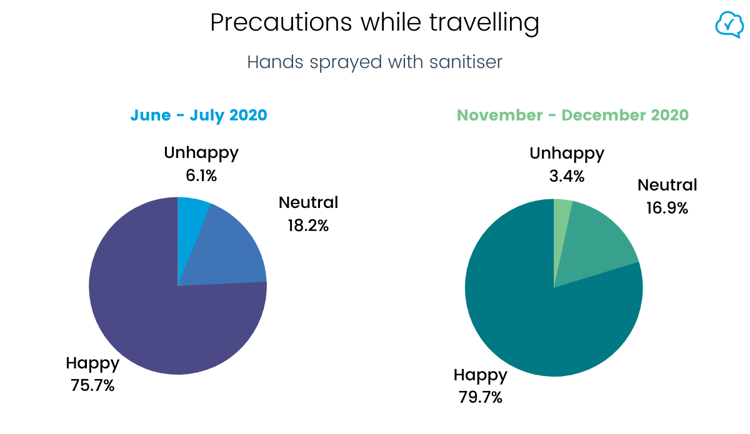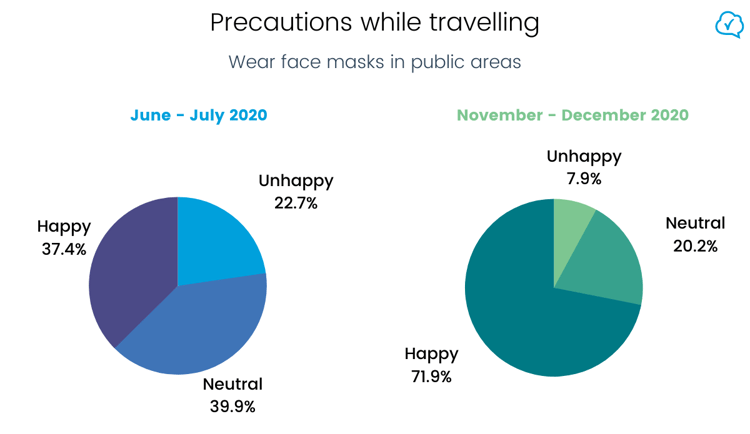 The noteworthy jump from 37.4% respondents happy to wear face masks in public areas in June/July to 71.9% in November/December suggests how much respondents are coming to terms with the way things work when travelling in the 'new world' we live in.

This is why, in our view, we see the steady decrease in respondents who are neutral to the precautions at hotels, as well as visible decreases in those who answered the survey that were unhappy with some precautionary areas. For instance, fewer respondents were unhappy with the hotels that were providing single-use plastic cutlery in our latest survey, while there was also a consistent decline of those who were happy to receive normal ceramic and metal utensils.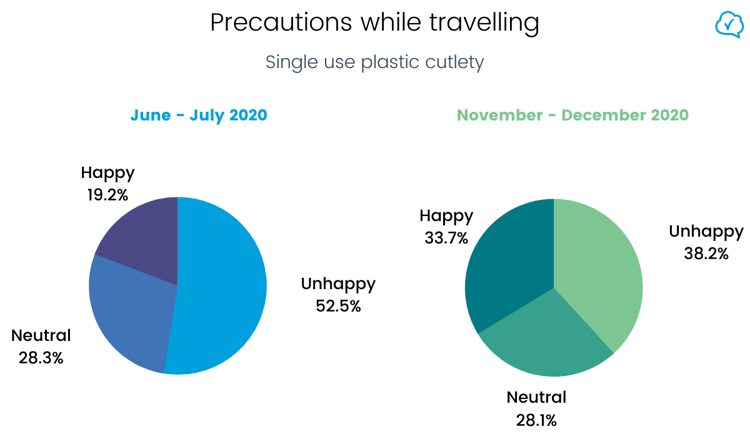 The precaution of rooms and amenities not being serviced daily at some hotels left 44.2% of respondents unhappy at the end of last year, on the other hand. Regardless, it isn't the time to slack on precautions yet, but hoteliers are definitely on the right track when it comes to prioritising the safety of their guests and staff. The majority of respondents were happy to have their rooms serviced while they were out in both surveys, at 68.5% and 69% respectively.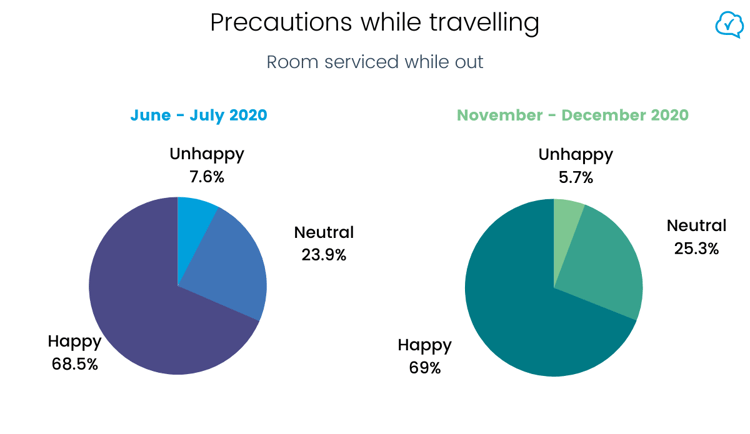 Access to vaccines and the staycation opportunity
Hoteliers will also be relieved by the rollout of vaccines, so they may add more human interactions to the services they provide in due time. The 4963 rooms in 16 government sanctioned quarantine hotels (58 000 rooms on standby) in the UK for people arriving from 'red list' countries, will also be a good boost to the industry, and may be a beacon of hope for hoteliers all around.

This circumstance seems likely to create a favourable gap for the staycation market as well as domestic tourism in general, which will then have room to offer more human interactions to guests.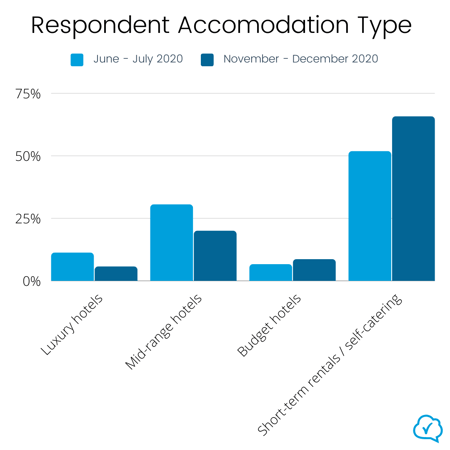 Planning a trip close to home seems to be increasingly tempting over travel further afield. In our June/July survey, a mere 6% of respondents said they were planning on travelling an hour or less, while 32.7% answered that they would travel "within a few hours". By comparison, 55.6% of respondents in our latest survey said they were most interested in travelling within a few hours away from home. Short term rentals and self-catering options were the most popular choice in both questionnaires, increasing from 51.8% of respondents in June/July to 65.7% of respondents in November/December.

The role of technology in easing covid-related anxieties
Technological advancements make a big impact on the guest experience as well, with many hotels varying in what they can offer guests to ease their stays. Virtual check-ins and virtual room keys are likely to last far beyond this period because of convenience, and many properties should look at the positive perspective they add to guests who want to travel during the pandemic.

These features are being used widely by guests, and finding where your hotel can meet them halfway is a solid investment towards optimising guest experiences.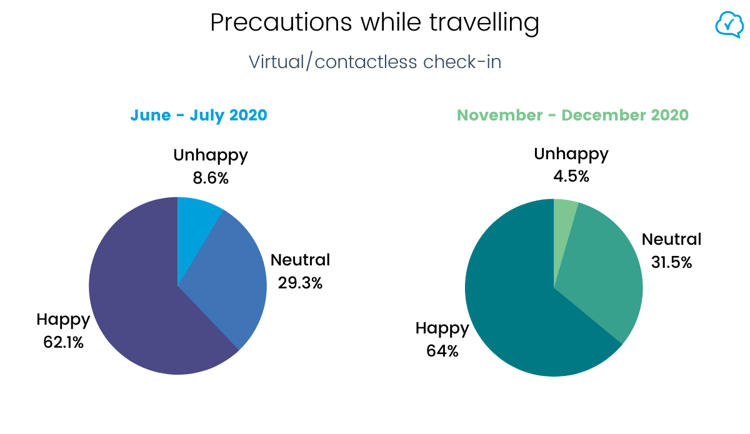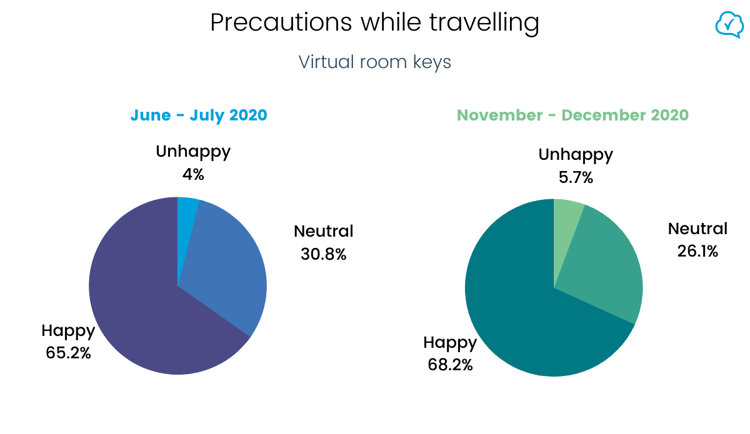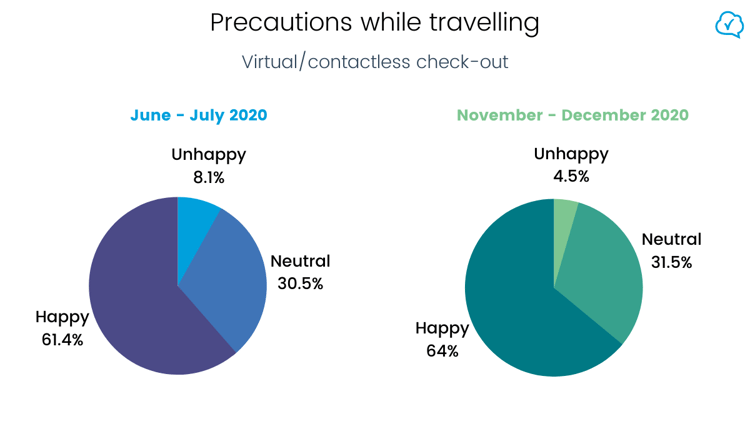 It is important to prioritise the safety of high traffic touchpoints at hotels, while making sure that guests are comfortable enough to take control of certain elements of their travel experiences. Integrating technology in your tech stack is a balancing act of sorts for hotel management, because as we see in the stats, many guests would still prefer a bit of human interaction despite the situation at hand.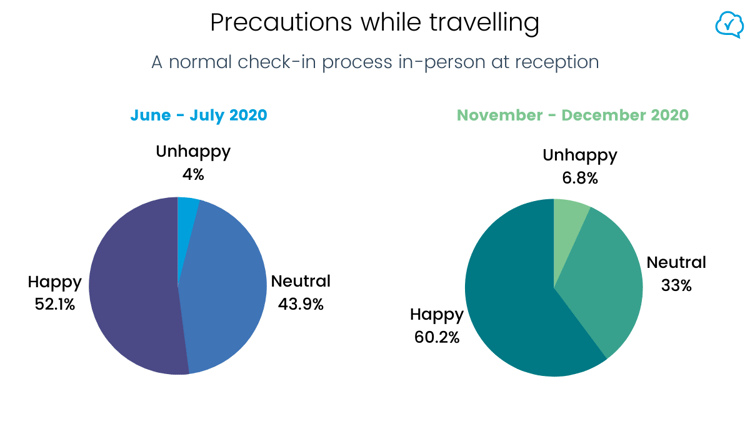 Hoteliers may need to take a further look at what they can do to be creative about experiences and activities, as there is a bit of uncertainty with how guests feel about limited time slots for activities. The challenge hoteliers have now is to make the most of those time slots and provide more value, and this means they must endorse local businesses, attractions, as well as outdoor activities for their guests.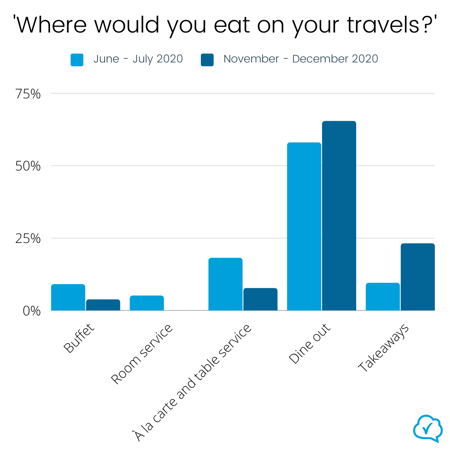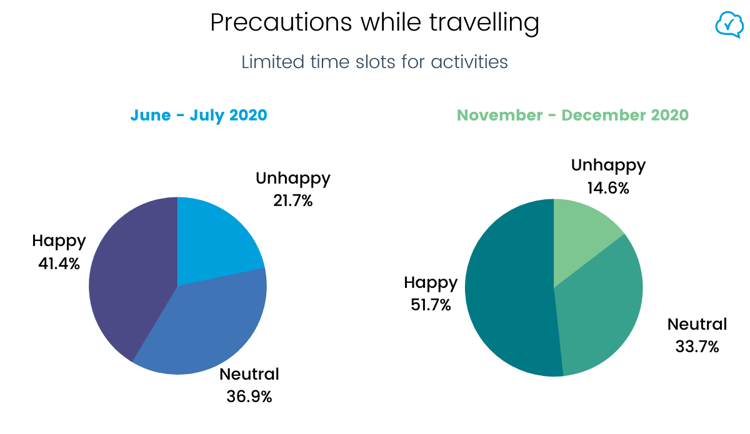 According to the results from our clients' surveys, hotels that go out of their way to understand guests could even see an improvement in their guest experience scores, despite these hard times. Hotels asking COVID-19 questions saw an increase of 2.38% in their NPS scores in 2020 compared to the same period the year before. Therefore making an effort to keep both guests and staff healthy during the pandemic will likely have a positive impact on guest satisfaction ratings and hopefully loyalty.

There will be a time when more human interaction is allowed and safe during travels, but hoteliers are doing well to maintain levels of caution and processes. Including technology that streamlines guest experiences is another vital part of those precautions and, as time goes on, guests may even prefer these solutions as the only way to travel.