Whether you've put new health and safety measures in place to ensure your guests and staff don't spread COVID-19, or done so merely to appease the government and placate dramatic guests, there have probably been some changes made at your hotel. Understanding how guests really feel about their experiences with you from their perspective has always been an important part of ensuring your hospitality is top-notch, but in a time of frequent, fast and dramatic change, this is even more important.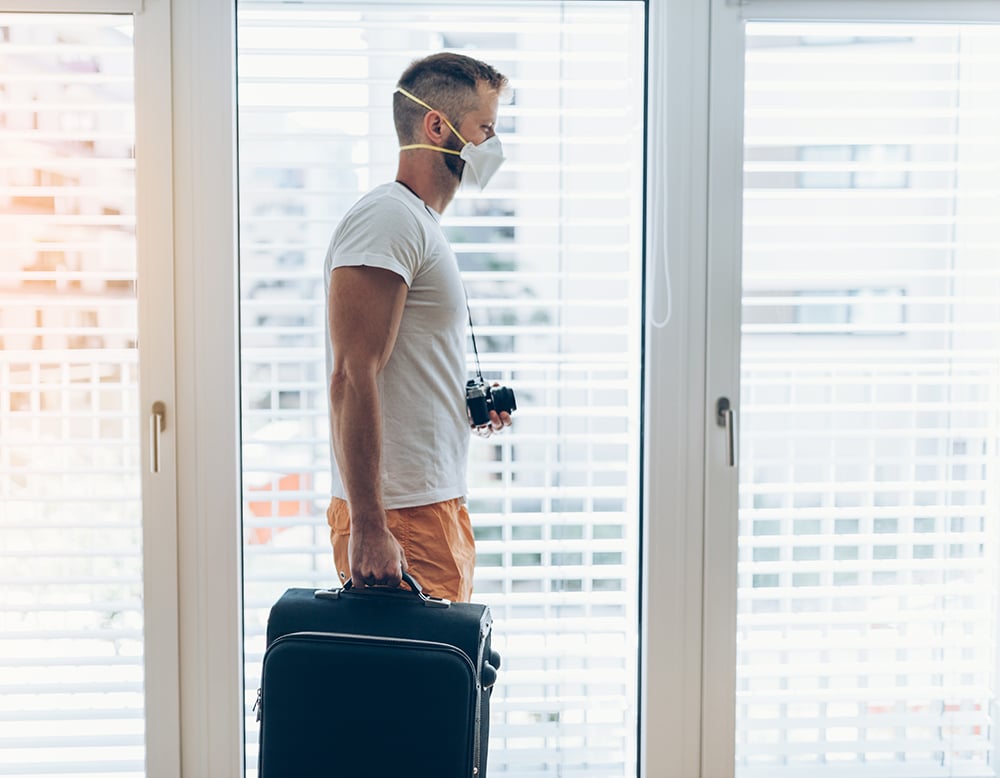 A number of GuestRevu clients chose to include questions in their post-stay guest surveys about the effect that COVID-19 and the precautions that they had to take as a result of it have had on their guests' experiences. We anonymised and aggregated this client data to give you an idea of what guest experience is like in the age of COVID-19, and we asked some of these hoteliers for their advice on balancing health and safety and exceptional hospitality.
We looked at feedback for the months of July, August and September 2020 (occasionally comparing them to the same months last year) and we only used data from clients who had had more than 10 responses to each question during that time period.



Despite the media coverage that people who are finding the inconvenience of covid precautions intolerable, most of our clients' guests felt covid precautions didn't negatively impact their stays. However, guests in top-performing hotels were slightly more polarised.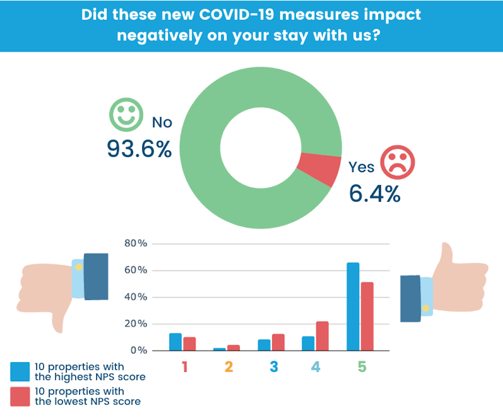 This goes to show that you shouldn't hold back on the precautions – most guests understand that exceptional times call for exceptional measures, and will understand and appreciate your hotel needing to err on the side of caution.
"On top of the usual COVID-19 safety precautions that guests have come to expect from all hospitality venues (i.e. social distancing, rule of six, early closing, one way systems, enforcing masks and increased cleaning) we are still pushing our company mission statement of 'exceeding guests exceptions'," says Daniel Thompson, GM of Mullion Cove Hotel in Cornwall. "Guests want peace of mind and this offers that in uncertain times."
That being said, you also don't need to go overboard to ensure guests feel safe. Most guests felt properties were doing what they could to mitigate risks.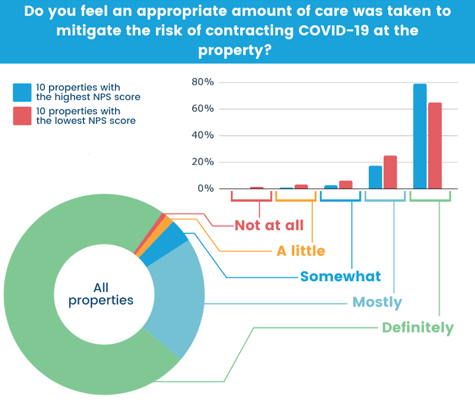 Lyndsay Edwards, Business Development Manager at Adnams, suggests keeping track of how guests feel about your health and safety precautions, and adjusting them accordingly.
"My tip for hoteliers would be to put COVID questions into your GuestRevu surveys to give you an indicator of if you are being too strict or too lax with processes," says Lyndsay. "This has been a great sense check for us especially for Management when they are not there 24/7. We have been able to share good practice across our group too."



Insider tip
Communicate with your guests and teams. When creating our own COVID precautions I put myself in the guest's shoes to create the best and safest environment for our guests. We have had to relax some of our standards to keep people safe, but we are talking to our guests constantly and explaining on booking, in confirmation letters and during our weekly calls what we are doing and reiterating that it's a short term solution as we will return to normal as soon as we can.
– Daniel Thompson, GM, Mullion Cove Hotel

The group has also already been able to use the feedback to balance health and safety with guest experience: "We have changed some of our cleaning products to be unscented. When we were reopened and were cleaning tables down during food service we had some comments that the smell put customers off their meal!"
Emily Cox, Group Revenue Manager for the Cedar Court Hotels Group in Yorkshire, agrees. "We continuously review every step of the journey throughout our hotels and we listen to our guests' feedback," says Emily "If something isn't working or we receive negative feedback we act immediately. The process is reviewed, changed if needed and our guidelines updated. We have found that guests are very considerate at this time and are keen to share their feedback and experiences which helps to negate any negative feedback."



Insider Tip
• Be explicit – Communicate to guests what you are doing at every stage of their journey
• Be practical – Ensure the measures implemented are practical, easy to understand for guests and staff
• Be consistent – Complete training with the hotel team, encourage them to talk to guests about the processes implemented, this builds trust and confidence for guests
– Emily Cox, Group Revenue Manager, Cedar Court Hotels

In total, the vast majority of guests felt safe during their stays with the hotels in this study, with 95% rating their level of safety a 4 or 5 out of five. From what the hoteliers told us, it seems that the best course of action to ensure guests feel safe may simply be to communicate your safety measures clearly with your guests, rather than purchasing costly air purifiers, or going overboard with disposable plastics, for example.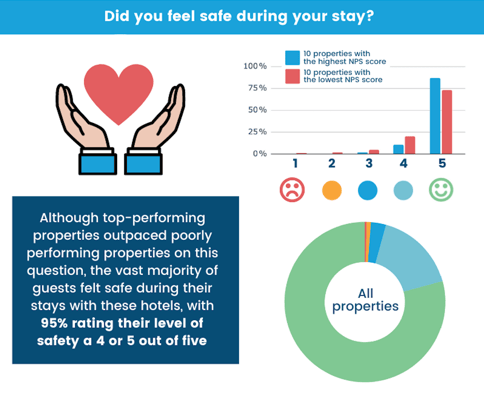 "How a hotel was cleaned and maintained used to be all 'part of the mystery' and the housekeeping efforts were pretty much hidden from view," says Emily. "You will now see our Housekeepers equipped with the tools and the training to talk to our guests with confidence about the procedures they are undertaking to keep our hotels safe and 'Covid-Clean'."



Insider Tip
Ensure staff members have extra time between treatments to ensure their station is sanitised and guests are always advised of the sanitation being done for peace of mind.
- Elizabete Da Camara, Spa Manager, Soulstice Day Spa

Overall, the feedback our clients received on their surveys seemed to show that their guests were pretty satisfied, so we compared the properties' Net Promoter Scores from 2019 and 2020.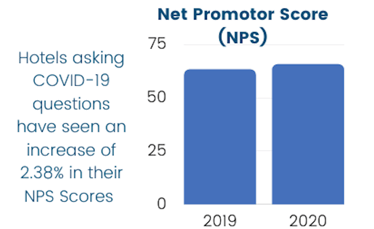 Remarkably, the hotels that have been asking their guests for covid-related feedback actually achieved slightly better Net Promoter Scores this year than they did for the same period last year.
The data seems to indicate that hotels that go out of their way to understand guests will see improvements in guest experience scores even in the hardest of times, and making an effort to keep guests healthy during the pandemic will likely have a positive impact on guest satisfaction ratings.