The volatile nature of the COVID-19 era has been harsh on people, businesses, travel and hospitality. New lockdown restrictions are being implemented in the UK and Europe in light of the resurgence of the virus, which have dismayed so many professionals in the industry (some to the point of legal action); all of this a bitter blow after we saw glimpses of the industry resurfacing with news of promising occupancy levels for staycations not long ago at all.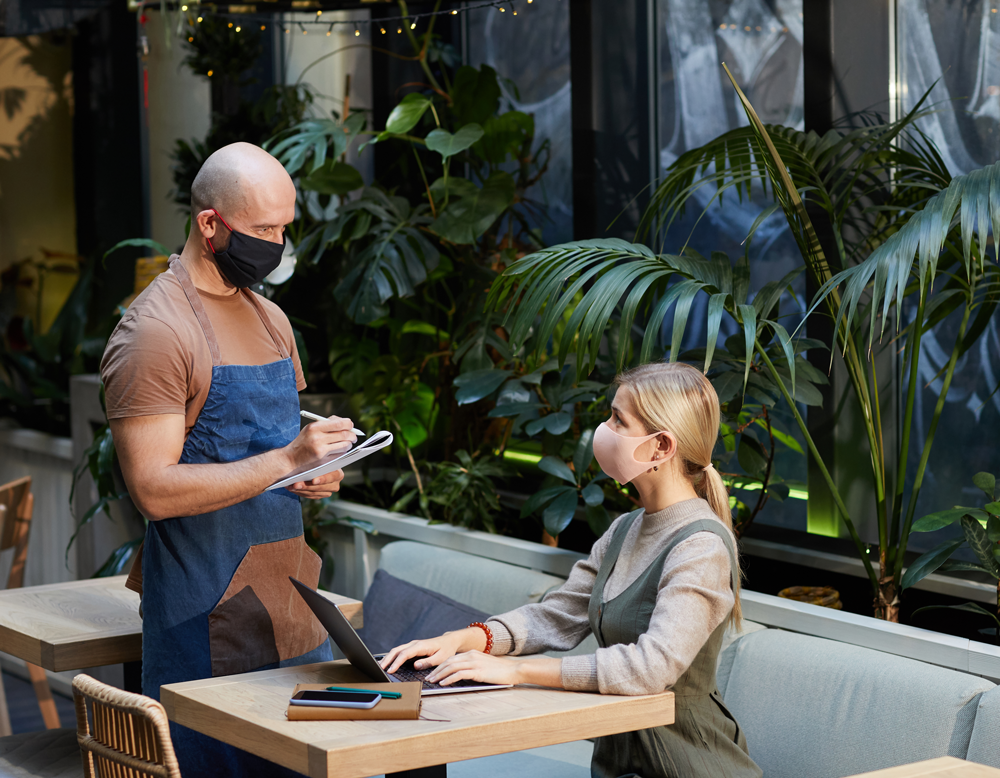 Even though some hoteliers may feel like they are operating on borrowed time, just waiting for the next restrictions to be announced for their area, it is clear that preparation paired with the advantages of hospitality software is helping hoteliers to adjust to the times and tailor their service efforts. Many are using tech tools that make sure guests are satisfied before, during and after they spend time and money with the hotel brand of their choice.
A large number of GuestRevu's clients added a few questions to their existing guest surveys, specifically about the effects that COVID-19 may have had on guests' travel experiences. Some of these questions were:
Do you feel an appropriate amount of care was taken to mitigate the risk of contracting Covid-19 at the property?
Did these new COVID-19 measures impact negatively on your stay with us?
Did you feel safe during your stay?
We recently checked in with some of those clients to see how their guests have responded to hoteliers' precautions for making sure guests had a safe and seamless experience with them in the age of COVID-19. For the most part, our clients seem to have done well keeping guests both safe and satisfied – you can see a summary of the results in this handy infographic, or read more about them in this blog.
However, this doesn't mean that all guests's Covid-19 concerns are completely alleviated. Here are a few ideas for easing Covid-19 travel anxieties in your guests, including a couple of examples from our most successful clients.
Keep learning about your guests
A guest's experience with a hotel brand is a journey, one to be kept track of and improved over time in order for it to be repeated; with carefully considered details that add to why people would choose your hotel every time, and even trust your hotel when searching for a safe and enjoyable place to travel during the pandemic.
David Scott, CEO of The Hotel Folk Group, has steered the hotel group in the necessary direction by ensuring their hotel staff have all the training and development they need to keep guests coming, with what they coined as the 'Blow-your-socks-off hospitality experience'.
As a marketeer at heart, David knows that data is everything – understanding how consumers behave, what they're looking for, and what their needs are has never been more important for hospitality professionals.
"We've made huge strides in terms of our guest database; understanding who they are, where they are, what they want and how we can effectively communicate that with them… This makes sure we can tailor our offers in terms of what guests want today." David adds that having all their sales, guest and guest feedback information tied in one space opens up for making intelligent decisions about what they need to change and influence for the future.
The Hotel Folk Group have built their online reputation and stood out from competitors by providing a seamless guest experience, and optimising the management of guest experiences with hotel technology integrations like those between GuestRevu and its many partners.
This is an example of optimal use of hospitality tech for hotel management, in terms of combining real-time guest feedback with real-time future guest communications, to facilitate optimum operations, improve guest experiences and, in turn, increase revenue.
Finding out where your guests come from, the nature of their visits, whether they have any special dietary requirements, and so on, allows hoteliers to personalise a guest's stay. Even if your staff end up referring them to other restaurants for example, your guests will be more likely to book with you in the future if you kept their needs top of mind.
As challenging as it may have been, the County Hotel Chelmsford is one of the hotels who were fortunate enough to remain open for essential workers during the whole COVID-19 period. They believed that it would be valuable to understand how the new procedures they've put in place impacted their guests, and continued to send out post-stay questionnaires throughout. When the time came for them to get fully up and running again, they also used this data to help them to cater to their normal guests who are typically corporate as well.
General Manager, James Sharp highlighted the need for COVID-19 specific questions in their questionnaire, saying, "Being able to collect that data through GuestRevu has meant that we can segment that data, and create special campaigns customised for different kinds of guests, which gives us an opportunity to boost occupancy as much as possible during these times".
In a time where guests are taking extra care about where they go, hoteliers should be spending more resources on getting to know more about the intentions and preferences of their guests moving forward.
Communicate your safety procedures with guests, and take their opinions into account
Finding ways to ease guests' anxieties is an ongoing process, and no hotelier wants to miss communication opportunities with prospective guests that could allow you to share information that would decrease travel anxieties while increasing travel interests.
Do guests know which payment options you have? Are there touchless solutions at your property? Do you offer online check-in? Make sure your hotel's website has all the updated and mobile-friendly information that guests will need to see, this ties everything together and makes it clear why a stay with you is worth the risk (however minor you have managed to make it) for anyone looking to book a hotel during COVID-19.
Consistently engaging prospective guests with content about the care your hotel takes for their safety will attract increased bookings during COVID-19, as people may increasingly search for COVID-19 free hotels near them in hopes of finding a reliable option to visit, and come back from in full health.
Cedar Court Hotels Yorkshire positioned themselves as a 'hassle-free home from home', and made sure their website communicates all of their COVID-19 precautions; including their 'COVID Customer Guideline' to help guests familiarise themselves with the kind of stay they will have there. They also make regular use of their social media advertising channels, and reiterate important facts like 97% of their guests tell them that they feel 'COVID-Safe' in their hotels.
Guests get relief from well trained staff
It goes without saying, in times like these the staff at a property should be prepared to exhibit their care for hygiene and safety beyond their call of duty, which is why management needs to make sure they are equipped with all the knowledge and tools to provide a visible and satisfactory effort towards guests' comfort during their stay.
Researching the health and safety measures that are within your means, and to the guests' satisfaction, will help keep your hotel staff agile to the needs of your guests, making it easier for staff to deliver a smooth experience to guests time and again.
We share our "Easing COVID-19 Guest Anxieties" infographic with you, which is our take on the kinds of thoughts and action items we hope will be of assistance for hoteliers trying to adapt to the times; and may make it easier for you as you revisit your website, pre-stay and staff training structures in light of the new and extraordinary precautions and regulations you are expected to meet.
Hoteliers will benefit further from meeting guests halfway by revisiting their cancellation policies, and making it part of their organisational culture to remain transparent about how compliant they are with the COVID-19 requirements and guest expectations.
And, though a number of retail and hospitality jobs will be on the line during this shaky period ahead, it's important for those staff members who are still around to have some of the technicalities taken off their hands by tech and automated wherever possible, so that they can continue giving their best towards guest experiences, considering how few hands there are on deck these days.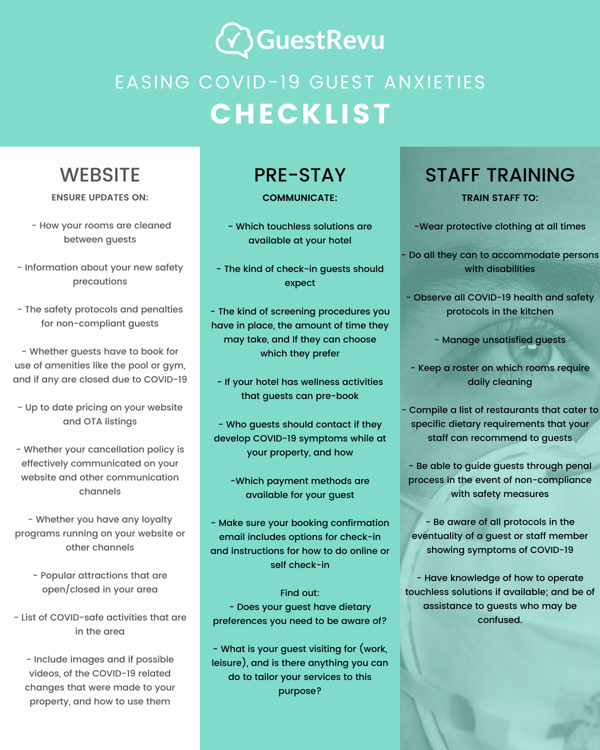 Tap into the benefits of guest feedback
Looking at a breakdown of our clients' online reviews gave us some key insights into how Covid-19 has affected our clients' online reputations. Although reviews have dropped in quantity compared to last year, most of the feedback has improved in quality since our clients have re-opened their doors!
Tripadvisor ratings went up from 83.59% in 2019 (2401 reviews) to 86.38% in 2020 (962 reviews)
Google Reviews ratings went up to 87.91% this year (1841 reviews) from 87.2% (3602 reviews) last year
Booking.com ratings dropped slightly from 89.38% last year (3679 reviews) to 83.12% (3494 reviews)
Hotels.com ratings went up from 87.93% last year (232 reviews) and are now at 88.26% (187 reviews)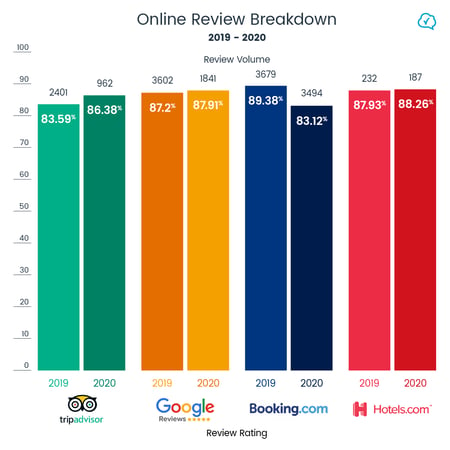 These few ratings results are suggestive of guests still being fully connected to the digital platforms at their fingertips, poised to make informed choices about their stays and also be involved throughout their journeys; possibly in order to ease inevitable "Permanxiety" - a portmanteau coined by Skift to describe the near-constant state of anxiety that travelers experience due to geopolitical events, climate change and other local issues.
Sharing testimonials from satisfied (and healthy!) guests across multiple platforms, as well as details about all your precautionary measures in easily consumable forms on online listings for potential guests is invaluable, and could make all the difference when people are searching for nearby hotels that are visibly low-risk to book right now. This will echo out through all of the guests that do book with you and share their experiences.
Monitor the effects of changes on guest satisfaction
With hotels having so many changes in their pipelines; it's important they track the impact of those changes on guests, as those changes do tend to involve resources that are already on the back foot for many hospitality brands. GuestRevu, for example, includes a Milestones feature that allows you to visualise tangible impacts that were felt by guests when you implemented changes.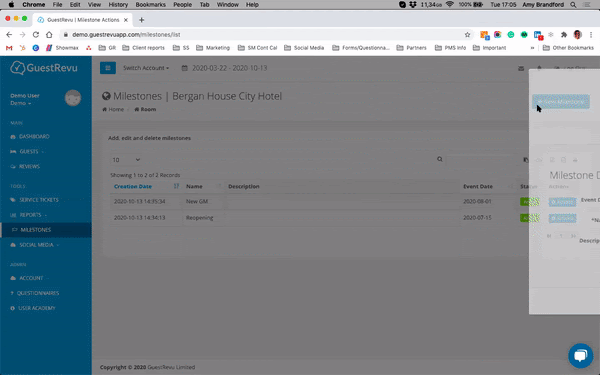 The financial commitments that hotels are making towards health and safety infrastructure will reflect on a hotel's bottom line, and adding a milestone marker to your guest feedback report timeline allows hoteliers to gain perspective on the return-on-investment they stand to gain; in real time.
Having this kind of feedback in your control allows you to jump at the necessary changes to make. So if your hotel is in the process of installing new facilities and supplies towards the battle against the pandemic, you can easily see how those changes are impacting your guest satisfaction ratings over time, and work on making those changes as comfortable for guests as possible on your campaign to stand firm as one of the safest hotels during COVID-19.
Opt for touchless solutions where you can
Todays' hotel guests are likely still apprehensive about the risk of contracting COVID-19 by touching everyday surfaces at hotels. Hoteliers are faced with the challenge of mitigating that risk, and should be looking into touchless hospitality solutions to put guests at ease during these times.
The balancing act of having a minimal amount of guest-facing points at your hotel; while not completely losing the human element of your business, is made possible by the touchless technology options that many hospitality tech companies provide; and would put any hotel guest at ease during the pandemic.
Enseo, for example, assists accommodation providers with in-room entertainment; high speed internet access; integrated room control using the Internet of Things; and even Associate Distress Systems, with panic buttons that enable quicker responses between staff members in the case of a guest's medical emergency.
A guest presented with this kind of room control from their smartphone will feel well taken care of; as they may even control their doors and lights, book amenities, set room temperatures, live-TV and apps that they can personalise to their taste while mitigating the risk of contracting COVID-19 by touching surfaces and everyday objects.
To assist in bringing relief to prospective guests, Asksuite introduced the topic of COVID-19 to their chatbot, to help travelers with quick and comprehensive answers that are specific to travel during the pandemic. They are also striving to ensure hoteliers meet guests halfway through these tough times, by campaigning to encourage guests to reschedule bookings, instead of cancelling altogether.
And as we see more of voice command and virtual check-in assistants, contactless payments in dining areas, gesture control, digital menus on tablets instead of paper, and QR scanning to transform one's smartphone into a control device for guest experience as a whole; we might also see more guests who prefer to book with early adopters of these solutions.
The availability of these game-changing technologies in hotels amid the pandemic, is changing the face of "branded hotels" and guiding them to adopt the intimate, charming and trendy features of "new-generation boutique hotels", or Lifestyle hotels for the future hotel guest. Now is the time to bridge the gap between 'the new normal', the expectations of guests, and the standards of hotels moving forward.
Sharpen your hotel's inner workings to better your guest experience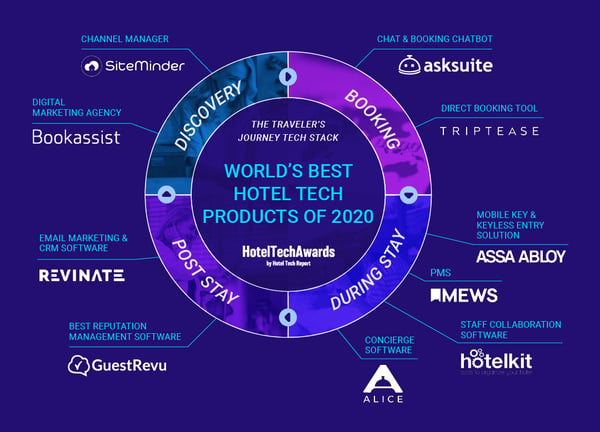 The image above displays the world's best hotel tech products of 2020 (sourced from Hotel Tech Report), that have been helping hoteliers keep up with guest expectations and satisfying guests at different stages of their journeys; and hotels are leaning on their hotel tech options especially during these times of social distancing, reduced staff and working from home.
Communication is key; in order to drive more direct bookings and improved guest satisfaction, faster problem resolution time, and faster service response time are elements that your hotel can tackle along the guest journey with the right balance of human service and tech solutions, as displayed above.
Having social proof and guest feedback platforms on your side plays a major role in showing your prospective guests what they actively want to know or share about your establishment; which builds a relationship of trust and a culture of health and safety related transparency to the public on behalf of your hotel.
The tech tools of today are interdependent in their nature; all to the benefit of an improved hotel brand. The advent of automated hotel technology and machine learning (Artificial Intelligence backed software), have made it so that a comfortable guest is kept at the centre of the hospitality business.
And, while industry professionals aim to recover from and adjust to the uphill battle against the pandemic, hoteliers will endeavour to use an increasing variety of means to create wholesome experiences for guests to enjoy – without the incessant worries of getting COVID-19 to spoil their stays.