This article was contributed by Paula Carreirão, content writer and hospitality expert at Asksuite – winner of the Best Website Live Chat Tool in the 2020 HotelTechAwards
The COVID-19 pandemic has changed the way we live and interact with others. We are now forced to live with social distancing and that means hotels need to adapt to this new reality and to get adequately prepared for it.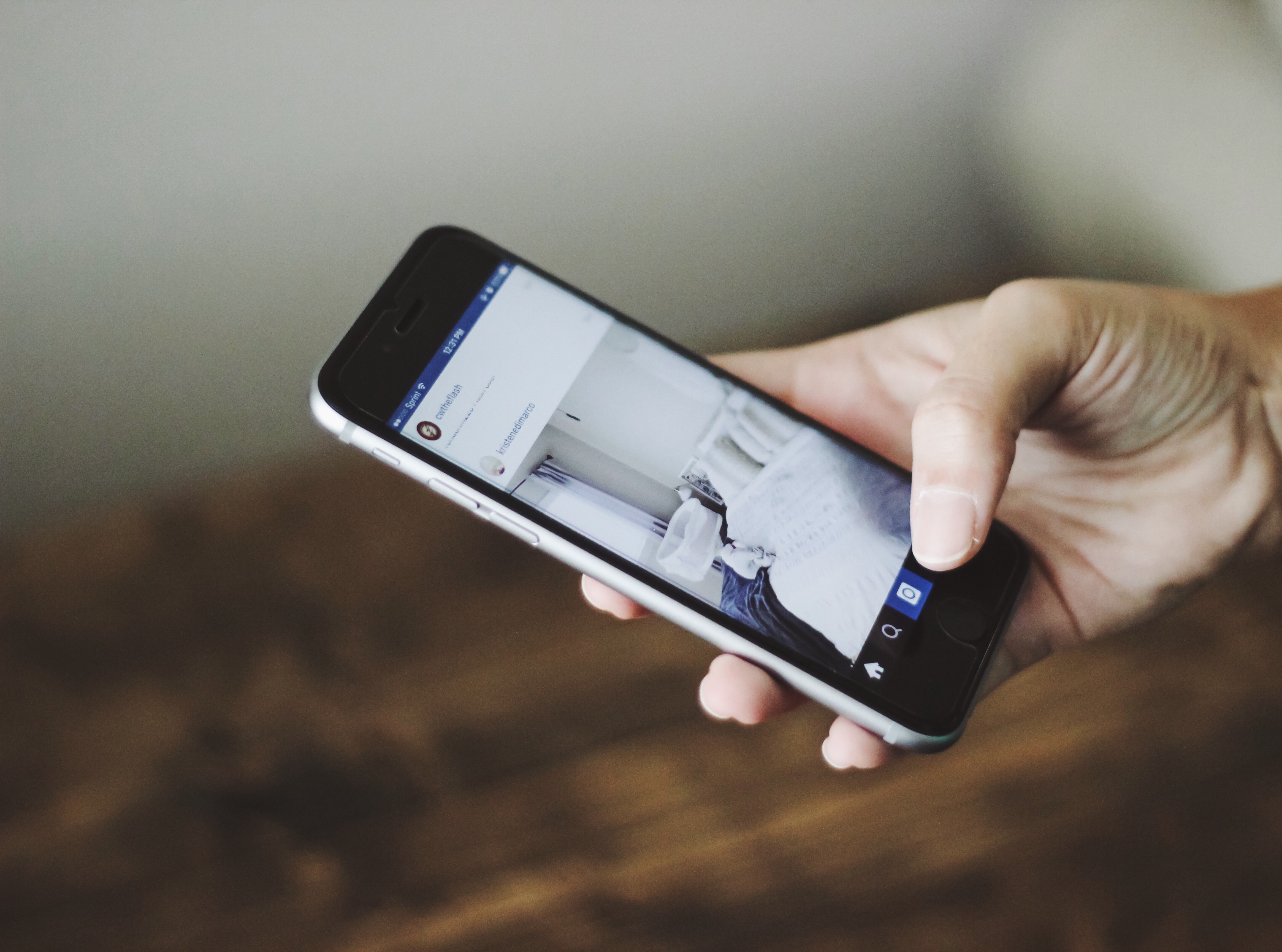 The recovery is coming. According to a survey of North American leisure travelers conducted by Fuel Travel, 59% of travelers still plan to take a vacation in 2020. And as the hotel industry starts to rebound slowly but surely, it's time for hotels to rethink processes to give the experience travelers need and demand.
Plus, it looks like these changes will not go away any time soon. The adjustments go beyond rearranging furniture or cleaning procedures. It will impact the way we build and nurture relationships, which includes customer service and guest experience.
The challenge now is to deliver an equally excellent service while operating with fewer resources and keeping a safe distance. Even though not many people are traveling yet and many hotels are still closed, lodgings should stay connected with past and future guests through their websites, social media and email to create and maintain a strong brand relationship.
The current crisis might be an opportunity for hotel brands to reinvent themselves and move forward with digital strategies. If the digital environment was already important for business and relationships before the coronavirus, now, more than ever, it is in the virtual world where hotels can connect with travelers and guests.
Optimizing processes to keep excellence in service
The sad truth is that hotels are reducing their workforce and they will probably operate with fewer people for a while. Even if the recovery is coming, after the crisis occupancy will continue to suffer probably into 2021.
In this scenario of financial difficulties, hotels may try to get a better handle on fixed costs. This means they will take a closer look at any position at the hotel and try to figure out how they can optimize the resources at hand.
This will probably lead to the optimization of processes and the large use of technology. The use of technology will grow to enable hotels to operate at a reasonable price and, at the same time, protect hotel personnel and guests from contagion.
Consequently, it is reasonable to assume that technology will take over the operational and repetitive tasks in the hotel industry, while associates should be assigned to activities that can bring real value to the service.
Technologies like self-service and online support were already booming and will grow even stronger in different industries. Major hotel brands had already made important progress in technology adoption, such as digital room key, digital check-in, and virtual customer service agents (chatbots).
There are many great tools in the market to assist hotels to deliver a great guest service even within social distance. The image below shows the best tools in 2020 for each phase of the guest journey, as elected by hoteliers in the HotelTechAwards: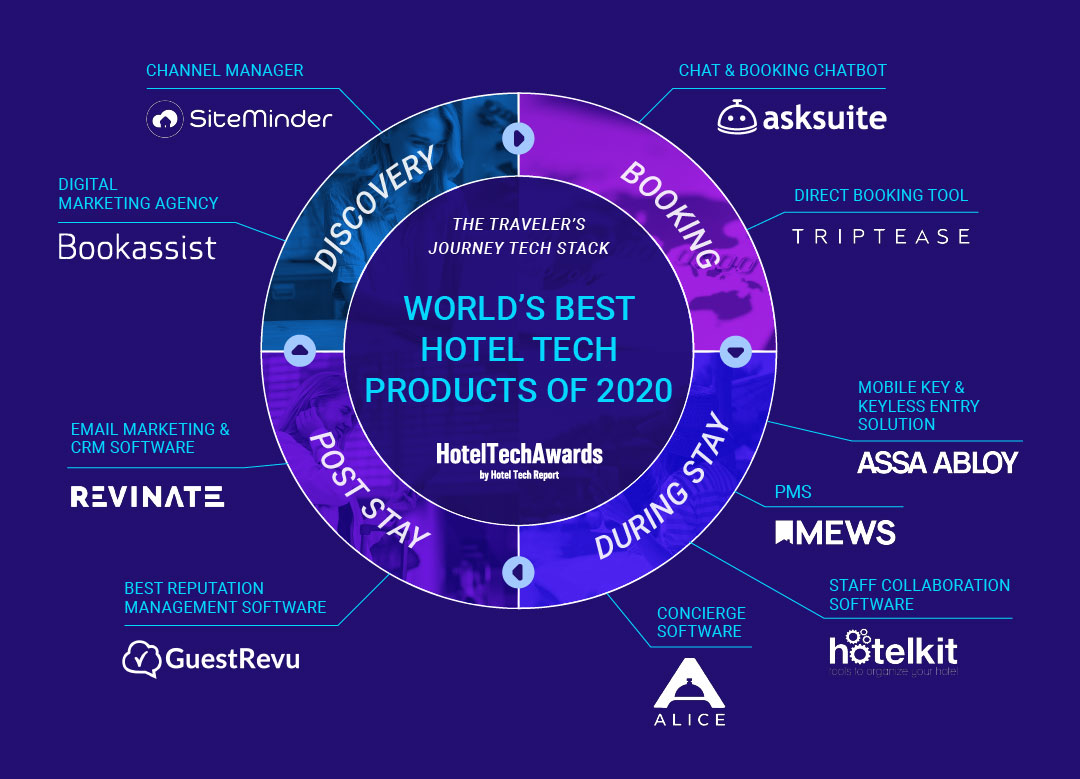 As the image shows, there are good technologies for every part of the traveler's journey. Hotels can connect with travelers before, during, and after their stay, without having to jeopardize health security and the quality of the service. Hotel tech makes it possible for hoteliers to work from home while "keeping hotels open for business".
Plus, many of these tools work well together. Integrations boost, even more, the power of the hotel technologies and travelers crave the seamless experiences that integrations can deliver. The better the experience, the bigger the chances are of direct bookings and loyalty from guests.
It is important to highlight that automation and optimization are not meant to eliminate people from processes, but to ensure that human resources are doing complex and valuable tasks. Human assistance will always be a key factor in hospitality. Technology is created for improving procedures and helping humans, especially during a crisis.
Staying connected with travelers
As hotels around the globe start opening, people still feel scared and need assurance that safety is guaranteed. That means getting vital information in order to make a decision. People will search and visit hotel websites to get such information, so websites should serve as a reliable source for potential guests and allow them to easily find the information they need to make a booking.
Chatbots powered with artificial intelligence can be a great asset here. As people begin to dream again about their trips, many questions start to pop up about local status, availability, or promotional packages. A chatbot, like Asksuite, that answers queries about COVID-19 and is integrated with booking engines will help hotels provide great customer service while boosting the hotels' direct bookings.
Besides, in a hotel customer service, answering questions like "how to get to the hotel" or "what is the weather forecast" is important. Yet, it is not the best way to use human resources. Associates should be doing complex tasks, like negotiating or connecting to guests through voice or text messages.
A mistake many hotels make is to only pay attention to the service provided at the hotel, ignoring the pre-stay, but guest experience starts before the arrival. With AI chatbots, hotels can collect valuable data, enabling them to deliver top-class-personalized service even before guests get to the front desk.
Another mistake is to believe that customer service ends at the checkout. But surveys and feedback can help hotels provide the best service by listening to guests and adjusting what it may need a fix.
Also, your online reputation is everything, and answering comments and reviews is a great way to strengthen your brand and connect with clients, even in social distancing. Online reputation management systems can quickly and easily gather feedback from your guests and help you actively manage your online reputation.
Rethink processes and keep guests coming
As the future of hospitality starts to unfold, the hotel industry may not return to business as it was before the COVID-19. Many processes are going through dramatic changes, from cleanliness procedures to customer service in social distancing.
Hotels will need to adapt to this new reality as guests may still feel the need to distance themselves from others for a while. That means including new procedures and technologies to keep the excellence of your customer service virtually.
This can be the moment to innovate and reinvent. Lodgings can take this time to examine current tech stack and learn about new solutions that can bring value to customer service in hotels.
About the author: Paula Carreirão is a Content Writer and Hospitality Expert at Asksuite, the global leader in hotel chatbot focused on direct bookings. Having worked as a hotelier for 7 years, she now enjoys writing about hospitality and the benefits of technology and artificial Intelligence in the hotel industry.
About Asksuite: Asksuite is the global leader in hotel chatbot focused on increasing direct bookings with more than 1,200 hotels as clients. In January 2020, the company won the prestigious Hotel Tech Award as The Best Chatbot in the world in the hotel industry.