Hoteliers have been turning their attention to personalisation and communication with guests for some time, but since the advent of COVID, this has become even more of a hot topic, with hoteliers looking for effective ways to have contactless communication that still creates a genuine connection with guests.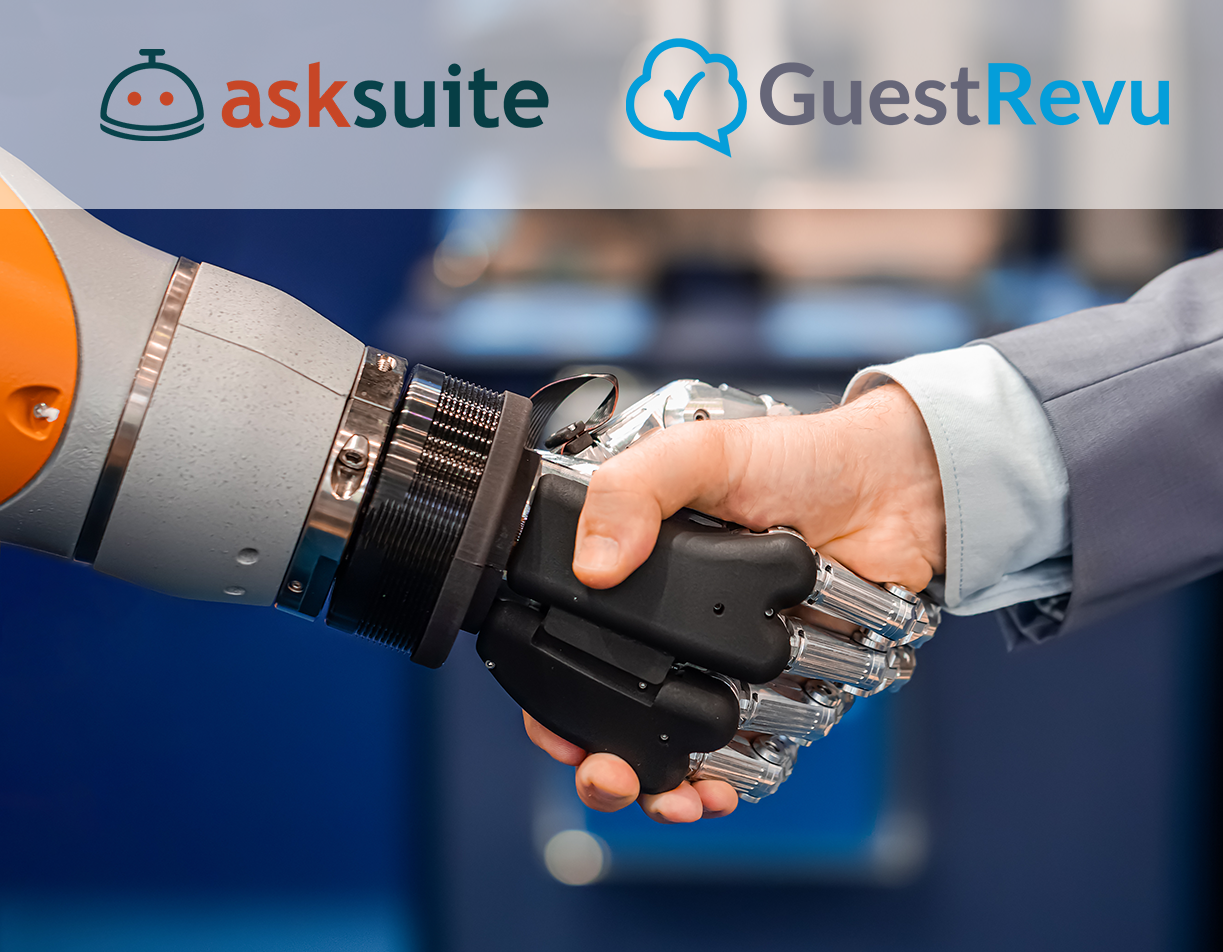 Furthermore, the hospitality industry finds itself in a position now where every penny must be accounted for, return on investment must be exceptional, and minimising unnecessary expenses like online travel agent commision is vital. Earning prospective guests' trust and encouraging direct bookings is more important than ever.
By bringing together cutting-edge online chatbot technology, and market-leading guest feedback and online reputation management tools in a seamless integration, award-winning hospitality tech providers Asksuite and GuestRevu have provided hoteliers with a solution tailor made to enhance guest trust and communication in a challenging hospitality landscape.
Of the many touch points hoteliers have with guests throughout the guest journey, the conversations and interactions you have with them early on are crucial to establishing trust, and encouraging guests to book direct. Being able to communicate in a way that is convenient for hoteliers and adds value for your prospective guests at the moment when their intent to book is strongest is a powerful way to ensure you get these early touchpoints right.
Online reviews also play a vital part in the guest's decision-making process, especially in these early moments, when a potential guest is browsing your website, assessing your offering and deciding whether to trust you with their time, money and – these days – health. Having the word of past guests to vouch for you and reassure prospective guests that other people have visited you and had a fantastic experience is invaluable in establishing trust.
We are excited to announce that we've integrated these two strategies and award-winning solutions enabling the Asksuite chatbot to show the best reviews directly from GuestRevu's system at key moments during the bot's conversation through chat on hotels own websites, WhatsApp, and Facebook Messenger.
"When you put two award-winning solutions together, it is a recipe for success – not only for the hotelier but for the guests as well." says Chris Alexandre, founder and CEO of GuestRevu. "The power of online reviews has been widely acknowledged for years, but in a time when guests need all the reassurance you can give them, the importance of social proof cannot be overstated. Our integration with Asksuite gives hospitality professionals the opportunity to incorporate reviews naturally and persuasively into the conversation at critical moments in the guest journey."
About GuestRevu
GuestRevu provides online surveys and reputation management solutions tailor-made for the hospitality industry. GuestRevu enables hoteliers to gain a deeper, guest-focused understanding of operational strengths and weaknesses, monitor and manage online reputation and reviews, and improve guest satisfaction. Listening to and learning from guests enables hoteliers to drive more direct bookings, build lasting loyalty and ultimately increase revenue. As a TripAdvisor Platinum Review Collection Partner, GuestRevu also gives you the opportunity to boost your online reviews and ratings on the world's largest review site and use them to your advantage. Having won the Hotel Tech AwardS for guests feedback and online reputation management for 2019 and 2020 we are trusted by our clients.
About Asksuite
Asksuite won best Live Chat & Chatbot tool in the Hotel Tech Awards 2020 and provides an automated service on the hotel's website or their social media platforms via desktop or mobile so that your hotel can answer relevant questions helping guests to make a decision, 24/7.