Back in the day, researching where to travel involved maps and guides, books on languages and culture, and tale after tale from friends and family of the places that they'd visited — those they would recommend, and those they would stay away from. But times have changed, and even typed out Google searches are losing ground to voice and image searches and analysis of reviews on TripAdvisor, Booking.com and the like.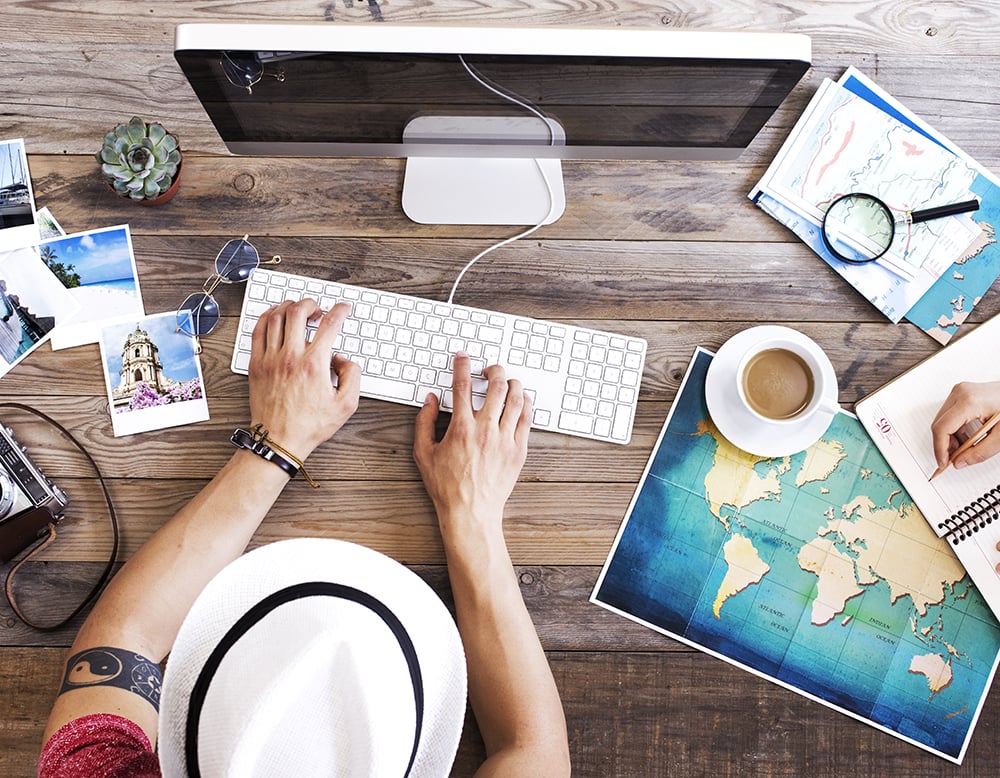 This month, we look at some of the latest travel search trends and how they impact properties around the world.
Technology is becoming ever more important in the buyer's journey
From Alexa to Siri, from VR to AI, technology is more prevalent and accessible than ever before, and there is no question that the advancements in technology are being used in the travel industry. Take, for example, the entirely virtual booking experience that Amadeus released in 2017 with their acquisition of Navitaire.
And while a VR experience for booking travel may not be mainstream or the norm, as Booking.com points out, the way that travellers are searching is certainly incorporating more technology.
And they aren't the only ones to have noticed. easyJet's Head of Digital Experience, Dan Young, explains to Travelport that visual search has grown on the company's agenda, since the trends of travellers being inspired by images across Facebook and Instagram has steadily increased. It inspired them to launch a 'Look&Book' solution for the easyJet app whereby users can upload or link to images, without even knowing where they were taken, and easyJet will help them to pinpoint the location and arrange to travel there.
This shows that properties need to be investing in the visual story of their guest experience, showing travellers what they will see when they visit your property, and inspiring a fear of missing out in their potential guests that will encourage them to book.



See the full video at YouTube via Amadeus >>
Read the full report at Booking.com >>
Download the full ebook at Travelport >>
Travellers are spending less time looking for the essentials, and more time searching for the perfect experience
Some decisions can be made quickly, while others take more time. Deciding which airline to travel with, for example, takes less than a week according to Facebook, while Google points out that researching experiences takes up to 12. And experiences, Google states, are what most travellers are searching for.

This makes it more important than ever for properties to not only be providing information about their own premises, but about the experiences that are available in their area, as well as the experiences that they themselves are able to offer that may set them apart from their competitors.



It is the great experiences, after all, that end up as reviews more often than not, as our recent analysis of online and direct reviews shows. Of over 15,000 reviews, over 50% of guests gave ratings of 9 or higher.



See the full Facebook infographic at Daily Infographic >>
Read the full article at Google >>
See the full infographic at GuestRevu >>
A good deal of research is being done on TripAdvisor
Tales from family and friends influenced trips in the good old days, and they're just as influential and essential to travel research in this day and age as well — only now those family and friends (and even strangers with similar tastes) can tell prospective guests around the world what they think of your offerings via online platforms like TripAdvisor.
And today's travellers are certainly doing their research through the online review giant. As Salescycle points out, those who use TripAdvisor to research which hotels, restaurants and activities to book spend up to 29% longer doing research than those who do not make use of the platform. Considering the size of the site's user base (490 million unique users), this makes ignoring the impact of TripAdvisor detrimental to any property's marketing strategy.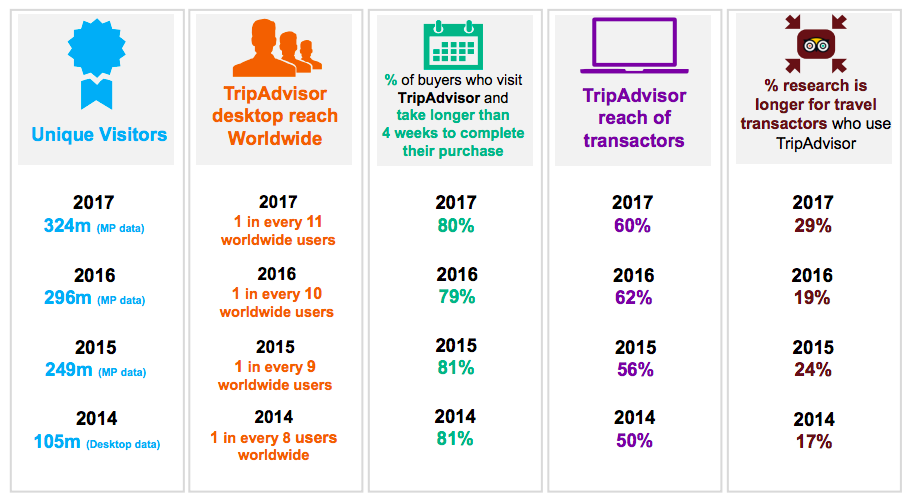 The review giant's latest research in conjunction with Ipsos MORI also shows that the reviews that seem to hold the most weight with travellers are those that have recently been posted, highlighting the importance of continually asking guests to leave reviews on TripAdvisor.
Read the full article at Salescycle >>
Read the full report at TripAdvisor >>