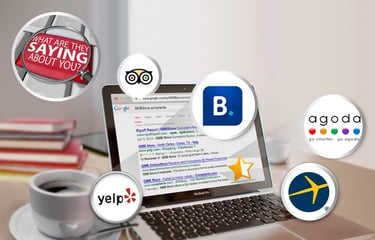 Online reputation management (ORM) used to be a rather obscure term, mainly just something for massive hotel chains to worry about. But, since the rise of social media sites, online travel agencies (OTAs) like booking.com and review sites like TripAdvisor, everyone in hospitality has an online reputation, whether you like it or not.
Sure, you have the option to not sign up for TripAdvisor, booking.com and the like, but, chances are you will lose out on a massive number of bookings. According to Google research done in 2014, approximately 77% of business travellers and 74% of leisure travellers use the internet to plan their travelling, and research by Statistic Brain indicates that 57% of all travel bookings are made online.
Even if, by some bizarre set of circumstances, you are getting enough bookings offline, you can bet that some of your guests have social media accounts. If you make these guests particularly happy or particularly miserable, they will be sharing their experiences online.
So, whether you like it or not, ORM matters to your business. But how do you do this online repuation managing?
Keep your eyes open
You cannot manage something you are not aware of. There are literally hundreds of sites that allow for people to make their experiences and opinions known to the public, so you need to keep an eye on at least some of them. The big ones are Google, Facebook, Twitter, TripAdvisor and Booking.com.
Empower yourself
Rather than just having people talking about you on social media, give past and prospective guests a chance to talk with you. Create your own Twitter and Facebook accounts and you will be able to get feedback directly from your clientele and respond directly to them. You will also be able to add your own voice to the conversation and let the public know who you are and what makes you special.
The same goes for review sites and OTAs. TripAdvisor in particular allows management to respond to guests' feedback. Assure the public that you are acknowledging, apologising and rectifying situations when you get negative feedback, and that you appreciate positive feedback. In short, show that you care. If you simply respond appropriately to reviews, 87% of TripAdvisor users will think more highly of your hotel.
Stay up-to-date
Your prospective customers are going to be staying at your hotel in the near future. If the last time you put up new pictures on your various profiles, interacted on social media or responded to a review was six months ago, potential guests have no idea if you're even still alive. "Oh well," they will say, "this other hotel/restaurant just around the corner posted some new photos yesterday, let's go there".
Communication is now instant, global and public. You need to be on top of things at all times. If it takes you a fortnight to respond to a tweet, it shows that you don't care about or value your customers, not only to that particular customer, but to anyone else watching your interaction.
Responding to guests, showing them that you value them, keeping your online content fresh… all that stuff is important, but it is equally important to actually do things in real life.
Did you get a negative review? When you respond to it you will say that you are sorry and will rectify the situation. Then, rectify the situation in real life. Share feedback with relevant staff so that they know exactly what needs to change. You should also share positive feedback with your staff so that they know what they are doing right.
Being aware of your online reputation when you are offline and encouraging staff to be aware of your online reputation when they are dealing with guests in person will mean that guests' will have more positive experiences, and the resulting positive sentiment will feed back into and improve your online reputation.