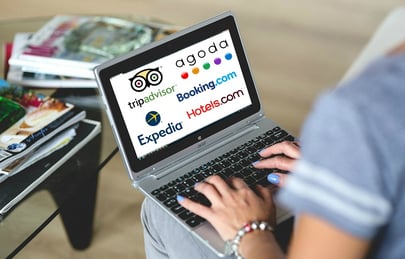 You can get more direct bookings by enhancing your presence on online travel agencies (OTAs). It sounds odd, doesn't it? But no, we have not lost our minds. A 2013 WIHP study observed that 20% of direct bookings happen after someone sees a hotel on an OTA, and even if they do book through the OTA, optimising your presence there means more bookings anyway.
So how can you use an OTA to keep the bookings, direct and otherwise, coming?
A picture is worth a thousand words
This is especially true for someone looking for a place to stay. They don't want to see pretty pictures of one room and wonder which other one they are going to get shoved into. They also want to see more than just the bedrooms. Show them the bathrooms, the gardens, the pool, and anything else you have. Make sure that they are good quality, professional photographs, but don't let the images lie – remember, many sites allow other users to post their own photos. If the difference between theirs and yours is too great you will lose the trust of prospective guests.
A thousand words are also worth a thousand words
We are not suggesting that you actually write 1000 words, but don't neglect the written side of things. Consumers want to know as much as possible about your establishment before they get there, that is why they are doing their research. Make it easy for them. Describe exactly where you are, for instance. Tell them about anything that makes your establishment special, tell them about the area you are in, and tell them about what makes you different from other hotels in your area.
Keep up-to-date
Writing a full, comprehensive property description is not something you do just once, however. You are probably constantly updating your property, making sure that facilities aren't becoming dated and listening to your guests suggestions, and adding new offerings to your repertoire, but why do all of this and not let potential future guests know about it? Have you recently started doing room service or providing free Wi-Fi? Add this information to your OTA listing as soon as you can. Travellers search for hotels based on the kinds of extras that they offer, and making sure guests know what you have is one of the ways you can grab attention. You should also keep your pictures up to date, and even change your feature image now and then.
Communication is key
Your guests have taken time out of their lives to leave a review, and future guests are taking time out of their lives to read it, so for you not to show some interest in this exchange is madness. Reply or respond to reviews as much as you possibly can and show customers that you do care about their experiences. Some review sites do not allow you this option, but you will gain all sorts of credit for communicating with former and future guests on those that do. About 65% of travellers told TripAdvisor that they would probably rather stay at a hotel where the manager had responded to reviews than at a similar hotel without management responses to reviews.
Ask for reviews
Don't be shy, just do it! While you must be aware that it is against many sites' rules to offer your guests incentives in return for reviews (and it's also plain dishonest), there is no reason for you not to ask them to leave a review of their own accord. One good idea is to send guests an email after their stay asking how it was and asking them to please post a review on TripAdvisor.
Add some videos
Videos are becoming quite the in-thing in the online travel arena. A study by Google in 2014 showed that 35% of leisure travellers and 56% of business travellers had engaged in travel-related video activities in the last 6 months. Unlike reviews, which property owners can't create themselves, people who watch videos don't really seem to mind if the video comes from the brand directly.
Read this article for more tips to increase direct bookings.