The new year brings with it a sense of revival. New budgets are forecast and plans devised to make the year ahead a fruitful one, allowing hotel owners to redesign their offerings and cater for the ever-evolving needs of guests.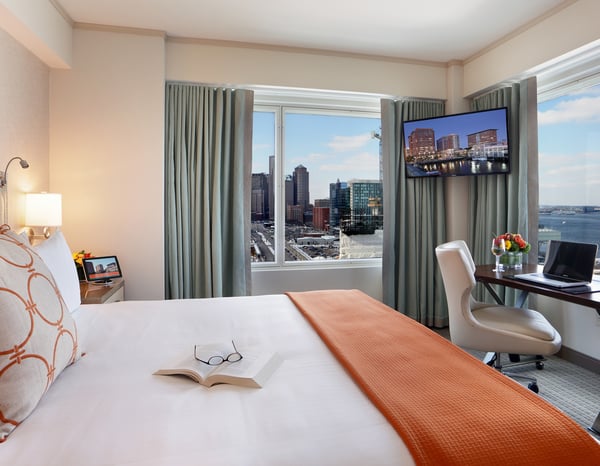 But often, hotel owners are hesitant to put large portions of their yearly profits back into the business, a resistance that can have disastrous effects.
The savvy marketers over at Tambourine understand that while many hotels out there are investing in new technologies and design trends, not all hotel managers are fortunate enough to work for forward-thinking owners.
"Perhaps your hotel owners believe they can hold off on enhancements for a few more years or that your hotel's aging carpet, old-fashioned bed spread and dated design don't really have an impact on the bottom line," they write.
"Our advice? Let your guests show them otherwise."
They're spot on. As a hotel manager or marketer, conducting an in-depth analysis of guest questionnaires and online reviews will give you sufficient insight to motivate any upgrades needed to the hotel's owners, allowing them to make necessary adjustments to the budget.
Remember, you're their eyes and ears on the ground.
Listen to your guests
Traveller Nick Mes recently stayed in an Edinburgh hotel that seems to be suffering from neglect. After scanning reviews on TripAdvisor, where the negative far outweighed the positive, it became obvious that the owners would do well to heed the collective voice of their guests.
"Generally the hotel had its perks – most of the staff were friendly and helpful, my bed was comfortable and clean, but there was a sense of overall decay as I walked from the lobby to my room," he told us. "The carpets seemed like they hadn't been washed in ages, paint was peeling off the walls, the restaurant was far too small for the hotel's size, and the bathrooms could really use some work.
"Someone actually wrote 'What a dump' in the elevator using permanent marker. The fact that the hotel hasn't yet bothered to cover it up speaks volumes. I don't think I'd stay there again."
Looking at online reviews for the same establishment, all the signs are there. Guests complain of a general lack of upkeep and general maintenance, and apparently those who have complained to management are met with a variation of "We can't do anything, we just work here".
Take the time to process guest reviews and surveys to determine which reoccurring problems must be addressed. Highlight how many times a particular issue comes up within a certain timeframe, compare ratings to those of your competitors, and take note of how many times guests say a variation of "We'll never stay here again".
Extract this information and add the details to your report when motivating for upgrades. Essentially, your guests are doing the hard work for you.
Use a guest feedback platform
There are also numerous guest feedback platforms available that will make your job even easier.
Good reputation management tools offer real-time notifications whenever your hotel is mentioned online, often collecting all relevant information and dissecting variables such as negative reviews, strengths and weaknesses, general sentiment and guest experience on one convenient dashboard.
Not only will this help you in your day-to-day operations of the hotel, but when you report back to an owner, group manager or even board member, you have all the evidence you need at the click of a button.
"I thought that the staff uniforms were not as presentable as they should be so I wanted new ones ordered. When I got my guest review report, however, I noticed that I was being rated consistently high on staff! Knowing that staff was currently my strongest asset meant that I could redirect the funds to a lower rated aspect to try improve that area instead."
– Bianca Grobbelaar, The Royal Guest House, General Manager
Find the best management software to suit your needs. It will help immensely with your reporting.
Hotels getting it right
Understanding your target market and the demographic of guests who stay at your hotel can also factor into your motivation for upgrades. Did you see more business travellers in 2016, or an influx of millennials? Knowing what specific guest types look for in a hotel is also important if you hope to stay relevant in an increasingly competitive environment.
The New York Times ran an article last year highlighting how American hotel owners are investing in their properties at record levels, rewiring rooms, buying more smart TVs and overhauling bathrooms in line with guest preferences.
Marriott Hotels, the flagship brand of Marriott International, is on track to offer Netflix at all 300 of its hotels in the US, while Hilton International recognises that most customers are travelling with an average of three electronic devices (including laptop, tablet and smartphone), causing many hotels to greatly improve their high speed WiFi infrastructure.
"As for bathrooms, one of the more significant changes is the elimination of the bathtub in favour of a walk-in shower," writes Jane Levere. "Most bathrooms in new hotels are being built without bathtubs, while tubs are being eliminated in many existing hotel bathrooms when they undergo regular refurbishment.
"The shift has taken hold, experts say, because business travellers generally prefer walk-in showers, but it is also easier and cheaper to clean and maintain walk-in showers than tubs."
When going over reviews, be sure to look out for these signs. What are guests looking for that your hotel couldn't offer them?
At the end of the day, it just makes simple business sense for your hotel to increase guest satisfaction and loyalty by reinvesting in itself. Watching the negative reviews pile up can sometimes have an irreversible effect on the perception of your brand, making it incredibly hard to put your online reputation right in such a competitive market.
Keep in mind that it can be hard to see this when you're not operating within the day-to-day operations of the hotel. As a manager, you are, so leverage your guest reviews to convince your owners that enhancements and property upgrades are not just imperative, but urgent if they want to remain competitive.