If you offer guests complimentary WiFi, a spacious room complete with bathroom shower and access to TV facilities, then generally you'll be able to answer the question above with a confident "yes".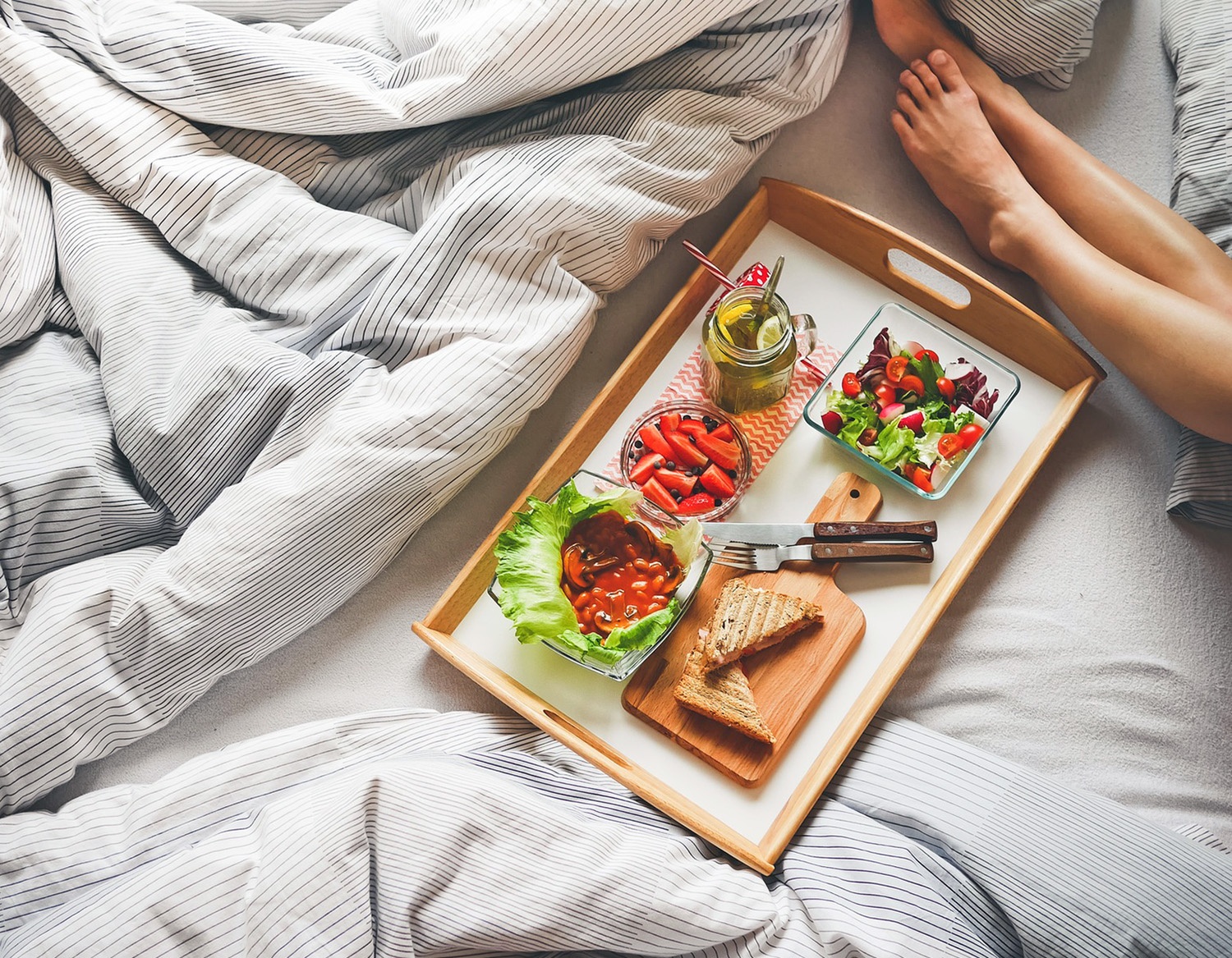 According to the recent Hotels.com Amenities Survey carried out across the globe, travellers ranked these as the four most important in-room amenities a hotel could offer. Air conditioning and tea/coffee followed after, while a complimentary breakfast and restaurant ranked as the two most important hotel amenities.
A social media study published in 2015 sampled 650 000 tweets focused on the hotel guest experience, providing some interesting insights. Nearly 15 000 tweets described the view, often accompanied by a picture, 10 000 tweets mentioned the in-room snacks and food, while over 16 000 tweets mentioned the size, cleanliness and comfort level of a room's bed and linens.
However, looking beyond general trends, the needs of business travellers will obviously differ from those of the casual backpacker or older guests, while younger millennials often have an entirely new set of expectations when checking in to a hotel.




By recognising these needs and fine-tuning your hotel offerings, you'll be able to tangibly improve overall guest experience – resulting in positive reviews, return visits and ultimately higher profits. And with more and more travellers posting live updates of their hotel experiences on social media, having facilities that cater for their specific needs will usually reap instant PR rewards online.
Here we look at the in-room preferences of the two largest travelling contingents – business people and Millennials.


Business travellers
According to hotel owner and CEO Rupesh Patel, business travellers represent the second largest source of revenue for most hotels, a figure that has grown steadily since 2012.




"Most hotel brands spend millions of dollars on marketing, and offer perks to keep these people loyal," he explains. "I travel for business. I attend meetings, conferences or visit clients at least once a month, which means I stay in a lot of hotels."
Patel believes these five offerings are among the most important for business travellers:
Fast, free WiFi access – "Slow internet has consistently ranked as the number one complaint among hotel guests," he says. "Travelling executives and managers need a strong and stable internet connection to be able to check their emails, access their work files from the cloud, and even join web-based video conferences."
Strategically placed electric outlets – "Ever stayed in a hotel room where it turns into a frustrating game trying to find an outlet? You haven't lived until you've had to move furniture around just to get your phone charged. It's annoying!"
Work desk or lap desk – "Provide a work desk where business travellers can work on their computers or review business documents. If you can, provide a lap desk as well if they want to work while lying on the bed."
Bottled water – "Hydration is extremely important for business travellers. No one can survive a busy business day without constantly hydrating." The Hotels.com Amenities Survey also revealed that 43% of the group thought that bottled water was the most appreciated simple amenity.
Iron and ironing board – "Expect business travellers to bring business or formal attire with them for business functions and meetings. These clothes get wrinkled inside their luggage and on flights. How much would they appreciate if your hotel anticipated their needs and provided an iron and ironing board? I would be grateful," says Patel. "As an alternative, you can also offer ironing, laundry and dry cleaning services within your hotel."
Free, high speed WiFi is especially important. Last year, the Wall Street Journal's business travel writer Scott McCartney moderated a webcast held between senior C-suite executives at five major hotel brands, looking at how hotel amenities are evolving in this day and age. The webcast was based on a study conducted by B2B media company SmartBrief, entitled "The Guest Experience: Innovative Trends for Creating a More Personalised Stay".




McCartney highlighted the fact that nearly 57% of people will not book a hotel without free WiFi, while another 26% will only do so if they can claim it as a business expense.
During the 2015 Hotel Digital Technology Innovations session at the Global Business Travel Association's annual conference in the US, delegates discussed specific needs they thought were missing from most hotels. Ultimately they're looking for less complication. Items on their wish list included:
Not having to rearrange furniture to find enough electrical outlets for their gadgets
A text/app solution that allows the reporting of in-room issues and a real person messaging back when the task is complete
More environmentally friendly modifications
Being able to easily sync a personal device to the in-room TV
One audience member also suggested posting in-room dining wait times on the TV or through an app so guests know if they should order in or go out for dinner.
Being able to implement these changes will go a long way towards making your hotel the preferred choice for business travellers.


Millennials vs. Boomers
While catering for business travellers is important, so too is paying attention to the needs of Millennials. "Generation Y", those born between 1980 and 2000, already make up over one third of the world's hotel guests (estimated to be over 50% by 2020), and are playing an increasingly significant role in how hotels do business.
Millennials are tech-savvy and health conscious, and key aspects like design, experience and perceived value are all extremely important in attracting their interest.
What's on the telly?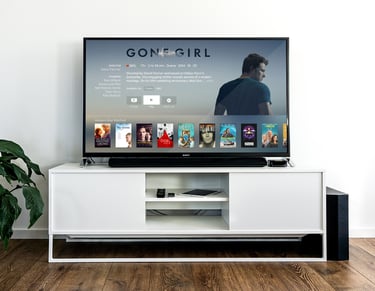 In a new white paper conducted by The Consultancy at Pointer's Ridge, researchers learned that age groups prioritise in-room entertainment (IRE) services differently. When compared to older age groups, 73% of Millennials consider TV "very important" compared to 54% of older guests.
The study concluded that hotels targeting Millennials must have a robust and feature-rich IRE offering , but also importantly noted that most Millennials would rather choose to watch their own content on hotel room televisions, meaning that having free, fast internet is viewed as essential.
Millennials carry more mobile devices than any other group, like smartphones, tablets and laptops, and the study found that 57.4% of guests try to connect their own devices to in-room TVs via a cable or streaming device.
Some key points taken from the study include:
Most guests (of all age groups) have accounts with Netflix, YouTube, Amazon Prime, and Hulu
[At the time of the study], 62.1% of Millennials, 52.2% of Gen X and 17.2% of Boomers are using their own devices to stream media while at the hotel
While IRE is important to Millennials, it's not important enough to make or break their decision to stay at a particular hotel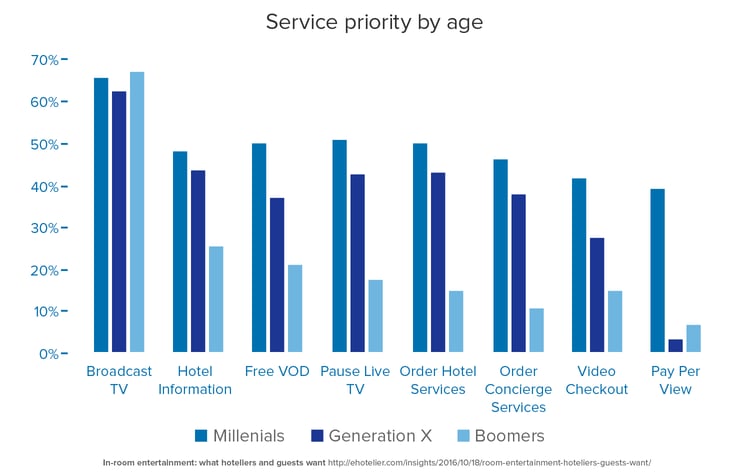 A focus on fitness
Most Millennials are fit, active and health conscious – something which hotels are beginning to pick up on in their innovative offerings. For example, Kimpton provide yoga mats in every room, while Westin's WORKOUT program allows guests to book rooms equipped with a treadmill, dumbbells and a stability ball.
Complimentary in-room water is appreciated as a simple, healthy value add for Millennials, while some hotels like Hotel Irvine have eliminated things like the minibar, and instead offer fresh produce from their first floor "marketplace", delivered to rooms 24 hours a day at no extra cost.
So, making Millenials happy does need some thinking outside the box, and going the extra mile for business travellers might require some extra spending, but the long term rewards are worth it. Gary Plourde, owner and innkeeper at Christmas Farm Inn & Spa in New Hampshire, sums it up perfectly: "You win their loyalty and their referrals when you get it right."