Many hoteliers believe that having a perfect website is the golden ticket to a spike in direct bookings, and while it's true that your hotel's website design and content needs to be on point, there are additional steps you need to take to make sure your potential guests end up with your hotel at the top of their search. Without a solid presence on Google Maps and Google my Business, you may lose a tonne of would-be bookings, because Google has become an increasingly popular tool for travellers, especially because of how easy it makes it to access information on their mobile devices.

With the continuous technological advancements driving Google's user experience (artificial intelligence, augmented reality, etc.) today's guests almost have no way of avoiding Google Maps to help them decide on their trip of choice. Let's get into how to make the most of your Google Maps presence.
Local SEO (search engine optimisation) makes a world of difference
When a traveller is searching for hotels in your area, Google gives them the most relevant options according to information provided by hoteliers in that area. The end result on the guest's side, is a list of hotels they can filter and choose according to their needs (like in the image below) – but the first step on the hotelier's side is maximising the amount of information they submit on their Google my Business account.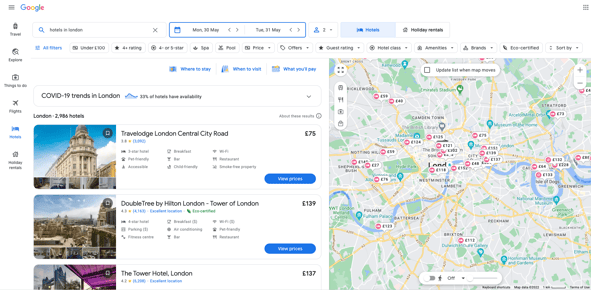 . Image: Google
To land your hotel a spot on Google's Search Engine Results Page (where most website visitors make their pick) means you have optimised every bit of information required by Google My Business to put your hotel in their directory, which includes Google Maps.
This allows Google to make it easier for someone to (without leaving the results page or opening multiple hotel websites simultaneously) find your hotel and any relevant competitors according to filters and categories like:
Price range
Hotel class
Amenities
Guest rating from reviews
Eco verification
It's also not just about what you tell Google about your hotel, it will help you tremendously if your guests provide user generated content (UGC) as well. Ben Scheelings, Revenue Manager at Code Hotels, shares his experience with Google:
"A few years ago, when we first opened Code the Court, guests made it clear that a frustration for them was not being able to find us on Google Maps. As we had just opened, this was no surprise. We incorporated the Google Review process in our survey to generate more reviews, and we felt this would help us become more visible.

Within two weeks and a few reviews, guests were able to locate us using Google Maps. I can't tell you how invaluable it is for hotels to have a strong presence on Google my Business and Google Maps; your reputation can't afford to go without it in today's travel landscape."
As you can tell, guests don't have to look too hard to find what they want – and as a hotelier, you don't want to miss the opportunity of positioning your hotel where your potential guests will be looking. Local SEO is one of many underrated direct booking hacks that go hand in hand with your hotel's online reputation, because it boosts your credibility and helps bring more quality leads to your hotel.
Some actionable SEO steps to take advantage of
Although SEO is not an overnight success tactic, it's an investment that yields great results for those who comply with the needs of searchers and the guidelines set by Google to level the playing field. So, if you were ever tempted to do the bare minimum of simply claiming and verifying your Google my Business profile, don't. Do more and make sure you're on the right track, so that you can reap the full benefits of having it.
Forbes lists a few local SEO steps that every kind of business can do to boost their ranking and visibility, but the most important ones for hotels are:
Optimise your description for your specific location: Since you're only allowed up to 750 characters in your description, you need to be on the mark about where exactly your hotel is, and this includes mentioning where it's situated in relation to local businesses and attractions.
Geo-tag photos for increased local discovery: We know how important visuals are to a potential guest's booking journey, so you should try to upload images of your property as often as possible to your Google my Business profile and take advantage of the geotagging option; because people are becoming more inclined to see as much as they can before they make decisions on where they (and their money) go.
Use "Posts" for special offers and to attract customers: Google my Business includes options for you to share your offers and any updates about your property that will put you ahead of competition and attract bookings, so you should make a habit of putting any new packages and deals you have on there. This streamlines the process for people looking to book, because they can filter their Google search according to price point while they can see where your hotel is on the map in relation to whatever else they may be interested in sightseeing.
Enable Google my Business's SMS contact option: Many consumers prefer to text a company instead of calling, and for their convenience, you should enable the SMS contact option. This will increase your chances of getting direct booking from the queries and communication that come through that channel. And managers don't have to worry about their personal numbers being out there if they're in charge of this communication, because it all goes through Google, which means no one needs to see your personal number.
Focus on Google reviews to get more clicks and improve ranking: The

social proof

from Google reviews is often what will earn you a click from a potential guest or see them skipping to the next hotel on the list, and Google reviews is a big player in the online reputations of businesses. Google also considers your reviews when deciding which hotels deserve the top spots on the search results, so it is important that you encourage your guests to leave reviews about your hotel experience. The main idea is to

treat them well on-site

, so that they happily give a minute or two to share their experience at your property with the world. As Ben from CoDE discovered, asking guests for a Google Review after they stay can also do wonders for your hotel's search visibility.
Important Google Maps updates you should look out for (especially for mobile)
Google Maps has some new updates that come at a time of recovery for the hospitality industry, and if you're actively involved and making use of these tools, you will make it easier for guests to travel, and make them more likely to pick your hotel when they do.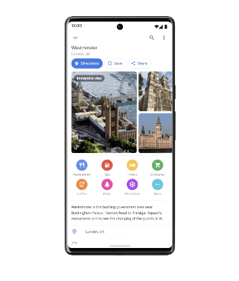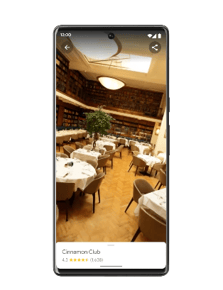 Images: Google
The first of these updates is called Immersive View; and it's exactly how it sounds. Guests will be able to virtually take a peek and check the vibe of the places they want to visit. This update is like the Google Maps' Street View that we all know, but on steroids: guests will be able to see inside the hotels, restaurants and attractions, and see how those places look at different times of the day. This is a kind of virtual tour that will be easily accessible for anyone with a smartphone, and it's just one example of how powerful your Google my Business profile can become.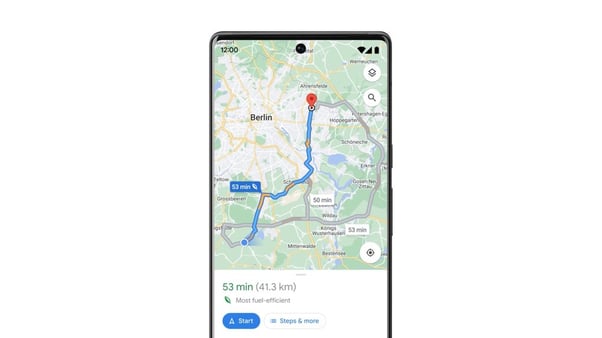 Image: Google
The second update is on eco-friendly routing, which allows travellers to take routes that are kinder to the environment and spend less of fuel for trips. Since the update's recent inception in the US and Canada, people have used it to travel 86 Billion miles, saving more than an estimated half a million metric tons of carbon emissions – equivalent to taking 100,000 cars off the road. This update comes at a perfect time for travellers and hoteliers, especially as we are taking a more active approach to sustainability with movements like the Sustainability Basics which are being put in place as guidelines for the industry to work towards. It also means that, once the update is available in your area, accommodation providers and other businesses that are on the most fuel-efficient route (but not the fastest one) might see an increase in traffic.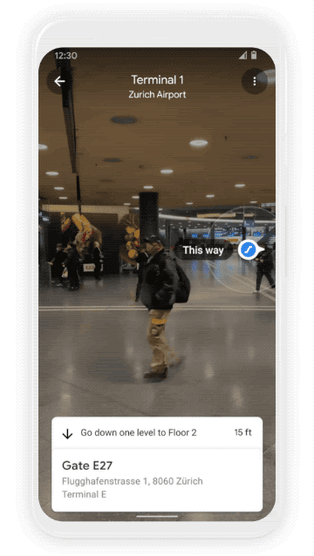 Image: Google
The Live View update is a help to those who may be a little lost when walking around in places like airports, malls and train stations. Google Maps uses AI-based technology called global localisation for this feature, and travellers can use the feature on their phone to get pointed in the right direction in a bit of a more engaging way (as in the image above). Google made this tech available to developers for free, and many are taking the opportunity to create their own iterations of apps that help travellers get around in busy zones on foot.
Conclusion
Google Travel is a big player in travel decision making, and there are constant developments that are making Google's use even more important for the travellers of today. Part of cementing your place in the future of travel means keeping up as much as possible with where your guests spend their time online, and building on your reputation by being visible there. In the long run, those who choose to stay behind on technicalities and benchmarks will continue to be outranked by those who keep up – and being outranked in the digital space can lose your hotel some bookings in real life.