Never before has hospitality faced an environment more difficult to navigate – the link between growing digital audiences that are now glued to their screens at home, and attractive key messaging from hotel brands is ever-so-tenuous; and requires nothing less than engaging, immersive content to maintain online reputations and relationships with prospective guests.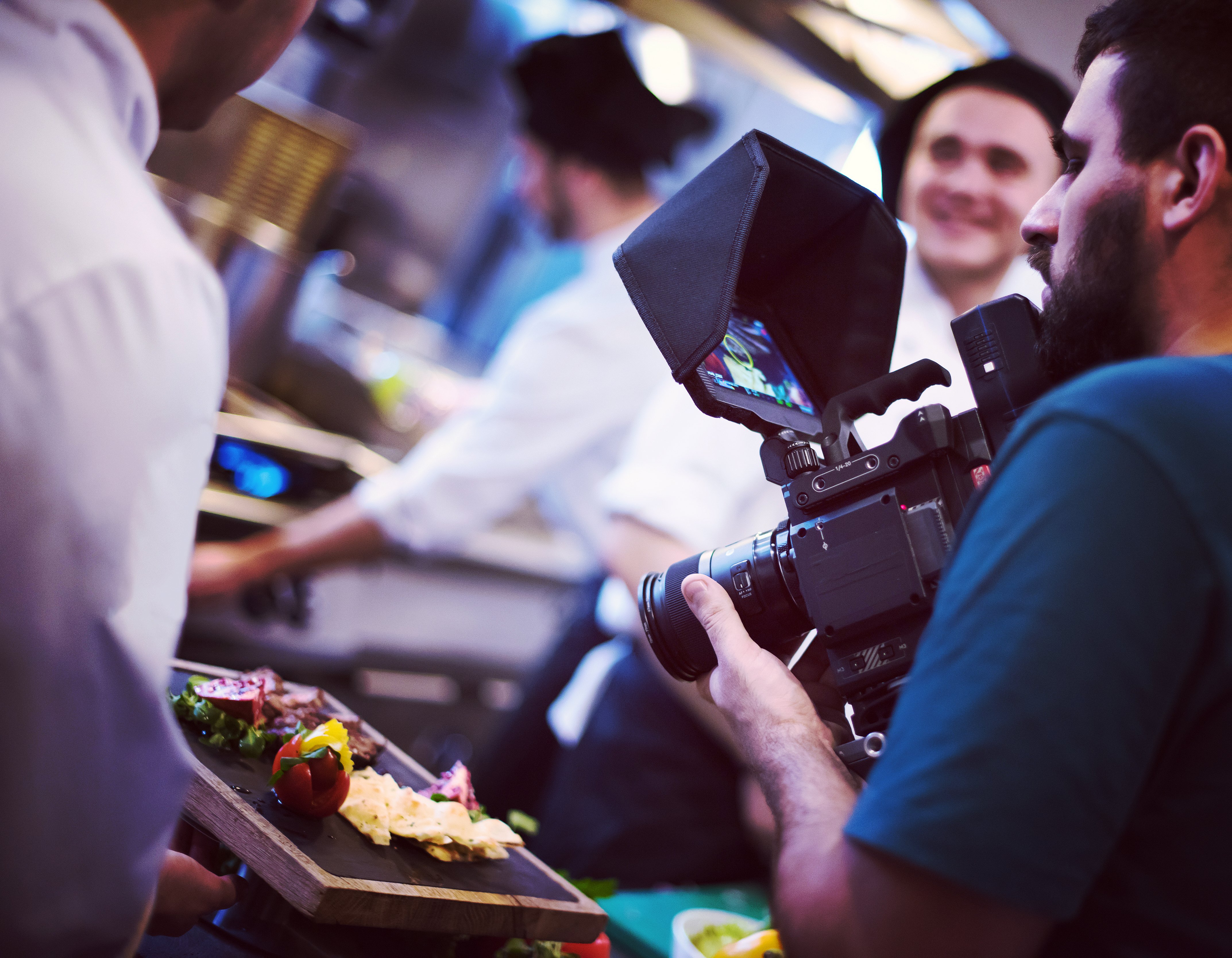 Today's mobile-centric consumers – accustomed to having a mix of consumer-friendly tech resources at their fingertips – have shown a strong preference for video content. Identifying opportunities to better engage with prospective guests requires a carefully curated combination of video content on the right channels at the right times, and hoteliers need to listen before they create.
Use guest data as the starting point for your hotel's video content
Having a cloud-based PMS (property management system) lays a solid foundation for your hotel's internal tech stack (combination of software products); as a cost-effective measure that assists your hotel's functional capacity – helping you coordinate operations, sales, planning and reporting for daily efficiency. Having this software allows you to understand what is working for your hotel, and quantifies the kind of business you bring in.
Cloud-based property management systems paired with ORM (online reputation management software) data, arm your hotel with technology that searches the internet for customer reviews to give you more invaluable insights about your hotel. Add to this direct guest feedback, collected via questionnaires you can customise to ask questions pertinent to your particular hotel, and you're able to generate comprehensive reports and guest feedback summaries, cross-referencing reservation types, overall and specified service ratings, the kinds of review sources that your guests use, your hotel's performance against competitors, segments and even demographics; along with more data on how your hotel stands in the public's eyes.
Not only does this information set you up for operational efficiency and revenue growth; it also helps your hotel to meet the varied needs of the guests you want to reach with your visual content online. And since you have about 10 seconds of average watch time to keep your viewers glued to your hotel's video until completion, knowing more about what they want goes a long way towards communicating your hotel's offering in a way that appeals to them.
Having a combination of PMS, ORM and CRM (customer reputation management) data on your side gives your hotel a personalised perspective of the conversations guests want to have with your brand during each stage of their booking journey and beyond. It's important to quantify what your guests say they enjoyed, what they wanted to see more of, and what they didn't particularly take well to; and repackage that information in ways that will appeal to prospective guests.
The hospitality industry has a mountain of challenges to overcome in the process of evolving with the times to make money again; and a guest-centric approach to marketing and service offers will make all the difference between the hotels that are prepared to emerge stronger and lead the market once their guests can finally get to booking with them again, and those that aren't.
GuestRevu provides hoteliers with such tools to capture, analyse and understand guest sentiments, leveraging the power of guest feedback and online reputation management data to build lasting loyalty, online reputations and drive revenue. This guest data can be remodelled as preliminary marketing research for your hotel to capitalise on while improving guest experience.
Now is the best time for hospitality professionals to use their cloud-based tech stacks to inform multimedia content creation, as guests may still be a bit wary about travel prospects, and will need all the assurance of reliable hospitality options they can find with the click of a button. Look at what sets you apart from competition, and what you can do to ensure your guests have a memorable, worry-free experience at your hotel; and visually portray it as more of an opportunity than a destination.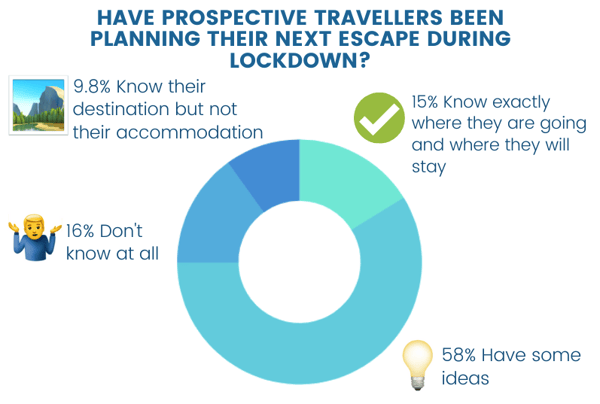 In our recent survey of 2500 respondents spanning 23 countries, we found that while 82.4% of participants are looking forward to a short holiday or break from the monotony of COVID-19 life; 91.4% of them haven't booked or even decided yet on where they may be booking. That represents the bountiful opportunities that exist, and need to be tapped into with marketing finesse and solid reputation management.
Guests need a break now more than ever... Show them how you can help
Of our survey respondents, 49.7% said they would be looking to travel within a few hours from their homes, depending on local COVID-19 regulations. This is where independent hotels and staycation providers need to come together and deliver for domestic travellers; with content that shows guests the benefits of choosing to stay with them for peace of mind, and a contagion-free stay, as well as why a stay with you would be worth the potential risks. Guests could do well with visual reminders (a simple word-cloud or infographic before you get to videos) of things like their favourite facilities at your hotels, the value for money they get, or why they can't wait to have your meals again.
The visual presentation of a well prepared room service bringing your guests a sumptuous bite while they're doing some light reading, or going through a list of wellness activities organised by the hotel is still a dream for many (thanks to COVID-19), and is gradually turning back into a reality for some, subject to location. However, your video content also needs to speak to the questions that prospective guests have in the backs of their minds; on things like hygiene protocols, local COVID-19 status and regulations, room prices, and whether your establishment leans more towards luxury or budget stays, or whether you cater mainly to colleagues, family, or friends.
Using guests' insights as the starting point for video content creation is more valuable than ever, and will turn out as a well-tailored end product, contributing towards efforts of driving web traffic and direct bookings as well. The Beach Hotel made a great display of creating content that ticks all the boxes for prospective guests.
In just 1 minute and 30 seconds, the video walks guests through their check-in process from the moment a guest arrives and walks through the sanitiser booth, room preparation before and after cleaning, with brief additional information about their safety precautions, then take us to their breakfast stations with options to order warm meals. Everything their guests need to see to know that the hotel is prepared and is prioritising their safety, should they want to make a booking.
Package your visual content to inspire wanderlust
Finding a way to visually position your hotel as a safe environment with great meals (if that's what your guests have highlighted as one of your strengths), means more than just high resolution images of your menu items and beds. Maybe follow those images up with genuine behind-the-scenes footage of a day in your hotel's kitchen, packaged as a quick look at all the precautions the staff takes during meal preparation to ensure guests are well fed and absolutely comfortable with the hotel of their choice's cleanliness.
The wanderlust that comes naturally to guests is the most important emotion to tap into with your video content. As Samantha Brown, travel TV host, said, "Travel comes back. A little fact I love is that simply the act of PLANNING travel puts us in the same psychological happy place as BEING in a destination."
Whoever is in charge of your hotel's visuals will need to keep this in mind, and use guest data as a guide to creating relevant content that stimulates prospective guests' innate need to explore, by expressing the hotel's position as a place they need to visit for their safe and preferable enjoyment away from their regular 'lockdown living' situation.






As much as wanderlust may seem arduous to inspire, it really comes down to taking stock and expressing what's in it for guests, and treating your visuals as a cinematic and informative product. And even though you may think you need to be producing scripted and directed video content that is well structured and looks great as an end product, it is often more relatable for prospective guests to see occasional live snippets (packaged as COVID-19 updates) pop up on their social media with links to your website. These could be brief behind-the-scenes displays of dedication to their enjoyment and safety by your staff, or quick snippets of current guests enjoying a stay (with their permission, of course).
You don't need to come out guns blazing with a blockbuster of an ad with floating towels that fold themselves in slow-motion. Visual offerings can be scaled and adjusted over time, with the help of analytics on your social media audit; backed by the data of evolving needs, wants and preferences of guests that are currently able to enjoy hotels (as indicated by their feedback) and spread the good word fast. Packaging and scaling visual content tailored for different core segments becomes a smoother process with the right hotel tech stacks, and means that independent hotels can use lower advertising budgets to increase return on investment, while being able to evaluate the impact of their video marketing efforts to reach more direct bookings.
Take the example of Google Arts & Culture, with its adaptivity and easy to consume content. They can take you through a virtual tour of an artist's studio, 360° videos of international galleries, and exhibitions that are well sought after. All for FREE. This is a prime example of how thinking, "what's in it for our prospective guests?" can work in a mutually beneficial way, and being resourceful during a time that needs more of such an ability.
Look for collaboration opportunities that align with your core offering
Collaboration between hotel departments is also a key input in the creative process behind hotel visuals, as they all pour into what collectively entices guests to join your brand, and enjoy their stays. GuestRevu and For-Sight recognise the importance of proactive strategies to create a better service model in the hotel industry during these times, and through aligning guest-centric perspectives, have announced an immensely powerful integration resulting in their combined potential for implementing marketing and guest loyalty strategies.
Perhaps collaboration could mean something else for your hotel, depending on your core offering and what your guests enjoy the most. Examples would be setting up one or two beautiful spaces in your hotel with cameras and lighting, as a platform to host live virtual concerts, or your top chef doing what they do best in a time-lapse concluded by the final dish that may have been doing great on the menu before your doors had to shut for a while. The possibilities are endless, it's just a matter of using what you have (based on guest data from guest feedback and online reviews) and finding creative ways to present it visually. The marketing research from your cloud-based tech stack has half the job already covered.
Conclusion
This may be the most daunting and volatile year most marketing and operations departments have ever seen, perhaps in the hospitality industry especially. It is imperative that industry professionals see their respective roles and tools as interconnected parts of a campaign that all contribute to the end product when working on visual projects for their brands. This is what creates content that sells itself in a time where audiences are collectively window-shopping for when they can go out and enjoy a break from the quarantine blues.

Having hotel tech stacks working in your hotel's favour is becoming more invaluable for operational capacity, marketing efforts, and the evaluation of such. Using guest data allows hospitality professionals to pinpoint what attracts and retains their guests, and in turn enhances the guests' experience. This guest data fuels the creativity needed to create videos that speak to targeted prospective guests, capture their wanderlust and ease their worries about health and safety as they briefly escape the new reality of the COVID-19 era in your hotel.