In 2014, Google called video "the new frontier" for hotel marketing, yet many hoteliers have been slow to include video in their marketing mix. While still images and the written word definitely have their place in hospitality marketing, video has unique benefits that are especially effective for marketing in the travel industry.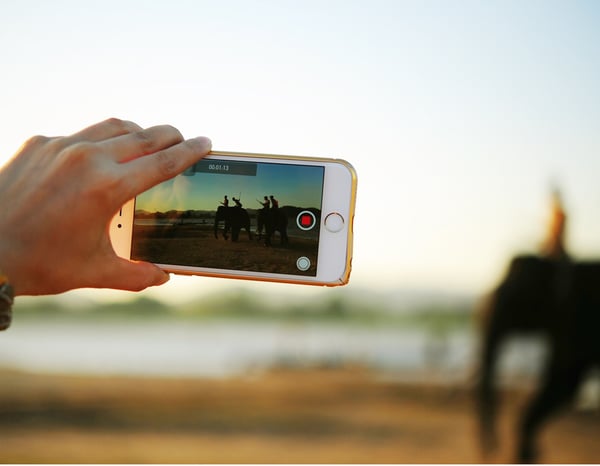 Why use video
Video is quickly claiming a massive amount of internet traffic, and travel-related videos are getting their fair share of this traffic. In 2014, Google found that in a six-month period, 35% of leisure travellers and 56% of business travellers engaged in travel-related video activities (for a roundup of more recent stats, take a look at this article from VEED).
People watch video throughout the decision-making process
Deciding to travel usually involves several stages: someone needs to decide that travelling is worth the money and time it will cost them, then they need to decide where to travel and what kind of trip it will be, then they need to decide where they will stay when they get to their destination, and what kinds of activities they will participate in when they get there.
People planning on travelling watch video during all phases of this decision-making process, so it is a perfect medium to reach a large number of prospective guests throughout the sales funnel. Of people planning trips that watched travel-related video content:
66% watched videos when thinking about taking a trip
52% watched videos when thinking about what type of trip they would like to take
65% watched videos when choosing a destination
54% watched videos when deciding which accommodation to stay at, and
63% watched videos when looking for ideas for activities at a destination1
Video is easy to consume
Psychologists have estimated that the human brain processes videos about 60 000 times faster than it processes written words. Our ever-decreasing concentration spans, busy lives, and natural predisposition to choose the option that takes the least cognitive effort mean that video is an excellent way to convey content in a format that people are willing to consume. 2014 research by Brightcove confirms this, with 76% of consumers stating that they prefer to consume brand information via video.
Video content inspires an emotional connection
There are many reasons why people decide to travel, but travel is seldom undertaken for purely rational reasons, and emotions play a large part in the decision-making process. Therefore, connecting emotionally with prospective guests is vital to the success of hospitality marketing efforts.
To inspire an emotional connection, there is nothing like making a person feel as if they are "actually there," and this is exactly what happens when one watches a video. Scientists believe that this is due to the effect that watching a video has on "mirror neurons" in our brains.
To inspire an emotional connection, there is nothing like making a person feel as if they are "actually there," and this is exactly what happens when one watches a video.
Mirror neurons are a type of neuron that doesn't just become active when we perform an action or express an emotion ourselves, but also fires when we watch another person perform an action or express an emotion. This means that a person watching a video of someone getting a relaxing massage at your spa, for instance, will experience a similar feeling.
People trust video content
While people generally trust owned media (anything that a brand has produced itself) far less than they trust earned media and user generated content (online reviews, candid traveller photographs and social media posts) and they trust paid media (advertising) the least, video content seems to be somewhat immune to this rule. Nielsen research published in 2015 found that almost half of their respondents completely or somewhat trust video advertisements online.
How to craft a your video strategy
Choose your platform and tailor your content
Different video-sharing platforms reach different audiences and some styles of video suit some platforms more than others, so it is worth thinking carefully about which platform(s) you will release your videos on. Here are the two top options:
YouTube
When one thinks of online videos, often the first platform that comes to mind is YouTube, and with good reason – YouTube has over a billion users world-wide, which accounts for almost a third of all internet users.
YouTube allows anyone to create a free account and upload a video. Because videos on YouTube range from a few seconds to several hours in length, and production quality varies from professionally produced cinematic trailers to unedited videos captured on smartphones, YouTube videos don't really need to be tailored to fit the platform.
YouTube has over a billion users world-wide, which accounts for almost a third of all internet users
However, one of the features that makes YouTube so popular is the simplicity of the embedding function that allows you to display a YouTube video on an external site. If you are planning on embedding your YouTube videos elsewhere, you should tailor your videos to those platforms.
Facebook
Facebook is a great place to publish videos because they can be shared easily within the platform, and have the capacity to reach a large number of Facebook users – more than 100-million hours of video are viewed on Facebook every day. Additionally, many people have observed that native (hosted by the platform itself) Facebook videos seem to enjoy better organic reach than YouTube videos shared on Facebook.
Because the default settings for Facebook videos are to play immediately as a person scrolls, and to be muted, it works well to tailor your videos specifically for Facebook. Pay attention to striking visual content, and if there is spoken content, you should include subtitles.
Since your video will play automatically as a user scrolls past it, the first few seconds of a Facebook video are vital. A Nielsen study found that 47% of the value of Facebook videos was delivered in the first three seconds, and a full 74% was delivered in the first ten. Don't waste those precious seconds with protracted introductions – get in there and tell your story.

Produce inspiring content
While using video as a marketing tool is effective because people trust it more than other types of owned media, you should also be careful not to go for a "hard sell" approach to video content creation. Although travellers want to know what amenities your hotel has, for instance, video is not the place to tell them, and this kind of information is better left to text.
People watch video content when they want to be entertained, and your videos should do just that by presenting your audience with beautiful, well thought out stories. Using a simple video creator like InVideo can also help to take the quality of the end product up a notch, without requiring you to buy expensive software (and learn how to use it!).
Remember mobile
Around 50% of YouTube video views take place on mobile devices, and YouTube isn't the only place people watch video. Mobile devices are fast becoming people's primary screens and the first place for you to catch their attention, so make sure your videos are suitable for viewing on a mobile phone or tablet. According to a study by Ooyala, 63% of videos viewed on mobile devices are shorter than 10 minutes, so keep your videos short, sweet and punchy.
Tell a story
This doesn't mean you need to create a full length feature film (remember the 10-minute sweet spot) but video content should follow some kind of narrative. For example, the video below from South African Tourism follows a two day journey, and the "story" is conveyed by the inclusion of imagery of travelling along different roads and the sunset and sunrise.
That is not to say, however, that going all out and doing a real story won't work. Marriot Hotel's French Kiss movie has attracted over six million views on YouTube (and counting).