Working remotely has swiftly become more commonplace – 56% of U.S workforce is doing it – and while for most people this means working from home, some have realised this can mean working from anywhere.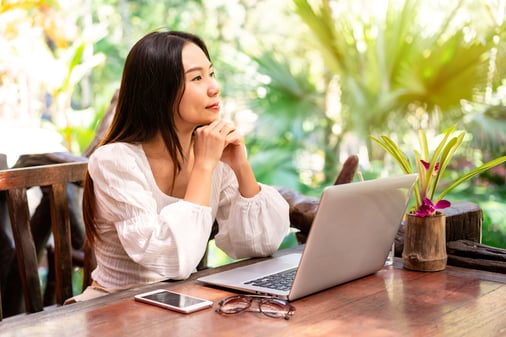 Though it has many perks, working from home can mean the line between where one spends time relaxing (at home); and where one's at peak productivity (work) can unfortunately get blurry at times, and a sense of claustrophobia can set in.
A brief change in lifestyle often allows people to resharpen their focus, and avoid the threat of 'brain fog' from being in the same environment for too long. What they may need is a "workation". Though it's nothing new, the rising demand for working vacations presents a budding opportunity for the hospitality industry to embrace.
What is a workation?
Picture a mini trip to a different town or city, with the intention of working normal hours remotely, while exploring and relaxing during evenings and weekend downtime. That's a workcation – a balance of work and vacation. As simple as it sounds, facilitating a workcation can make a major difference in a guest's mental health and professional development, so it's important that it's well curated.
We have spoken before about bleisure, where travellers combine a holiday with a work trip. Workations are the post-pandemic evolution – now that business travel isn't nearly so frequent, workers with wanderlust are instead taking a trip for its own sake and working at the same time
Depending on a traveller's needs, a workcation can last anything from a week, to a month or two. There are even "Digital Nomads" who spend their lives travelling and working at the same time. Almost any size or style of hotel can offer a workation that's tailored to replenish and provide comfort to the busy bodies that can't really put their tools down, but need a deviation from routine that facilitates a healthy work/life balance.
Why are workations on the rise?
Recent research done by Workation, a company that creates customised workation packages in Europe, highlighted a number of facts and figures about the benefits of remote work for both employees and businesses, such as:
Remote workers are happier, healthier and feel more valued.
Workation clients found a renewed sense of inspiration when travelling and learned valuable skills and tools whilst working remotely.
Flexibility increases loyalty; 85% of millennials want flexible work.
82% of telecommuters report lower stress.
Remote workers cite they accomplish 30% more in less time.
Having a healthier and happier workforce will always impact positively on the quality of work produced, and though remote work is not possible for every industry, workations can be tailored to suit the individual needs and lifestyles of the guests who can partake in them.
People are attracted to locations and communities, not properties, and this means hoteliers should be active in the community of attractions and businesses in their surroundings, and align themselves with what those neighbours can present to their guests. Be it a cultural adventure; a wellness trip; sports and fitness; or a trip centred around art for inspiration; the opportunities are boundless. All you need to do is analyse your guest feedback data to identify the kinds of packages that your guests will gravitate towards the most.
With feedback tech in hand, you can filter and zoom into the different guest segments you serve, for better understanding of their needs and wants, the primary and specialised services they respond well to, how they may be feeling towards recent changes in amenities and hotel upgrades for example, and whether they would usually book alone or with friends and family.
Armed with this information, you can assess what aspects of your offering would be most appealing to the growing workation market, and strategise how you will market your overall booking journey to your intended targets, and through the right channels.
Some of the areas for hoteliers to focus on before they create workations are basic, yet it's important to have them at the highest level possible, and it's vital to include them in every exchange of messaging and marketing, to highlight the peace and balance that will come from a workation at your property. Here are some of the suggestions we have to elevate your experience and make it more conducive for workation visits.
Top 7 changes to make your workation packages attractive
1. Work-friendly living spaces: you need to consider the ergonomics of your rooms, and ensure you have designated work spaces in-room, or consider if you would be better off creating co-working spaces. Remember that ideal working spaces should be soundproof, in well lit areas with fresh air and tranquil views.
2. Offer transport services or outsource them: If most of your guests come in from more than 3 hours away, you may want to consider offering a shuttle service to and from popular destinations for those who can afford paying a little extra so that they don't have to drive around. If that's not something you can do with your own team, find out what public and private transport is available to your guests, and possibly organise a discounted rate by working with certain transport companies.
3. High-speed internet is a must: whatever else you do to make your hotel work-friendly, high-speed internet may be the most important element of your stay. That will drastically impact the experience your guests will have, and whether they will be spending most of their time (and money) on or off your premises.
4. Introduce flexible apartment/room cleaning routines: Flexibility and comfort are important for the vacation part of these experiences, so your housekeeping staff need to be able to offer flexible times that won't hinder those working in-room. You may want to introduce rosters where your guests can block out housekeeping times for themselves, if you have the capacity and enough hours on the clock. We have more on 3 keys to excellent housekeeping here.
5. Offer relevant information on the must-see attractions and must-do activities around: Since workations are usually done in new and unseen places, it's important to make sure that your guests are aware of all of the adventure and exploration at their disposal, especially if you're a smaller property with less activities and amenities to offer on-site.
Even though your guests will probably not be sticking to itineraries in their down time, you should let them know pre-stay what they can do at your property, or what you can have organised for them with the local business community. Think hikes, art tours, restaurants other than your own, or where they can enjoy after-work cocktails. Remember, you want them to shake off their feeling of claustrophobia.
6. If possible, outsource a reputable guide to familiarise guests with the surroundings: some places have hidden gems that only the locals know about, and having a guide to navigate the best ones makes an even better emotional impact on guests' experiences and the memories connected to your property. Your feedback data should let you know if you have enough guests who may be willing and able to pay a bit extra for dedicated guides.
7. Make content to engage your social media community: experiences are always better shown than explained, and it's as simple as making sure to have visuals that speak for themselves on the day-to-day life of someone booking a workation with you. From how easy it is to customise their stay before they book, what they can expect on the first day, or what it's like to get a day pass if there are locals you are also aiming to entice. This is the kind of content that will inspire your guests to become advocates for your brand, and share their own content with their audiences about their experience with you.
You need to invoke a certain level of relief in your guests, especially in their downtime, so that they can naturally pour back into their work life feeling refreshed, while still providing the practical amenities required for them to get their work attended to without hassle or frustration.
Having a grip on your guest feedback gives you insight into the chances of a workation becoming a viable option for your hotel guests, especially if you don't have the budget to make too many physical changes at your property for it to succeed. If you use what you have, upgrade what you can, and focus on how you help guests kick back when they need to; you stand a good chance of making it work out for your guests.