Providing indelible hotel experiences stems from being tuned in to the guests' perspective at every stage of the booking journey. Emails play a vital part in nurturing connections with past, current and prospective guests - but when it comes to engagement, Knowledgebase says the average email open rates are 15.8%, while the average click-through rates are just 4.7% across industries.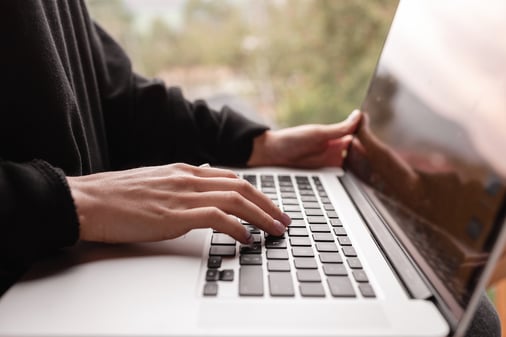 If those statistics are anything to go by, they represent how important it is to have an integrated tech stack that will help you analyse and act on guest data from multiple systems; so that you can define guest segments accurately; and make sure you don't miss opportunities to create targeted offers and email marketing campaigns for the right guests; before you go on to fulfil their expectations on site.
Guest data informs how you approach your email marketing
"When marketing to any guest, segmentation and therefore personalisation is key." says Nicola Graham, VP of Marketing at Cendyn, an award-winning customer relationship management solution trusted by hoteliers the world over.
"It's no use sending one email to your whole database because you can guarantee that the message you send will not resonate with everyone – in fact – it's highly likely it won't. This is why creating different 'audiences' or 'segmented lists' is so important."
Having an integrated tech stack can help you divide and conquer your guest segments and email marketing campaigns for different booking journeys. The best way is to be on top of every element of your guests' experiences, because that data will open you up to more of the guests you want coming in the future.
For example, guest feedback reports from online reputation management software, paired with data from other systems your hotel uses, such as your Property Management System and Customer Relationship Management software, can help you filter out segments from multiple data points, and tailor automated email marketing campaigns according to what the data reveals. Such as:
Luxury and business travellers
Repeat guests that come in seasonally at certain times
Guests that book for celebrations like weddings, anniversaries and honeymoons
Guest preferences on amenities and room types
Activities they enjoy in-house or around town
Domestic and international travellers
Frequency of visits and duration of stays
You can't expect to create memorable experiences if you aren't attentive to the different factors that lead to a guest booking with you, why they had a good time, and where you may need to improve. Especially in times of ever-changing guest sentiment and the perpetual rise of travel interest post-pandemic, every touchpoint with a guest needs to be strategic and with the aim of streamlining processes and guest experiences.
"I think what the guest wants is that they want a seamless experience," says David Scott, CEO of The Hotel Folk, a group of six privately run independent hotels. "To make us look like we actually know and understand each guest individually, having the integration [between their guest feedback and CRM platforms] of that data and that information is critical because otherwise you just run the risk of looking stupid because you've sent the guest a message that completely contradicts their previous experience – good or bad."
We've spoken before about how to use your hotel's reviews and guest feedback to successfully package your offerings; and it's important to remember that the use of that data transcends to how you will structure your email campaigns to target the right lists. That being said, here are 4 email marketing campaigns every hotel can do to build trust, induce excitement, and inspire loyalty with guests.
1. Seasonal emails with special offers and deals
An integrated tech stack empowers you with a richer guest profile, and gives you more data on who stayed with you previously, along with a better understanding of their loyalty metrics, retention rates and more. This is all to the benefit of elevating their journey so you can meet them halfway every time, especially if they travel during certain times of the year.
For example, someone who enjoyed a holiday like Christmas with you last year, may be interested in making it an annual tradition. In your email interactions with them, show them you remember them and how their stay went, so that you are at the top of their list when they are considering your region for their future travels. Offer deals and family packages tailored to them, make it easier for them to organise a booking by having amounts estimated (since you know how long they stayed, who they came with, and what they enjoyed the most).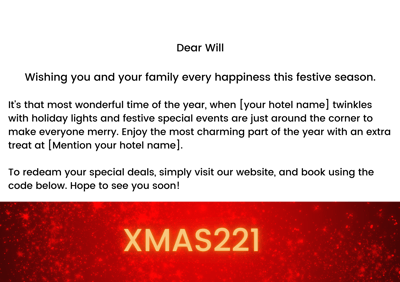 When sending seasonal emails, you also need to be aware of what your audience might be experiencing back home at that time of year. "Once you know where they are located, you can determine what sort of offers and seasonal emails would resonate with them," explains Nicola. "For example – if you're emailing people located in the Northern Hemisphere winter and you're located in the sunny Caribbean, why not use messaging and visuals to help entice them into the warm sunshine! This message may not resonate as much with someone based in Sydney, Australia at the same time of year, so be sure to segment based on location."
2. Event-based reminder emails
Since an integrated tech stack forms the foundation of your operations and guest experience in general, you have the advantage of monitoring which parts of your property are your money makers, what your guests would gladly do again, and the guidance of auto-generated pricing strategies at times. That all helps you collect a database of who to offer what, and when.
For example, if your hotel was the wedding venue for a couple, or you had quite a number of bookings for valentines specials last year, you need to capitalise on these romantic memories of you, and invite them to book for an even better time. You can personalise the email interactions with anniversary reminders, and sweeten the deal with some of the new things you have been working on to make them have a more special stay. Communicate in a way that says the room is waiting for them, and the package is specifically to celebrate them.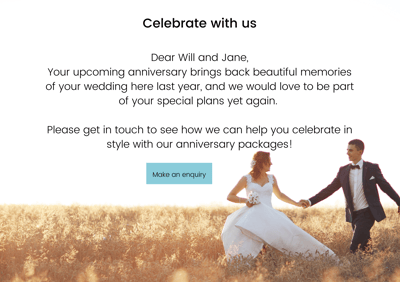 3. Emails to entice your domestic travellers
"Throughout the pandemic, local travel in some countries was booming as people were restricted with international travel so we absolutely saw a huge increase in marketing to 'local' guests," says Nicki. "One of the most successful tactics we saw was to target individuals who had dined with you before at your hotel but had not stayed. As a loyal dining guest, targeting these individuals with offers to help them 'have a break away from the house' or 'time away from the kids' was a great way to boost hotel stays from those who are able to get to the hotel."
Depending on the frequency and volume of guests that come from an hour or two away, you can also send regular marketing emails to them every month or so to stay top-of-mind.
Share new and old amenities and activities around, and make it enticing with details like "last minute booking" offers with free cancellations. They may have already been thinking about taking a staycation or workation soon, for example; but you have to make it an easy choice for them to decide on you.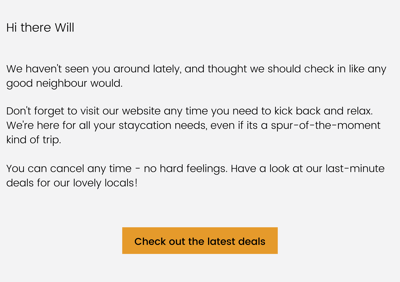 4. Hotel newsletter emails for guests who aren't in a particular segment
Your email marketing campaigns should be a part of your marketing strategy as whole, hence you can repurpose and reuse some of your email campaign content through various channels. A more general approach that will hopefully grow your email lists through your social media is your hotel's newsletter, and if you have fears of lacking content, it may be more sustainable than having a blog for your hotel.
Though this may be more generic and less personal, it can form a safety net for all of the guests who may fall under more than one segment, or none at all (i.e cancelled guests and prospective guests). Share a bit of everything, from room types, industry awards, new deals, testimonials from guest reviews, to check-in processes and a bit of insight on the different experiences here, to make sure that your guests that may be on the fence can pick up a thing or two that could possibly change the fate of your direct bookings.
With the backing of an integrated tech stack, you have the full spectrum of what your guests will likely be interested in, so you stand a better chance of positioning your property as a one-stop destination that can easily be referred to or promoted by guests that have gained your trust for an entirely different experience.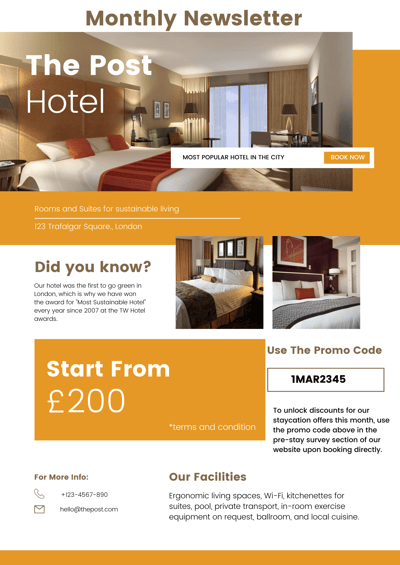 No matter the size or type of your property, it's important to have an integrated tech stack as a central point to collect guest data in order to understand their journeys better. This is how you will conceptualise the way you engage guests in personalised ways with your email marketing campaigns, so that your strategy can add an emotional value behind your offers.
It's best to approach every email interaction with the aim of ultimately having repeat bookings, brand advocates for your hotel, and a longstanding reputation for being a trustworthy destination. As a guest, feeling like a product or offer was made just for you induces more excitement to make a decision, and an integrated tech stack is where understanding guest behaviour begins, before they book.