For many travellers, volatile exchange rates, changing visa regulations and political instability have contributed to a certain reluctance to travel abroad. However, this has not diminished their wanderlust, and has led to an increase in "staycations" – vacations nearer to home.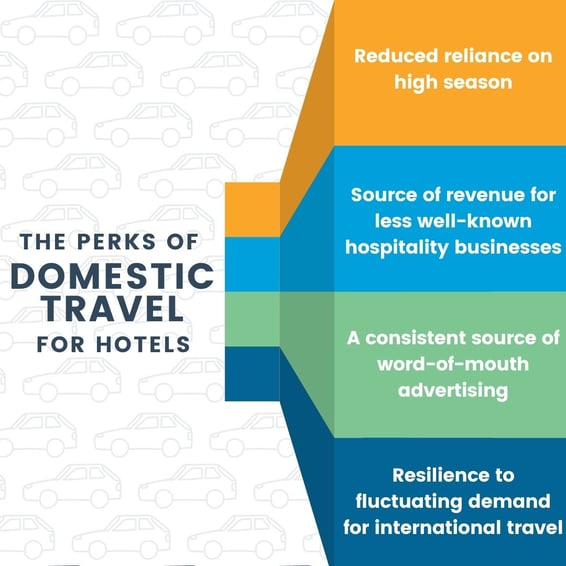 This boost in domestic tourism (travel within one's country of residence) benefits everyone in the tourism sector, your own business, and the country as a whole. With some clever marketing and a bit of creativity, you can entice these domestic travellers to your area and therefore, to your hotel or business.
4 reasons why you need to cater to your domestic market
Domestic tourism has many of the same benefits as international tourism for hospitality businesses, but there are also a few benefits that domestic tourism in particular provides:
Reduced reliance on seasonality
International travellers tend to visit locations mainly during high season, as international travel is more expensive, more time consuming, and requires more planning. Domestic tourists, on the other hand, do not need to put as much time, money and effort into their holidays, and can therefore take vacations all year round, whenever the mood strikes them. Public and bank holidays can provide opportunities for local travel that would be too short to allow for a worth-while international holiday.

Useful source of revenue for less well-known hospitality businesses
When international tourists visit your country, they often do not expect to return, and will have a carefully planned itinerary of the top things to see and do. Hospitality providers off the beaten track may be (understandably) overlooked by international travellers in favour of more famous locations. Domestic travellers do not have the restriction of their visit being a "once in a lifetime" experience, and are therefore more willing to holiday in less well-known or remote places.
Domestic travellers do not have the restriction of their visit being a "once in a lifetime" experience, and are therefore more willing to holiday in less well-known or remote places
A consistent source of word-of-mouth advertising
Local travellers who have experienced your offerings are more likely to recommend visiting you to international travellers than locals who have just heard that you exist but don't know what you offer.
Resilience to fluctuating demand for international travel
The volatility of the global political and economic environment means that you cannot rely too heavily on international tourists. Terrorist attacks, currency highs and lows, global and local recessions and many other factors all play a role in determining the number of international tourist arrivals for any given country in a given period. Domestic travellers are far less likely to be affected by these factors, and having a strong domestic tourism strategy can help you to weather global highs and lows.
Having a strong domestic tourism strategy can help you to weather global highs and lows
Going local: Getting your domestic travellers to choose you
There is a misconception among many would-be travellers that travel is only valuable if you travel to other countries to see new cultures and foreign lands, but this is not true. Domestic travel can be just as much of a special experience as international travel, and it is up to hospitality industry professionals to challenge this misconception and encourage people to explore their own countries.
Publicise the affordability of domestic travel
International travel has an almost spiritual appeal, as it promises to introduce the traveller to new cultures and ways of thinking. Unfortunately, international travel is expensive, and those with the thirst for adventure do not always have the budgets to match their aspirations.
However, domestic travel can still be an enlightening and rejuvenating experience for those who cannot afford overseas travel. Make sure that your prospective guests know that you are not out of their league – for example, if you post your rates in foreign currency, make sure that you also show them in your local currency. You may even want to consider giving locals a discount.
Domestic travel can be an enlightening and rejuvenating experience for those who cannot afford overseas travel
However, even the most affordable venue will fall flat with domestic tourists if it doesn't provide genuine value for money. You cannot rely on domestic travellers being caught up in the magic of a new country and overlooking below-par standards, or hope to dazzle them with "touristy" gimmicks.
Capitalise on local events
Events like music festivals, trade shows, theatre and arts events and the like all provide opportunities to attract domestic travellers to your hotel. Make sure that whenever an event is taking place in your area you are marketing to attendees, and consider creating specials or packages for them. Offering value-ads like free transport to and from an event can help to differentiate you from your competition.
Make your own establishment event-worthy
You don't just need to rely on nearby events to attract local travellers, you can also stage your own events, like live music evenings and themed events for special occasions like Valentine's Day, to attract local visitors to your establishment (and don't forget to use social media to market these events). These types of events will also help to attract domestic tourists who are visiting friends and family in your area to your establishment.
Promoting your establishment as a venue for visitors to use for their own events will also help to attract domestic visitors. Weddings, large birthday parties and business conferences are all good reasons for people to travel within their own country, so make sure that they have the opportunity to travel to you.
Make sure your product is highly differentiated
Differentiating yourself from your competition is always important, but it becomes even more so when marketing to domestic tourists. The appeal of international travel is the opportunity to experience something one cannot experience at home, so in order to make domestic travel worthwhile, you need to offer something equally special.
Don't just provide a bed, create an experience
Domestic tourists are not as interested in sightseeing as international tourists are, so it is a good idea to promote your area as not just a place to see, but a place where visitors can engage in fun, unique or relaxing experiences and activities.
Get together with other nearby tourism operators, like day spas and activity providers (horseback riding, skiing, hiking etc.) and put together experience and activity packages. Additionally, you could partner with other establishments between your area and large towns and put together a "road-trip" package.
Remember that some of the most popular reasons people travel are to reward themselves for hard work and to spend quality time with friends and family. Make it clear that a holiday in your area can be just as valuable as an overseas holiday for these purposes, and that it is much easier and cheaper to travel to you than to plan an international holiday.
Sources: