As we begin the new year, hoteliers will probably be thinking of new ways to get eyes on their hotel websites and more potential guests interested in their hotel. However, as Google showed last year with their analysis of "moments that matter", the best way to go about this might not be to get people interested, but meet them online as they plan their travels when they are already interested, and searching for information.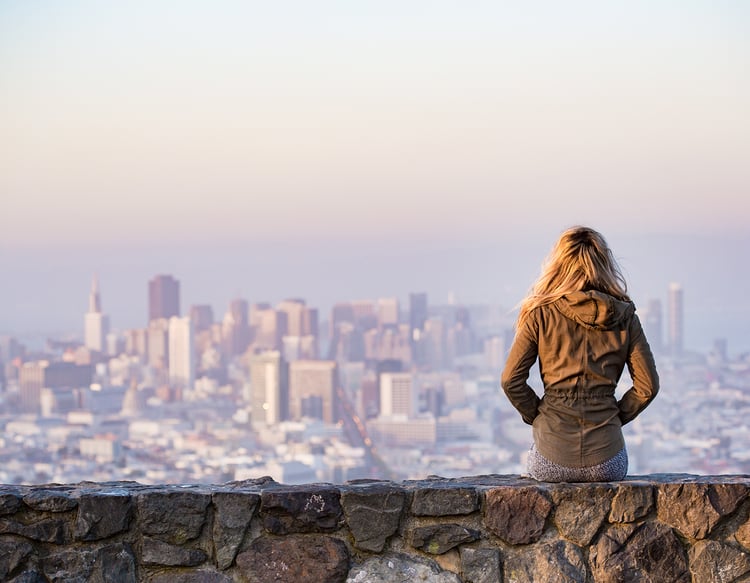 Travel professionals should not only provide prospective guests with information about their own establishments, but rather be a helpful source of the information that travellers need throughout their decision making and travel process. In doing so, they nurture a sense of trust and loyalty before a guest has ever visited them, and are more likely to be first choice when the guest does come to deciding upon where to stay.
To make an impression, your brand needs to be with travellers through the dreaming, planning, booking, experiencing, and sharing phases of their travel journeys, from the time when a potential guest is dreamily scrolling through photos of beaches on her smartphone while she waits for the train to the point where she shares sunny beach selfies with all 500 of her Facebook friends.
If you can find out where people are, what information they are looking for and how to reach out to them in a meaningful way along each stage of the digital travel journey, you will be able to nurture a virtuous circle wherein satisfied internet browsers become happy guests who share positive sentiments about your establishment, encouraging more guests to stay with you, have good experiences and spread a positive image of your establishment.


The Dreaming Phase
Where travellers are
During the dreaming phase, your prospective guest could be anywhere. These days, your prospective guests are not tethered to their desktop PCs while browsing the web, and 69% of smartphone travel inspiration takes place in spare moments, like while watching TV, social networking and before looking for more specific ideas on desktop.
One thing you do know is that they are online, in fact, 69% of business travellers and 65% of leisure travellers find inspiration by doing research online. To be more specific, 83% of them are visiting social networking, video or photo sites, 61% are perusing search results, and 42% are checking out review sites.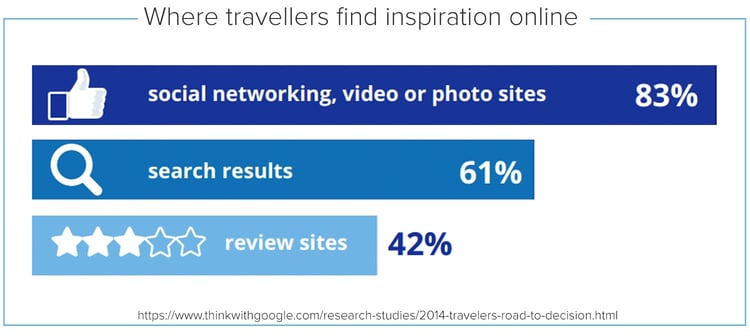 What they are looking for
At this stage of the travel decision making journey, perspective travellers usually only have a vague idea of the sort of trip they would like to have or destination they would like to visit, and search queries such as "best time to visit [area]" and "best beach/skiing/wildlife holiday locations" are common.
These aspiring adventurers are looking for high quality visual content that will inspire them, such as photographs and video. Video is taking off in travel marketing, and of people who watched travel-related videos, 65% of them watched them while thinking about taking a trip, and 61% watched them when choosing destination.
How to reach out to them
In order to appeal to travellers during this phase, you should be marketing your area, not your hotel. Awaken web users' wanderlust with information (primarily in the form of images and videos) about your area's history, its people, activities available and why it is a destination they will want to visit, and as with all stages of the decision making process, you want your content to answer travellers' questions. Also remember that when users go on their mobiles they are often distracted or only looking for a short time – make sure your content is captivating and easy to digest.
During the inspiration phase, people look to social media for ideas. You can't rely solely on your website to get your name out there and your information across. If you want to make sure that your establishment is top-of-mind when they reach the planning phase, make sure that you have a strong social media presence.
The Planning Phase
Where travellers are
77% of business travellers and 74% of leisure travellers begin planning their travels online, and the top planning sources are search engines, hotel websites, online travel agents and review sites.
What they are looking for
During the planning phase, people use many different search terms, but generally they are use destination-related terms when first starting to plan their holidays (this overlaps slightly with the dreaming phase), and they begin to search price-related terms, activity-related terms, terms related to needs or wants and specific brands or websites when narrowing down possibilities.



How to reach out to them
Even when travellers have passed the dreaming phase and have moved on to planning, only 16% are sure which hotel or brand they will use. 65% are weighing up a few options and 20% still have no idea where they will stay. This means that the planning phase of the travel process is a perfect time to assert your hotel as the best choice.
Even when travellers have moved on to planning, only 16% have decided what hotel they will stay at
People use online travel agents, search engines and review sites as well as individual establishments' sites to help them make their decisions. Your online presence should include more than just your own website.
If your target market includes families, don't forget to reach out to the children, their preferences influence families' travel decisions 87% of the time.


The Booking Phase
Where travellers are
Even at this stage of the travel decision making process, people are still online and still using searches; 57% of leisure travellers and 64% of business travellers agreed with the statement "I always start my travel booking and shopping process with search". At this stage people are still using multiple devices and platforms to help them choose the booking option that they believe is right for them.
What they are looking for
When they move from planning to booking, people tend to search more for specific brands or websites. At this point their primary concerns are getting the best deal or a low price (this was cited by travellers as the number one reason why they book through OTAs) and they want a hiccough-free booking experience (the second most common reason people book through OTAs is "past positive experience or recommendations for the site").
How to reach out to them
Even if the majority of your bookings come via external sources (like OTAs), don't think that this phase of the booking journey is out of your hands. Your guests are perusing multiple sites on different devices at this stage, so what you portray on your website or social media may well still affect bookings you receive through other channels.
It is also vital that your site is mobile optimised, especially if you rely on many last-minute bookings – 65% of same-day bookings came via mobile. Having a site that isn't mobile-friendly can seriously harm your brand, and even turn neutral visitors to your website into detractors; 83% of leisure travellers have encountered a travel site that was not mobile friendly, but only 23% kept using the site.
Even if you don't get many mobile bookings, remember that many travellers switch between their mobile phones and other devices – people might not always book on their mobiles, but they do browse.


The Experiencing Phase
Where travellers are
While not all travellers use online sources to help them find things to do once they are at their destination (many simply rely on walking around, reading brochures, chatting to concierges etc.), around 51% of leisure travellers do use the internet to find and plan activities. Many of these travellers will use their mobile phones to find activities, and 84% of them use search engines.
What they are looking for
Once again, visual content is important to travellers, especially video – 63% of people who watched travel-related video watched it when looking for ideas for activities at a particular destination. However, don't include images at the expense of information. Details such as exact locations, and age restrictions also become important to travellers planning excursions.
How to reach out to them
If you offer activities, make sure that you have optimised your website and content so that people using search engines will find the activities you offer easily. Even if someone isn't staying in your hotel, a day-visitor to your spa still puts cash in your pocket, and hopefully a good review (and some selfies) online. Even if you don't offer your own activities, you can impress your guests by having a list of things to do in the area on your website.
Having a mobile-friendly website is also important for attracting internet users to your site during this phase of the online travel journey. Remember that they will often be using their mobile phones, and that search engines are popular with mobile users. If your site isn't mobile optimised, search engines like Google may penalise you and drop your search ranking.


The Sharing Phase
Where travellers are
At this point, you have won your guest's custom, and they are already with you physically, but their hundreds (or thousands) of Facebook friends and Twitter and Instagram followers jealously gazing at their perfect holiday snaps aren't, and they present a whole new set of potential travellers entering the "dreaming" phase of the online travel decision making journey.
What they are looking for
Guests at your establishment who want to stay connected are actually simply looking for that, to be connected. Make sure you have decent Wi-Fi throughout your hotel, and go the extra mile by offering phone chargers and adapters for guests to borrow while they stay with you.
How to reach out to them
Training your staff to be on the lookout for guests who need a hand taking a group photo and making sure your Wi-Fi is up to par are the basics of ensuring that you are meeting guests needs in the sharing phase of their online travel journey. However, the social proof that guests in the sharing phase can provide can be an exceptionally valuable marketing tool for your hotel, and there are many hotels that have gone the extra mile with encouraging guests in the sharing phase (by inviting guests to use Twitter to order poolside drinks, for example) and making the most of their user-generated content.
Don't forget, your guest's interaction with you doesn't end when they go home, they share their pictures and their reviews, and the whole cycle starts again with a new group of travellers looking for inspiration and advice for their next trips.
Statistics from Think With Google's 2014 Traveler's Road to Decision