Your staff, and the interactions your guests have with them, can make or break your reputation, but hospitality businesses are struggling more than any other industry to fill vacancies. While we can't summon you a sous chef or magic managers into existence, we do have some suggestions on how to use your guest feedback to motivate and mentor the staff you do have.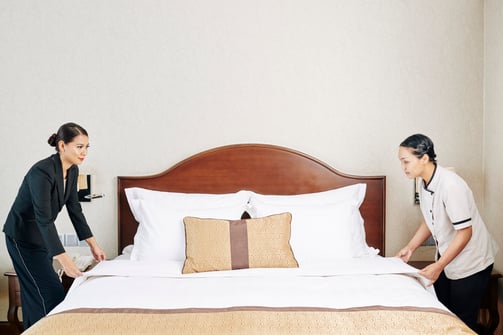 Use guest reviews to accelerate your staff's professional growth
Upskilling is crucial to ensure that hotel staff have enough confidence (and the capability) to carry out their roles regardless of hotel occupancy. It also reassures staff that there is a future in the industry, and that it's worth dedicating resources to learning and improving one's industry skillset.
Property managers and team leaders can't be everywhere at once to watch everyone perform their duties, but consolidated feedback technology gives them actionable results to analyse, aggregate and compare the performance of different hotel departments, according to what guest feedback reveals. Staff get a first-hand account of how effective their efforts are, which makes it easier to highlight and resolve issues in staff performance, and discover which skills are lacking in teams.
Guest feedback tools help you measure each aspect of guest experiences according to the unique Primary Service Ratings you set, based on your hotel's offering. Reports can be pulled onto your dashboard from guest feedback questionnaires, about the main departments of your hotel (eg.reception, housekeeping, restaurant etc.) along with any other specialised services you may also provide (eg. safaris, spa treatments, wellness activities etc.).
Looking at these Primary Service Ratings allows you to establish performance benchmarks that will maintain or improve guest satisfaction, according to each element of your guest experience, which help to identify the departments that perform exceptionally. Your Primary Service Ratings will also lead you directly to where your staff may have the most room for improvement. Once shortfalls are identified, managers will need to ensure staff are held accountable, and that the effects of any training interventions are monitored closely.
For example, if you noticed that your Primary Service Ratings are showing a steady incline for room cleanliness, and a decline for your hotel's restaurant, you would need to keep a closer eye on your kitchen staff to see where the problem lies. It could turn out the restaurant needs a menu that's more appealing, or you may discover that the team is short on certain equipment or training in order to deliver meals according to what your guests want. One you tackle that specific service area by giving your staff the equipment and training they require, you can go back to your Primary Service Ratings after some time, to see whether the changes you made have a positive impact on your overall guest satisfaction.
Use guest reviews to avoid micromanaging your staff
Using a guest feedback tool with features like GuestRevu's service tickets can make it easier to achieve more accountability from staff. Service tickets help managers delegate and track the progress of day-to-day activities, and avoid having guests repeatedly experience the same issues at properties.
If a manager notices a guest has mentioned something that needs to be actioned in a review, they can create a service ticket, assign it to the right team member, and monitor how long they take to handle the complaint. Response time is important in hospitality, and having the advantage of being able to track issues that commonly occur, as well as how long they take to get sorted out, gives hoteliers some direction on where to upskill staff in the future.
The same goes for positive feedback – team leaders can add a service ticket to a gleaming review, for example, and delegate someone in the marketing department to share it on the property's social media from within GuestRevu. They can also assign 'watchers' to ensure that the task is being followed up satisfactorily, which also makes sure that your staff will want to do things right, the first time around, and without need for supervision.
Use guest reviews to set attainable goals for your staff
Setting goals for staff to visualise and attain is important, and after training them on those skill sets, your team needs to have a true north, or bigger picture to always keep in mind. Team leaders can use GuestRevu's goal lines, which basically set targets for key performance indicators, so that the team knows their training will help the hotel work towards, for example, an improved Net Promoter Score, Primary Service Ratings, Sentiment and Competitor ranking.
Using goal lines as motivation for your team needs monitoring and evaluating in order to be a successful process. GuestRevu's Milestones (custom markers that can be shown on any graph that shows change in a metric over time) are a strategic tool that work well with goal lines, because they can track the effect of any training interventions on guest satisfaction (through pulling reviews, guest sentiment and changes in primary service ratings) over an allocated timeline.
It will save a team leader a lot of time to mark every staff training session as a milestone as soon as it's completed, in order to track how guest experiences improved as a result. And, as the guest sentiments accumulate over time, the goal lines serve as a gauge of the success of each milestone. Achieving this can boost team morale by demonstrating the successful results that come from what they learn and implement as a team.
Use feedback as the root of your organisational culture
Hospitality professionals should always prioritise their guests, and keeping them happy should come naturally at all times. The Coaching Inn has been using guest feedback to motivate excellence in their team, and keep them on their toes. The weekly reports they pull from the guest intelligence dashboard are sent to group management, and to individual property GMs every week to rank their hotels in different categories like service, accommodation and more.
This creates a bit of friendly competition within the hotel group, because nobody wants to see their team at the bottom of the log. This also motivates every staff member to perform in such a way that will leave an outstanding impression on a guest, which will translate into positive feedback for the property they represent.
Feedback is also quite often better received when coming from guests than from management, and as The Hotel Folk CEO, David Scott says, "It almost changes the sentiment of what that (feedback) actually means – it's not me, it's not the hotel manager, it's not someone within our business talking about it; it's actually a guest giving you real-time feedback to say, 'this could be better' and I think quite often that gets a better response from the staff than actually us (management) pointing it out ourselves."
Direct feedback motivates individuals to go the extra mile for their guests to be satisfied, and earn invaluable mentions in reviews – especially when this converts to tangible rewards for the staff members. Changes to employment policies and benefits should also stem from analysing guest feedback and internal feedback, in order to reward staff loyalty, foster a culture of excellence, and build the synergy between teams.
Feedback also keeps management abreast of the needs of employees, like staff communication gaps, the need for shift changes to maintain a healthy work/life balance, rotational duties where possible, and more employee wellbeing developments. Internal feedback can also be used to develop appropriate staff benefits like schemes, grants and discounts to replenish the wellbeing of staff where they need help the most, so they can go all out for their guests' satisfaction, and remain loyal to the company.
A prime example of such policies and employee benefits is the 'Hero of the Month' concept by the Coaching Inn. Apart from other relevant changes they make to ensure that staff are in the best position to perform and stay loyal to the team, their GMs nominate a member of any department to win a performance bonus each month and at the end of each year, based on their service and guest feedback they receive (which has mentioned them by name). This is why every staff member pays a great amount of attention to detail while trying to maintain a high level of service to their guests.
Use guest feedback to strengthen relationships
Positive reinforcement is important in an industry whose people often work thanklessly to satisfy their many guests. Doing everything according to what the guest would like is much easier said than done, especially when there are fewer employees around to carry out daily tasks for guests who may be coming in larger numbers due to eased restrictions and pent-up travel demand.
The Hotel Folk realised how much guest data can do to bring staff together, and give them momentum to perform excellently. With their property management tech stack including the For-Sight and GuestRevu integration, they combined customer relationship management tools and guest feedback and reputation management tools to optimise guest data, and used it to incentivise Hotel Folk (their staff) to perform exceptionally with positive feedback from guests.
"Folk Points" are points that go into a monetary equivalent at the end of each year. These points are earned every time someone gets a positive mention in a guest review, so they can earn points for themselves, and win rewards for their hotels. These folk points create a norm of high service levels across their hotel group, and reward every staff member who maintains high quality standards to the point of earning personal mentions in reviews.
Another advantage that comes with combining feedback management software with a property's tech stack, is the ability to segment guest engagements. Since you initiate engagements on the right platform(s) and at the right timing for your guests, your staff are likely to gain more valuable guest insights from the outset of the booking journey, which helps your staff to provide guests with a more personalised stay. All of your marketing goes through the right channels, and you can monitor whether changes need to be made to those engagements based on feedback data. This gives your on-the-ground staff a solid base for the basic and specialised services they need to prepare and excel in for your different guest segments.
Conclusion
Whether good or bad, direct or online, there is always something for hoteliers to gain from guest feedback. Using reviews from guests to train and motivate staff is one organic and sustainable method to fight the high staff turnover rate we have as an industry, and serves to create a little friendly competition and pride amongst staff to always want to perform at the highest levels they can.
Those that may not be able to keep up with the high service levels are immediately noticed by managers thanks to technological support, and quicker action can be taken to upskill those employees. Staff also often respond better to feedback from guests than from management, which keeps the working environment as one of constant improvement, and not one of naming and shaming employees.