Purpose-built, automated software can be invaluable for keeping on top of both front-of-office and back-of-office tasks, especially amid staffing shortages in the hospitality industry. Hoteliers can attest to the countless hours (and headaches) they've spared by employing a cloud-based tech stack to streamline operations and maintain reputations.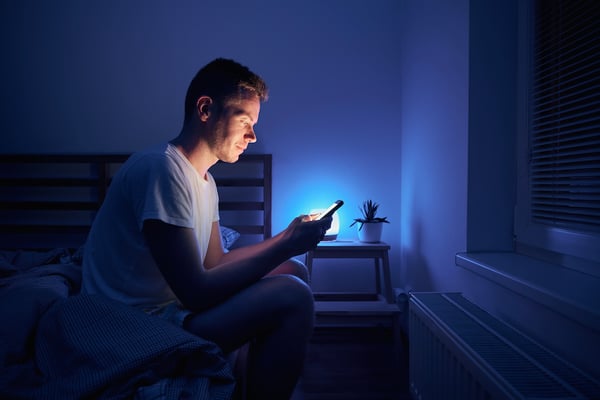 However, there is a lingering concern in many hospitality professionals' minds that the use of automation could diminish the emotional value attached to guest experiences, or perhaps the human element of hospitality as a whole. But, when used cleverly, hotel tech can and should balance with and complement hotel humans, and it's possible to lean a little more on a tech stack without any guilt of being out of touch with your guests.
Hotel guests want more self-service in hospitality
While staff shortages in the hospitality industry persist, the demand for travel is climbing, and pent up 'revenge travel' is coming from all angles with raised expectations from guests. To satisfy those expectations; hoteliers have been playing 'catch-up' with tech solutions to bridge the gap, and guests have become accustomed to including tech in their lifestyles.
A 2020 Oracle Hospitality and Skift Research Report indicated that 71% of guests are more likely to stay at a hotel that offers self-service technology, and this is supported by a Deloitte study that found that 60% of travellers are more likely to stay at a hotel that allows contactless check-in and the ability to use a smartphone as a room key. Needless to say, there's enough motivation for hoteliers to use automated solutions – it's what the guests want.
There is certainly a shift in mindset from hoteliers, especially those who believe in putting guest satisfaction at the top of the priority list; and the graph below by Statista reveals the main reasons for hoteliers to use technology worldwide as of February 2021. You can imagine where these figures are sitting today, and where the trajectory is headed.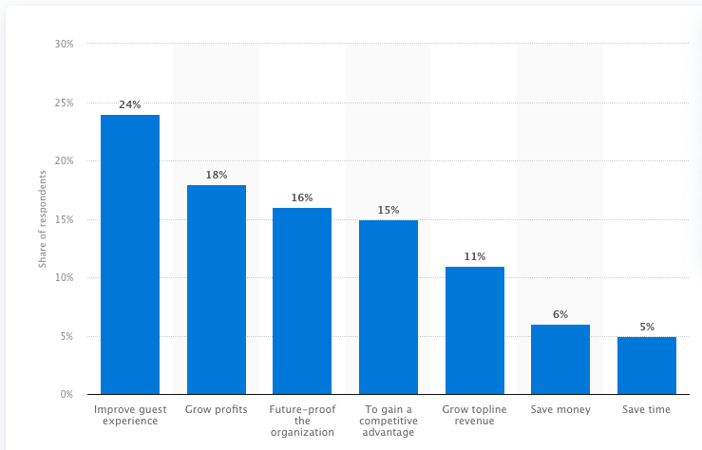 (Screenshot) source: Statista
To accentuate this point, Sarah mcCay Tams mentions in her blog for Hospitality Net:
"COVID highlighted gaps in tech stacks because we all had to accelerate what we were doing so quickly. We suddenly realised what was missing from what we had that our customers were screaming out for, and things that were already in our current tech stack that we maybe weren't using to their full capacity."
Ways to use automated technology for an improved guest experience
The switch to a more digital lifestyle urges customers to spend more time online and take part in more self-service actions in their daily lives, and this translates in the way they travel. This is why more guests are expecting hotels to offer the following solutions as a standard practice today:
Contactless check-in
Guest messages
Contactless check-out
Dynamic upsells
Today's guest wants to receive the care and communication they would normally get from a call or face-to-face interaction with a hotel representative, without standing in line, and at the touch of a button. Here's a few basic examples of how to level up with automation at different stages:
Pre-stay: Guests receive a booking confirmation email, followed by a pre-arrival message which outlines the self check-in process. You can use this communication channel to capture whether the guests have any special requests, or offer any upsells that can be generated to run automatically.

During stay: You follow up with a post check-in email to gather how they found the self check-in process, whether they're happy with their room, and include any updates on their special requests if they hadn't been sorted by the time they check-in.

If your guests are staying for a while, you can send automated housekeeping messages to coordinate linen changes or schedule cleaning, for example; instead of knocking on their doors while they may be busy. You can also give guests the opportunity to fill out a mid-stay feedback survey to gather data about their satisfaction with your service so far, and give you the opportunity to rectify any issues before the guest checks out. Placing QR codes in guests rooms that direct them to a survey they can complete on their smartphones is an unobtrusive and effective way to get this in-stay feedback.
Post-stay: Guests receive automated self check-out messages to guide them on how to check out on their phones instead of at the front desk; followed by an email to thank them for their stay, and to ask them to provide feedback on their stay with a customised feedback survey. These post-stay surveys should also encourage guests to leave an online review for your hotel, boosting your hotel's online reputation and encouraging more future guests.
There are a multitude of hotel tech solutions on the market at the moment, and you will have to consider many factors when deciding which is best for your business. One of the most important factors, however, is the software's ability to integrate with the other solutions in your tech stack. It's unlikely that a single solution will ever be able to fulfil every need your hotel has, but an integrated collection of cloud-based solutions that work for your hotel will ensure that you have all the data and functionality you need.
Why feedback tech is at the heart of your automation journey
It's important to stay abreast of how your guests feel about your hotel's experience, especially if you're making changes that result in less human contact. How else would you know if using automated solutions is worth the investment? Beyond how guests feel about your hotel, feedback technology takes a deeper look into who your guests are, what they want, why they picked your hotel, and how to improve their experience to ultimately strengthen your property's reputation.
When you aren't sure where to start with your automation journey, feedback tech can give you the best clues. By analysing your reports from feedback data, you can identify every department's strengths, weaknesses and opportunities that you can act on by choosing which functions to support with tech. Let's unpack a few examples of how feedback tech can kick start your automation journey, and elevate the human experience at your hotel…
Using tech to upsell your guests helps you find the sweet spot between being spammy and perfectly timed with a relevant offer. Depending on what direct feedback data says about your guests, you will pick an automated upselling solution suitable to your needs and theirs.
Some upselling technologies are triggered on proximity to certain amenities. For example, as your guest is leaving your golf course after a session, they would get an automatic, personalised food and beverage special sent directly to their Whatsapp. Looking at your feedback would give you a hint on whether that kind of solution has potential to be great for your guests; or if you'd add more value to them with digital loyalty programmes and member benefits instead.

Using feedback management and online reputation tools to monitor the impact of your automated solutions makes things easier to visualise, especially if they include tools like Milestone markers. Having milestones marked at every point you launch a new solution gives you the ability to look at your trend report, which consolidates all the feedback you receive in relation to targets you set out before launching your changes. When you know that your NPS score and Ratings are improving over time, you have more confidence to move on to the next automated solution to use in a department you see fit.
Just like making changes to your menu or room design, switching to automated solutions is often a trial and error process that shouldn't be approached with the intent of overnight success. Hoteliers need to do their research, both about the options available and look into guest behaviour to assess which options would be most viable. Feedback tech helps you find the pain points you want to address, as well as opportunities to grow your revenue and save your staff some time in the process.