If there's one thing COVID has taught the hospitality industry, it's that we can't take guests for granted. As our varied, passionate, and resilient industry begins to rebound, every touchpoint, interaction, visit and guest will matter more than they ever have before.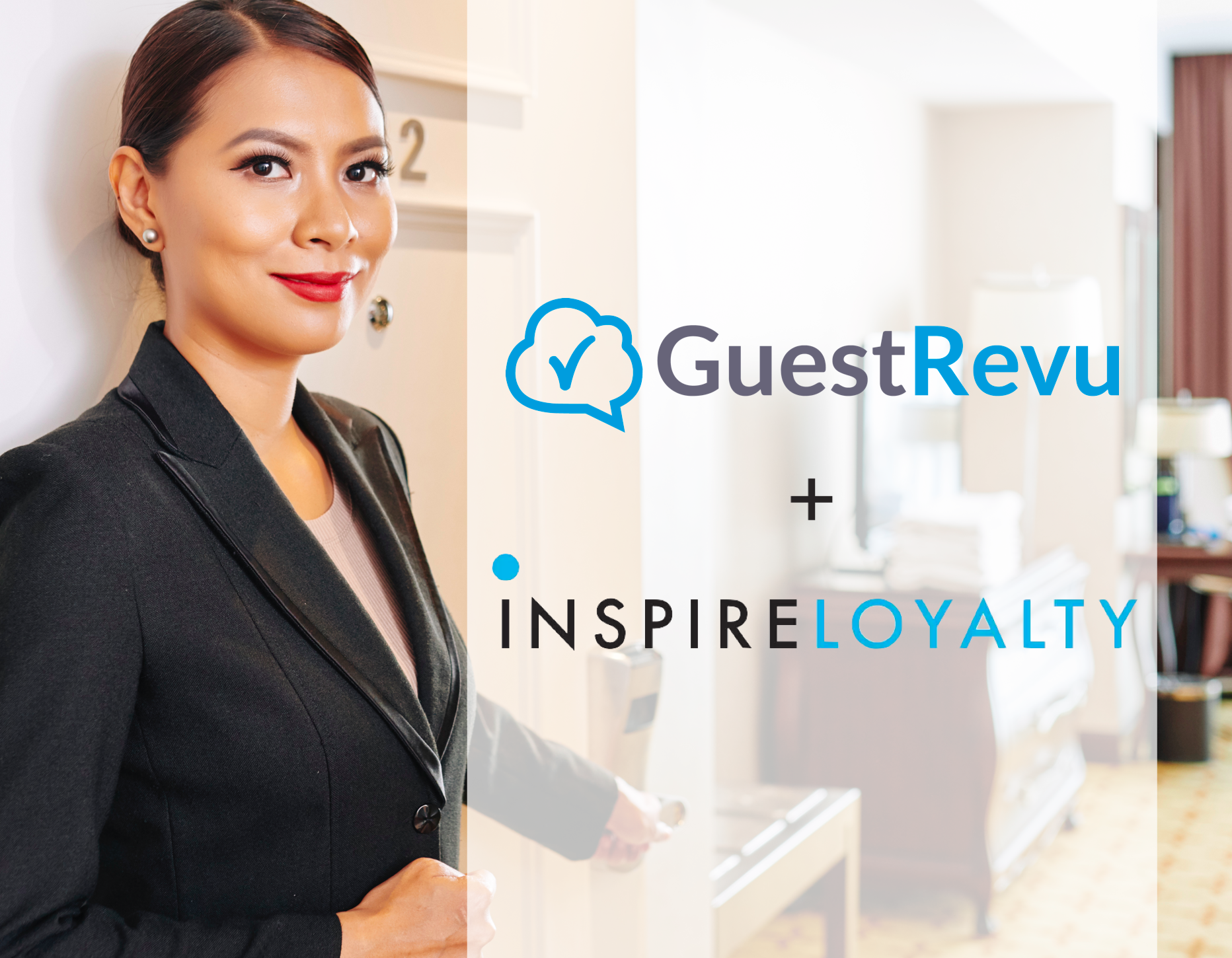 The trust that we as an industry ask travellers to put in accommodation, experience, and food and beverage providers has been put to the ultimate test. Your relationship with your guests – the relationship that means they trust you to keep them safe and healthy, to refund them if something goes wrong, and to provide an experience that is worth their time, money and effort – matters now more than ever.
GuestRevu and Inspire Loyalty recognised that hoteliers in this changing and challenging environment require tools that will allow them to put their guests at the centre of their operations, communicate with them in a way that is convenient for hoteliers and personalised for guests. The two hospitality tech leaders have created an integration that provides hoteliers all the data they need to understand their guest experience and what guests expect of them, as well as upsell offerings and build relationships that lead to long term increased revenue.
"By partnering with GuestRevu we can further enhance our loyalty retention model, to learn really valuable feedback so our hoteliers can deliver a loyalty programme that further encourages direct bookings"
– Steve Risk, founder and CEO, Inspire Loyalty
Inspire Loyalty have a proven record of success building and implementing loyalty programmes for accommodation providers throughout the UK and Ireland. Tailored to and managed for each individual hotel, loyalty programmes combine proven loyalty features such as reward points, discounted upgrades, exclusive member offers, personalised communications and other secret ingredients in measures tweaked to suit each property and its patrons. With the new integration, Inspire Loyalty has added online reputation management tools and loyalty programme guest feedback questionnaires to its already extensive repertoire.
"Hoteliers are always on the lookout for ways to encourage repeat bookings and increase guest loyalty, and we know that one of these ways is to work with Inspire Loyalty," says GuestRevu founder and CEO, Chris Alexandre. "We are very excited about our new partnership with them, and the value it adds for the hotelier and members. The additional insights the integration provides makes it easier than ever to ensure members' expectations are exceeded and guest loyalty remains high."
"GuestRevu provide an excellent product and service ensuring hoteliers stay focused on their reputation and guest feedback. By partnering with GuestRevu we can further enhance our loyalty retention model, to learn really valuable feedback so our hoteliers can deliver a loyalty programme that further encourages direct bookings and repeat business," agrees Steve Risk, Inspire Loyalty founder and CEO. "GuestRevu's positive team have a real can-do attitude and we're delighted to be working together to offer their equally innovative solution."
All Inspire Loyalty clients will receive a free 3-month trial of GuestRevu's award-winning online reputation management tools, and will have a survey linked to their loyalty client online portal and monthly statements, through which guests can give feedback on various aspects of their stays, including their experience with the hotel's loyalty programme. Hoteliers will be given access to a GuestRevu dashboard, where they can analyse the results of these surveys in conjunction with their online review data.
In addition, any Inspire Loyalty client who wants to take on the full GuestRevu product suite, including multiple custom-built surveys, online reputation monitoring and group dashboards, will receive a 10% discount.
To give hoteliers the opportunity to experience the power that the integration provides, and experiment with the various marketing, loyalty, and reputation management potentials of the product combination, both Inspire Loyalty and GuestRevu are inviting one anothers clients to request a six-month no obligation trial of their products and integration.
About GuestRevu
GuestRevu provides online surveys and reputation management solutions tailor-made for the hospitality industry. GuestRevu enables hoteliers to gain a deeper, guest-focused understanding of operational strengths and weaknesses, monitor and manage online reputation and reviews, and improve guest satisfaction. Listening to and learning from guests enables hoteliers to drive more direct bookings, build lasting loyalty and ultimately increase revenue. As a TripAdvisor Platinum Review Collection Partner, GuestRevu also gives you the opportunity to boost your online reviews and ratings on the world's largest review site.
About Inspire Loyalty
Inspire Loyalty provides a branded cost effective solution by offering to incentivise the customer with exclusive rewards for booking direct on the hotel's website. Inspire Loyalty provide the independent hotelier with the tools to engage their customers using a loyalty app and/or loyalty card, branded loyalty website, communications platform, monthly reports and full member support services. Members can earn and redeem points for the hotel's own product voucher codes for a future stay or redeem points across our portfolio of hotels. Retail gift codes can also be represented with Amazon, Waitrose, Love2shop, John Lewis and Virgin Wine gift codes.
Inspire Loyalty integrates with payment providers, such as Worldpay, ensuring points are processed seamlessly for hotels, restaurants and any service outlet, in addition to some property management systems. For a full rounded solution, Inspire Loyalty integrates loyalty with Criton's branded app and more recently GuestRevu's essential reputation management and survey tool, where our first mutual client has reported 98% positive guest experience and a satisfaction rate of 96% with Inspire Loyalty's member services team, influencing 85% of members to book direct.