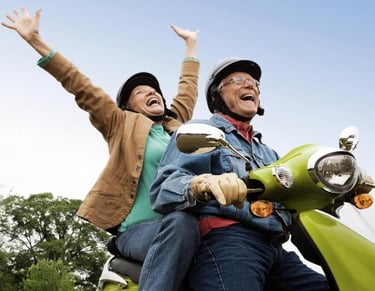 There is a preoccupation in the current hospitality industry with targeting the millennial guest, and there is no doubt that this massive generation has impressive spending power. However, they are not the only travel consumers for you to target, and they might not even be the most lucrative (yet). People reaching old(er) ages and approaching or entering retirement are still an important part of the travel economy.
Through their spending in the hospitality and leisure sector, people over the age of 65 years contributed £37 billion to the UK economy in 2013, a Barclays report found. More importantly, the same report found that because the hospitality industry underestimated the spending power people over the age of 65, it lost out on a further potential £16 billion.
Because the hospitality industry underestimated the spending power people over the age of 65, it lost out on a potential £16 billion in 2013
Although one fifth of all UK hospitality and leisure income is generated by the expenditure of over 65s, only 22% of businesses surveyed considered people over 65 to be one of their top three target markets, and, although most of these businesses said that they felt they were catering to people over the age of 65, only 24% of them were planning on introducing products and services specifically aimed at this niche.

Why target older travellers
Their spending power
Although they are often no longer working, today's over 65s do have a lot of spending power, much of which they use in the hospitality and leisure sector. On average, people aged 65 and older spend:
36% more than the average consumer
27% more than 35- to 54-year-olds (second highest spending age bracket)
£3,372 a year in hospitality and leisure services, in contrast with the £2,486 average.
The increased spending of Britons over the age of 65 on hospitality and leisure is not limited to expenditure within the UK. On average, consumers between the ages of 35 and 44 (often considered the most important target market for hospitality businesses) spent around £3,187 per annum on international travel, while over 65s spent around £5,419 a year.

Their loyalty
Older people tend to be much more loyal to brands that provide them with good service, value for money, and a generally pleasant consumer experience. Among pensioners, 41% are likely to recommend a business that they are loyal to, while as few as 19% of 18- to 34-year-olds would do so.
Their growing numbers
Improved medical care and a lower birth rate in developed nations have led to an aging population, with the age pyramid no longer being an accurate representation of age demographics. Additionally, active lifestyles, improved mobility and good medical care have removed many of the barriers to travel for older people.
Active lifestyles, improved mobility and good medical care have removed many of the barriers to travel for older people
The World Tourism Organisation has identified an increasing numbers of older tourists as one of the key trends in the tourism industry, and in 2014, 51- to 65-year-olds were the only age demographic to have increased the number of holidays they take in a year.
How to attract senior travellers
Don't market to "old people"
The most important thing to consider when marketing to older people is that most of them do not identify as "old". In one study by Parks and Benefits, 62% of respondents between the ages of 65 and 69 identified themselves as being "older, but not old" and 22% identified as being middle aged. Even among 70- to 75-year-olds, half of respondents identified themselves as being "older, but not old", and on 28% said that they were old.
When designing special rates or packages for older travellers, you are better off using age rather than terms like "retired", "senior", "mature" etc. to avoid alienating those who fit into these categories but don't identify with these terms.

Cater for old people, though
Although many older people may not feel old, according to data released by the World Health Organisation 35% of people over 65 had some type of disability in 2008.
Make sure that all areas of your property are accessible to people with physical difficulties, and that your staff are well trained on dealing with people who are hard of hearing.
Remember that while accessibility is especially important to older guests, it can also be helpful to other travellers in different age brackets, such as those with temporary disabilities (like broken legs), disabled people, or pregnant women.

Organise activities and specials
People over the age of 65 are not always looking for a holiday full of doing nothing. Many older people enjoy holiday activities such as yoga and cycling, so make sure that the activities that you offer are not just for the young and fit.
Retirees do not have the same commitments as people with families, and they often enjoy travelling in the off-season when rates are cheaper. Consider putting together packages with special rates and including the sorts of activities that older people enjoy.
Although, you might want to use a word other than "pensioner" when you market these – remember, lots of over 65s don't see themselves as old, and off-peak specials can also be attractive to younger singles or couples without families.
Foster loyalty
Fostering loyalty among the older generation can have significant rewards, as mentioned earlier, older people are much more likely to recommend a business that they are loyal to than other age demographics, and of course loyalty means more repeat visits, especially if you have a hotel group with accommodation in multiple areas.
When asked what would cause them to be loyal to a brand, 46% of older people said level of service was the most important, and 31% said it was value for money. Interestingly, consumers in the 18 to 34 (millennials) and over 65 age brackets look for the same top three factors when deciding to use a company for the first time: value for money, peer recommendations and quality of product.
Don't neglect the internet
Although the internet is typically considered the domain of younger generations, older people are also using the internet to do travel research and even to book accommodation. The Barclays study found that only around 8% of over 65s will visit traditional travel agents, but about 69% used the internet to book their travel accommodation. Make sure your online reputation is a positive one and is well maintained, make sure that your website is optimised to encourage direct bookings, and remember to keep your online travel agent listings looking good and up to date.
Thinking about doing some advertising to reach the older generations? With Facebook ads, you can target the right audience, at the right time, and we've got just the guide to help you! Click on the banner below to download 'The Hotelier's Guide to Facebook Ads'.