The hospitality industry moves so fast that keeping up with all of the latest news and trends would take up all of your time if you let it. That's why we've been keeping an eye on it for you, and have put together this list of the top five trends we think you should keep an eye on in 2018.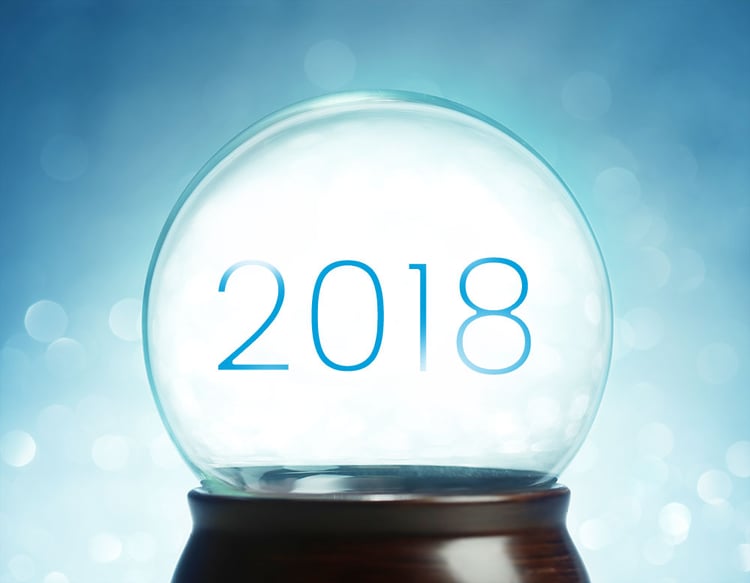 Mobile is a must
75% of internet use may have been predicted to come from mobile in 2017, but that number is only going to climb in the year ahead. As smartphones become smarter, mobile devices are becoming ever more useful for travel, giving you the opportunity to connect with your potential guests.

"By taking advantage of innovative mobile technology at every touch point, hotels can deliver experiences that not only delight but also inspire action." — StayNTouch
StayNTouch know that the move to mobile is more than just a trend. It's here to stay, and by embracing mobile from booking to check-out, you can not only improve your guests experiences, but boost your hotel's bottom line in 2018 and going forward.
Read the full article >>
Download the checklist >>
Discussions around data
Whether you're using it to improve your guest experiences, or focussing on keeping it secure, there is no doubt that 2018 is going to revolve around data. From personalisation, to making sure that you're in line with the General Data Protection Regulation (GDPR), data is definitely going to be a hot topic for the first half of the year.

"Personal data is a powerful marketing and guest experience tool and key to a hotel's relationship with their guests. However, hotels must be cautious as to how they handle personal information [so that they don't] violate their guests' right to privacy." — GuestRevu
As we pointed out towards the end of last year, no matter how data is being used, it should always be with the aim of developing trust, and making your guest feel as comfortable as possible when they stay with you.
An 'A+' for Accessibility
Speaking of personalisation and comfort, from Marriott and Hilton, to AccorHotels and beyond, the latest trend in forward-thinking hotels seems to be using the internet of things to personalise their guests stays through voice prompts, motion sensors and more. Skift points out that for AccorHotels, however, the shift to a smart room goes beyond providing gimmicks like Netflix being accessed by voice command, and is used for accessibility, with adjustable bed- and sink-heights and sliding wardrobes as a starting point.

"We're hoping that this room can be an example that you can design a room that can be used by everyone, and can facilitate all types of travelers — families, people with disabilities, children, the elderly. It's another way of thinking about how to design the hotel room." — Deanna Ting
Whether they're based around accessibility or personalisation, we expect that AccorHotels are hardly going to be the last to introduce a smart room in 2018.
AI and Robots taking over
It's not just the rooms that will be getting smarter in 2018, but the technology itself. Artificial intelligence is moving forward in leaps and bounds, and the hospitality and travel industry will be forerunners in implementing the technologies if LG has any say in the matter.
The company unveiled two new robots aimed at hotels and restaurants during the consumer electronics show (CES) in Las Vegas earlier this month. The porter and serving robots could certainly find their footing in hotels, and help guests find theirs as well. Though Digital Trends find it unlikely that these bots will be released for sale within 2018 (LG has provided no timeline), these aren't the only 'bots' that we expect to trend during the course of the year – virtual "chatbots" have also been making some headway in hospitality.
Experiencing a digital detox
While some hotels are going to be focussing on smart rooms, bots and bettering their technology in 2018, others are going to be looking at ways that they can detox their guests from the relentless stress of incoming notifications, unread emails, and social media.

"Just as an individual sheds his or her outer layers when journeying to the beach, giving up your mobile has a similarly liberating effect. You are then forced to rekindle your relationship with your natural surroundings, rather than hiding in your own thoughts while concentrating on responding to some remote request." — Larry Mogelonsky
Technology may be the focus of most of the trends that you'll see throughout the year, but as eHotelier point out, there are times when it will be good to get away from it, and we suspect that with the rise of technological trends, we're also going to see a rise in those finding ways to avoid it.
Now that you've heard which trends we suggest keeping your eye on, we'd love to hear which trends interest you in 2018, and which you are looking forward to hearing more about.
Which trends interest you in 2018?
Do your new year's resolutions include promoting your property on Instagram, but you don't know quite how to get started? We've got just the guide for you! Click on the banner below to download The Guide to Instagram For Hospitality Marketers.