Dogs have long been man's best friend, and now they're also his travel companion. Travelling with pets is a trend that has seen a good deal of traction over the past decade, with airlines improving their travel options to accommodate passengers' four legged friends, pet passports often negating the need for quarantine, and airports embracing their new visitors with restrooms, parks, and even terminals dedicated to pets.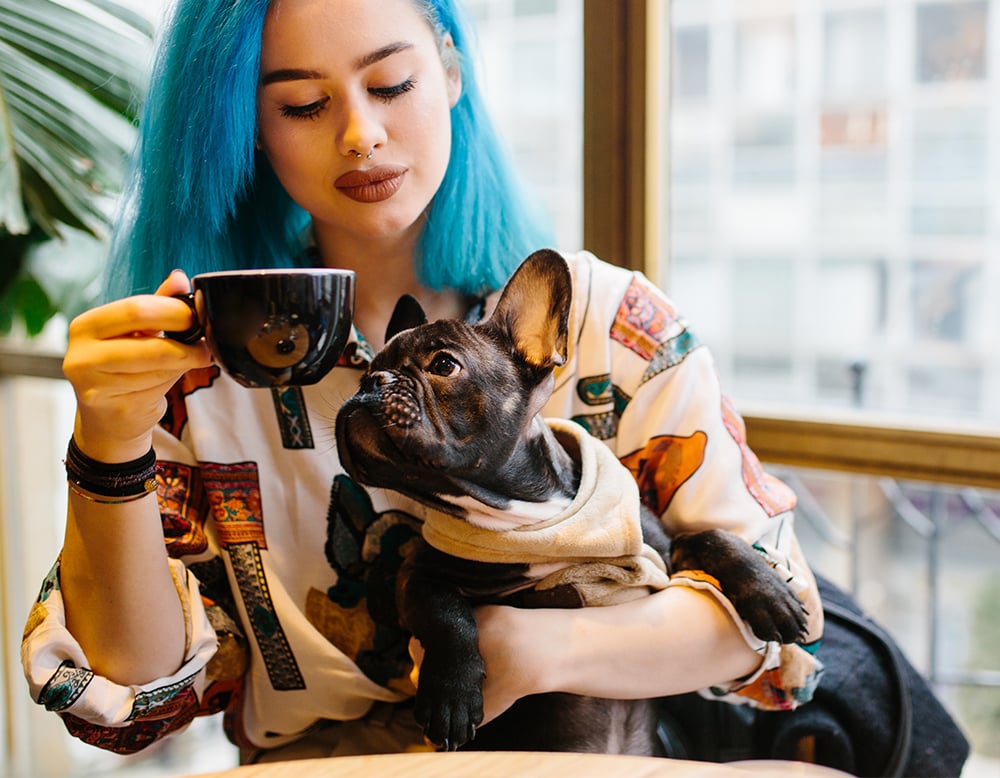 This month, we look at how this trend affects accommodation providers, and how embracing furry friends can increase direct bookings, brand recognition, guest loyalty, RevPAR and more.
Why is pet travel so popular?
As Forbes explains, 68% of American households own a pet, and "when those 85 million pet owners hit the road, they basically have two choices. Take their pet with them, or board it, essentially getting someone else to take care of it."
While the contemporary rise in the seemingly incompatible trends of travel and pet-ownership has resulted in an increase in the number of luxury 'pet hotels', many travellers are foregoing foster-care altogether, opting to take their four-legged friends with them instead.
Pets' Pyjamas, a company that assists travellers in the UK with planning perfect, pet-friendly getaways, explains to Boutique Hotelier that the calming presence that pets provide is part of what is pushing this trend of travelling with pets forward.
This, together with new policies from airlines and airports making it easier to travel with pets, and a tendency for them to be treated as part of the family, means that travellers are more likely to want to bring their four-legged friends along for vacations rather than leave them in kennels, or with strangers.
Read the full article at Forbes >>
Read the full listicle at Boutique Hotelier >>
How do properties benefit from accommodating pets?
That guests are looking for properties that can accommodate their pets would be enough reason for some to provide the necessary amenities — after all, what guests want, they should get. But that's not the only reason why properties are rolling out the red carpet for this new species of guest.
In an infographic that looks at the state of pet-friendliness in short term accommodation around the United States, ShortTermRentalz points out that pet-friendly apartments are 16% more expensive than their fur-free counterparts, and are 4% more likely to be occupied.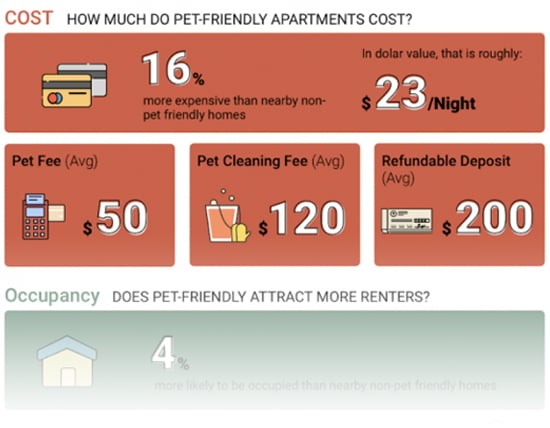 Increases in ADR and occupancy are not the only contributors to an increase in revenue for properties that cater to pets. Karen Hanton of Pets' Pyjamas explains in another Boutique Hotelier article that owners are happy to spend more on additional on-property offerings if it means that they can stay close to their non-human travelling companions.
And the benefits to properties don't end at check-out either — Guesty have found that accommodating pets as well as their people results in an increase in loyalty, direct and repeat bookings for short term rental properties.
In fact, as Samih Sawaris of Orascom Development Holding pointed out at Ecole Hôtelière de Lausanne's Window 2 the Future forum last year, when accommodating pets is done right, it can be a boost to more than just an individual property, or even a chain of properties. It can encourage local tourism as well for travellers who are looking specifically for experiences that they can share with their pets.
See the full infographic at ShortTermRentalz >>
Read the full article at Boutique Hotelier >>
Read the full article at Guesty >>
Read the full article at Ecole Hôtelière de Lausanne >>
What amenities should a property provide for four-legged friends?
It's clear that catering to canines, cats and other creatures has its distinct advantages, but how far should you go to accommodate pets in your property? Do you have to offer your furry patrons nights at the opera and pet psychics, or is a water bowl and some dog biscuits enough to keep them happy?


The answer, of course, is entirely dependent on the pet and its owner, but it's the heart behind your pet-friendly offering that is most important, and it's this heart that sees properties like Kimpton Hotels and Doris Day's Cypress Inn truly embracing hospitality for four-legged creatures, big and small. As Jimmy Im explains to OZY readers, "a love of pets also drives some businesses."
It's this love of creatures that Annabel Fenwick Elliot of The Telegraph experienced when she took a once-in-a-lifetime trip to Cliveden House in Berkshire with her canine companion, Pringle. From a pre-trip gift from her booking agent, to luxurious cuisine and accommodation, Pringle was spoiled for a weekend, but it wasn't just the luxury that made the trip memorable.
Not every property can offer endless luxury to their four-legged guests, but often the simple luxury of love is all that pet owners are looking for when they bring their pets along for a stay.
See the full video and read the full article at CBS News >>
Read the full article at BBC News >>
Read the full article at OZY >>
Read the full article at The Telegraph >>
Do you have to accept everyone's animals to get in on the action?
If you fancy the idea of a warm, wagging tail or a peaceful purr here and there, but don't relish the thought of being overrun with other people's misbehaved mutts, one compromise that many properties are finding to be perfect for pet-lovers (and profitable to boot) is to keep just one or two furry friends on-site.
As Michael Del Gigante explains in an article for MDG Advertising, properties that keep pets encourage guests to engage with their brands, promoting awareness and loyalty. It also creates an emotional link with customers and guests, according to The Globe and Mail.


Read the full article at MDG Advertising >>
Read the full article at Globe and Mail >>