Hoteliers are hard-pressed to examine every practical tactic to rearrange their property, staff, and technology for the better. Making the best use of guest feedback data gives confidence to the decision makers within hospitality, and justifies investments in certain projects to make impactful changes at properties, especially while on low budgets and relatively short timelines.
But before you can enjoy the perks of social proof that come from direct guest feedback, you need to earn credibility by staying in touch with all their concerns and preferences from the outset of their experience with your brand. This is why we seek to highlight the need for you to rethink your property's feedback strategy, and incorporate guest reviews more proactively throughout your entire guest journey to make a greater impact.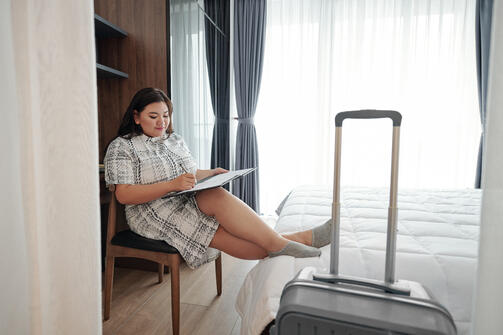 A feedback strategy is simply an outline of how your property will gather its guests' feedback, and also how it will take action based on that feedback. Having a strategy to gather feedback from your guests will let you know more about what your customers think of their experiences, and provide a guideline for taking action to improve any weaknesses in your business that affect guest satisfaction, bookings, revenue, and reputation.
Use guest reviews to tailor your pre-stay communication and actively encourage guest feedback
Your guests' journey with your business begins as soon as they confirm their booking with you, and they need to be certain that their satisfaction will be a top priority when they eventually check in.
There are a few pre-stay communication techniques we've spoken about that you can use to ensure effective communication with your guests to facilitate a high quality stay, so you can personalise their stay to meet any specific needs or offer any upgrades they may be interested in. Pre-stay communication also presents an opportunity for you to announce any changes you may have made to your property, and would like guests to look out for so they can give some more feedback on.
Successfully crafting pre-stay communication needs concise messaging, because it's easy to find your call to action (guest feedback) left on "read" if you come off as too invasive or hard in your approach. While pre-stay communication may be a matter of trial and error most times, it's in your best interests to try not to commit to a lot of communication channels at once with your guest, to avoid making your guests lose interest in giving their feedback because of you overwhelming them with too much of the same messaging, or timing your communication wrong.
Collecting direct feedback from the beginning allows you to personalise and refine your messaging over time to make it more attractive for your key audiences, because you have the advantage of creating your guest segments from the data they give you. Here are five common pre-stay communication channels that cover how or where your guests may respond to you more likely during the build up to their stay, which you will use according to which segments they fall under:
Pre-stay questionnaires
Social media
Text messages (SMS)
Real time live chat
Email
Once you have chosen your pre-stay communion method(s) and start making steady progress engaging your guests, you have already laid out a smooth build up to the check-in for your guests, and because they know what to expect from your experience, they will also be aware of what changes to look out for if you mentioned any. However, if you made those changes at your hotel for your guests' benefit, you need to monitor how your guests feel about them.
Use guest reviews to track guest sentiments during each significant change
You need to maintain the right balance of communication with guests (well targeted, and well timed, not so much that it hinders their leisure time) during their stay to make the most out of their feedback. You may have made changes to your property to ensure your guests are relieved of their COVID-19 anxieties – perhaps contactless check-in, guest screening on entry, disposable cutlery or any other noteworthy changes to your service levels post-COVID; but you need technology that will gather information about how your guests feel about the changes you have made.
The easiest way to do this is to consistently gather feedback, and compare your metric before and after any changes you implement. Marking your reports with Milestones allows you to visualise the changes in guest sentiment when you implement changes, so that you may proactively gauge the return-on-investment you stand to gain as time goes by. This means that whether you hired new staff, trained and developed your current staff, made renovations or upgrades to comply with the COVID-19 restrictions in your area, you can add a milestone marker at each of those changes, and track how they impact your feedback from guests. Interpreting this feedback data is mostly used for operational changes at hotels, however, your marketing team can also make good use of milestone markers to track the sentiment of guests towards your property during each marketing campaign on social media, for example.
Having feedback technology like milestones can save you from wasting money on certain changes in the long run, which is another way you can make an impact with a limited budget. You can also use your feedback to look at how you are doing against your competitors, and measure whether you are gaining any ground on them over time and as changes occur.
Use guest reviews to remain competitive
Direct guest feedback that's part of an integrated tech stack (combination of software products) goes a long way towards improving each guest's experience by giving you insights and helping you adjust your operations, sales, planning and reporting for daily efficiency. This guest data sets you apart from your competitors, while giving you actionable benchmarks with ORM (online reputation management) software that keeps you agile and on the right path to recovery.
If you are committed to keeping your guests comfortable and itching to come again while they haven't even left your property yet, you need to put a bit more focus into why they chose your hotel, and that means you need to look at the right competitors too. There are four main factors to consider when updating your compset; which are a combination of doing external research as well as looking deep into your guest insights:
Location in relation to attractions
Your room rate
The type of experience you provide
The perceived quality of the experience you provide
While you are able to use this data to assess who the right competitors are for you to look at, you also have a solid foundation on which to build your content strategy, which mostly includes visual content. Analyse guest data to understand content that will appeal to your guests, so that you don't produce content that will fly over their heads, but instead be more enticing than your competitors' content.
The rise in social media consumption and the widespread use of E-commerce over the past year has increasingly made customer reviews one of the main factors behind most buyer perceptions and decisions online. And for hoteliers, consumer behaviour is further influenced by the uncharted territory between how guests would like their travels to look post-pandemic, as well as what hoteliers can do to deliver that beyond expectations.
The only constant during this recovery period so far is change, and as guest expectations unfold before us, hoteliers have the challenging task of keeping up, and perhaps staying ahead of guest expectations where possible. Guest feedback data from a cloud-based tech stack is one of the crucial tools hoteliers should prioritise, to inform the strategies behind how property owners and managers adjust to the current state of hospitality, as well as to gauge whether they are making impactful changes to attract prospective guests and keep their needs satisfied, all while keeping a close eye on the bottom line.