However you look at love, and no matter what your love language is, travelling together is one of the ultimate indulgences and milestones that those who are in romantic relationships look forward to.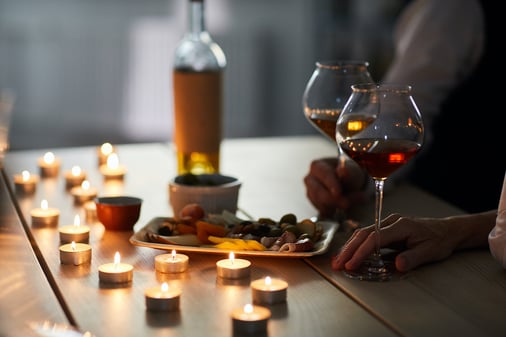 The romantic getaway is the bread and butter of many hotels and other hospitality businesses, but in the hyper-competitive climate of today's travel market, you may want to take a good look at your guest feedback data to understand what couples are looking for from your property. This will ensure that you can create charming, playful, and memorable occasions that will last in your guests' memories long after Valentine's Day has been and gone.
The infographic below is our short and sweet version of an extensive list of room package ideas we loved from SiteMinder. Everyone has a different fantasy or happy place when it comes to how they want to spend quality time as a couple, but this infographic simplifies the touches you can add to four main packages to make every romantic getaway experience a little more special.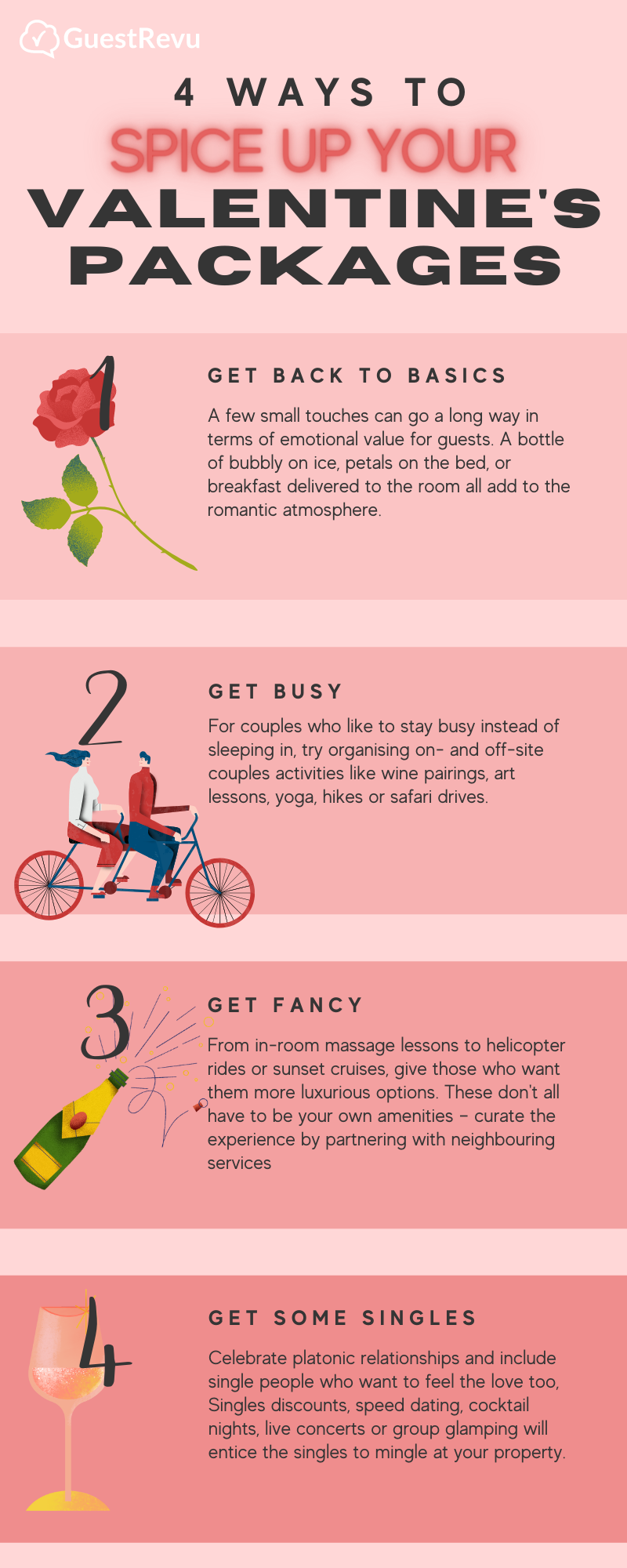 1. Get back to basics
What seems like an ordinary room night to you is often all it takes to reignite the spark between lovers. You can easily kick this up a notch with just a bit of thoughtfulness and attention to detail to make it extra-special for your guests.
Ask in your pre-stay survey if guests would like simple things like a glass of bubbly as a welcome drink in-room, a pathway of rose petals at their feet leading to their bed, and a special dinner menu with breakfast in bed in the morning. Those who like to pay a little extra can choose your add-ons with a spa date organised by you, for example, or an intimate five-course candlelit dinner.
2. Get busy
If you know your guests are the type who lead very active lives, their idea of romance might be to catch the morning breeze on a hike, a sunrise safari, a session of surfing, or any activity that has to do with the great outdoors instead of sleeping in.
You may not have these amenities at your own property, but working with the relevant nearby attractions to curate them as part of your packages can persuade guests to book with you for a lively, well-planned little adventure. For those guests who are normally home bodies, you can host cooking classes, wine pairing nights, or painting lessons to keep them entertained during their trip.
3. Get fancy
Some guests can put a lot more bucks on the bill, and would be seduced by a package that allows them to customise their experiences and make special memories. For example, choosing the colour of the bed linen, room fragrance or which brands are in the minibar can take an experience from good to unforgettable. Grand gestures like a private night serenaded by a local artist, helicopter rides or sunset cruises will also do the trick. All you need to do is organise the options, and show guests how easy it will be to let you handle them along with their booking.
Remember, though, that acts of service are a love language that don't always need to cost too much to be personal and pleasurable. For example, a nice twist on a spa date could be that the masseuse comes in-room to teach the couple a few massage moves that they can take home with them.
4. Get some singles
It's a great idea to include the singles and friends who'd like to feel the love, and you can do that by offering some fun activities to gather them at your property (you might even find they return as couples in the near future). Your packages can offer event tickets that include speed dating, a small excursion with sundowners, or a glamping event if you have the space to host a medium sized group for a starry night by the fire.
Your focus should be on flexibility for the singletons and platonic partners, and you can play around with whether you'll offer some activities as check-out activities at a fee(for example, a "free" brunch and mimosas with a later check-out time) if some guests would prefer to sleep in a bit on their last day. You should also consider whether they'll be using self-catering or semi-self catering services, with a "free" dinner included on their first night, for example.
Tie up your matchmaking marketing at the right touchpoints
Before you Google how to market your romantic getaway this Valentine's Day, you need to look at the data from your guest feedback and online reviews, how you can use it to your advantage, the various touchpoints that work well for your targeted guests, along with what you can deliver beyond guest expectations with the staff you have. These are a few hotel marketing ideas that you can try to spark the chemistry between you and your guests:
Valentine's Day email campaign with personalised, exclusive offers targeted at guests who have stayed before as a couple.
Social media campaigns with attractive room images, point-of-view footage that demonstrates some of the amenities and activities on site.
Referral codes and discounts for those who book alone or visit for the day, to encourage them to share your hotel and it's offers in order to spread your reach.
If you have a pet-friendly hotel, make sure your marketing includes pet daycare while the pet parents are away, for example, and other services that will treat them to pampering.
Not every hotel marketing tactic or hotel package will tickle your guests' fancy, so you need to look at your guests' online and direct feedback data as well as their demographics to better understand what they find attractive. As long as you centre your experience around the important elements of a couple's getaway – relaxation, fun, romance and the opportunity to reignite the lovers' spark – you already stand a chance to sweep your guests off their feet.
Who knows, someone's first date with their partner could be at your property because of the activities, or they could share lifetime memories with their long-time partners and friends because of the emotional impact of their experience with you. Remember to try and be as inclusive and flexible with your guests' options as possible, but also stick within what you know you can do really well.