Well what a year 2020 has been – an emotional rollercoaster ride that most of us never want to get on again. Through adversity we have seen our amazing hospitality industry come together and innovate in many different ways under the harshest of circumstances. Here's a look at what fun I have been involved in this year, and be prepared for some belly aching laughter!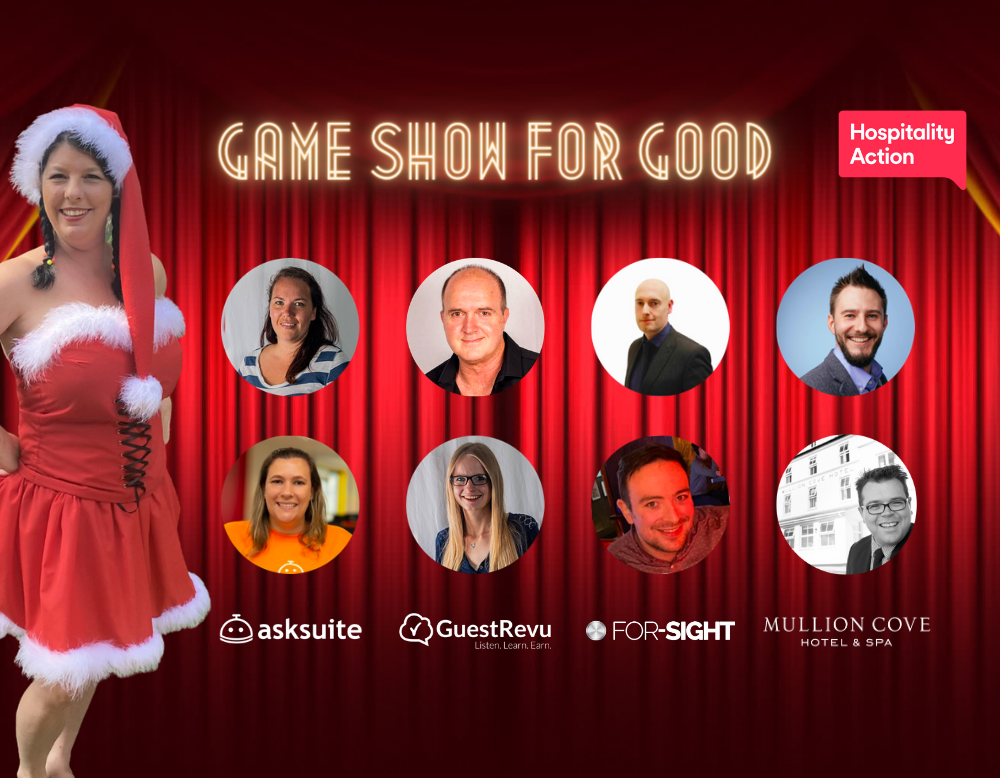 Game Show for Good
On Friday 11 December, to show just how crazy coronavirus has made us all, some of us hospitality professionals decided to do a virtual game show with the flour challenge as the penalty for incorrect questions. Those who got the questions right got to pick a team to do the challenge instead, ensuring a very white Christmas. This whole hilarious affair was live-streamed to Facebook! It also meant we could leave 2020 in true hospitality style providing a one of a kind experience and lots of laughter no matter that this year was a right Karen.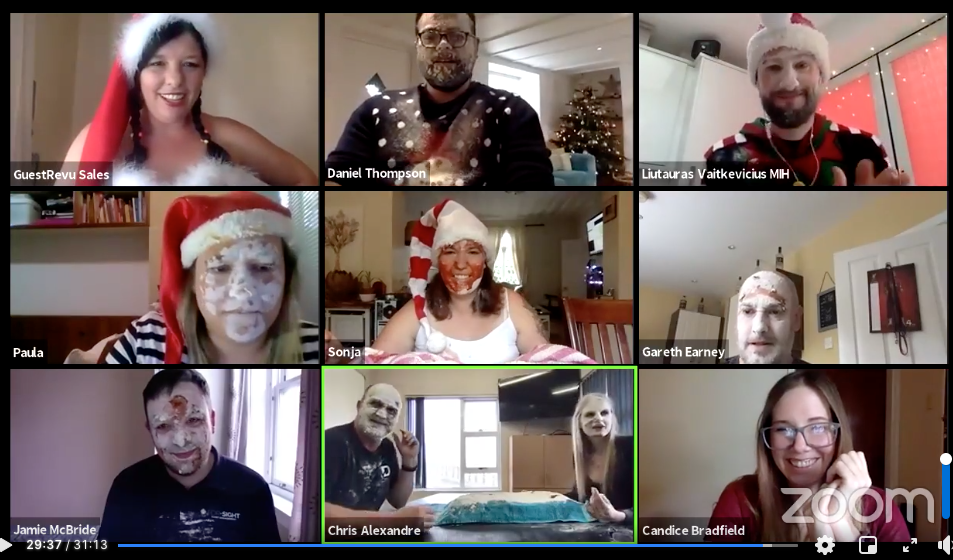 All proceeds went to Hospitality Action, a fantastic charity that helps hospitality professionals who are facing challenges including physical illness, mental health issues, financial difficulty, family problems, addiction and more. No matter their situation, Hospitality Action is there to get them back on their feet again.

Giuliana Vittiglio, fundraising and marketing manager for Hospitality Action really hit the nail on the head: "It's a cruel irony that this could be the first festive season in a long time where hospitality people are at home quite so much. But rather than enjoying a relaxing family time, many are facing a new year without employment. Heartfelt thanks to everyone who took part in the GuestRevu Game Show for Good to raise funds on our behalf this Christmas."

As the host, I thankfully didn't have to put my face in flour this time, but did step outside of my comfort zone by dressing up as Mrs Clause. A massive thank you to the teams that did faceplant numerous times and were game for a good laugh.

Here are the teams and what a bunch of winners they were:


Without further ado here is the video so you can see just how much fun we all had.


Just in case you want to check out any of the acronyms used in the show or would like to improve your hospitality knowledge, here is a great glossary put together by Xotel.

This is the second event that we have put together this year to ensure that we all get to have a good laugh, I am sure you can all remember the Virtual Hospitality Challenge that we did back in May. Jamie McBride took part in both events this year so a special thank you to him and I'm glad we are still friends. I wonder what we can make Jamie do next year! From both events we raised a total of £595.00 and R905.00. Our JustGiving page is still active should you want to make a donation: https://www.justgiving.com/fundraising/hospitalitytechchallenge

In other news, the Great GuestRevu Elf Hunt is now on
Santa and Rudolph are running around the GuestRevu website, blog and client dashboard looking for the GuestRevu elves. Help us to find them and you will be in the draw to win a year's free GuestRevu!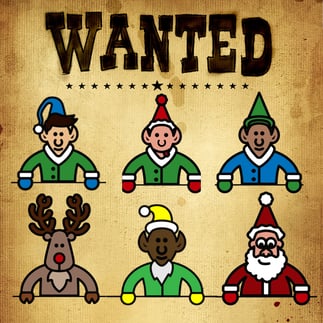 When you spot them just give them a click and leave your details so we know you spotted them. This will also automatically enter you into the draw for the grand prize!

The more elves you find, the more times you will be entered and the better your chances of winning. If you are lucky enough to spot Santa or Rudolph, you get extra bonus points! You can also increase your chances by taking a screenshot of the elf, Rudolph or Santa, and posting it on social media (but remember to @mention GuestRevu so we can count the extra entries). You can see the rest of the details on how to play and score more entries into the draw by visiting our page (https://hub.guestrevu.com/elf-hunt).

Get jolly with us
If all of this isn't enough to give you a laugh and a dose of festive spirit here is a look at the GuestRevu festive video! I think our head developer Sam has moves like Jagger in this one 🤣


Final note from me
Have a great festive season, and stay positive – we really do work in the best industry in the world. Please feel free to share your great or even silly moments from this year in the comments. It may just be what someone needs to make them smile and keep going.