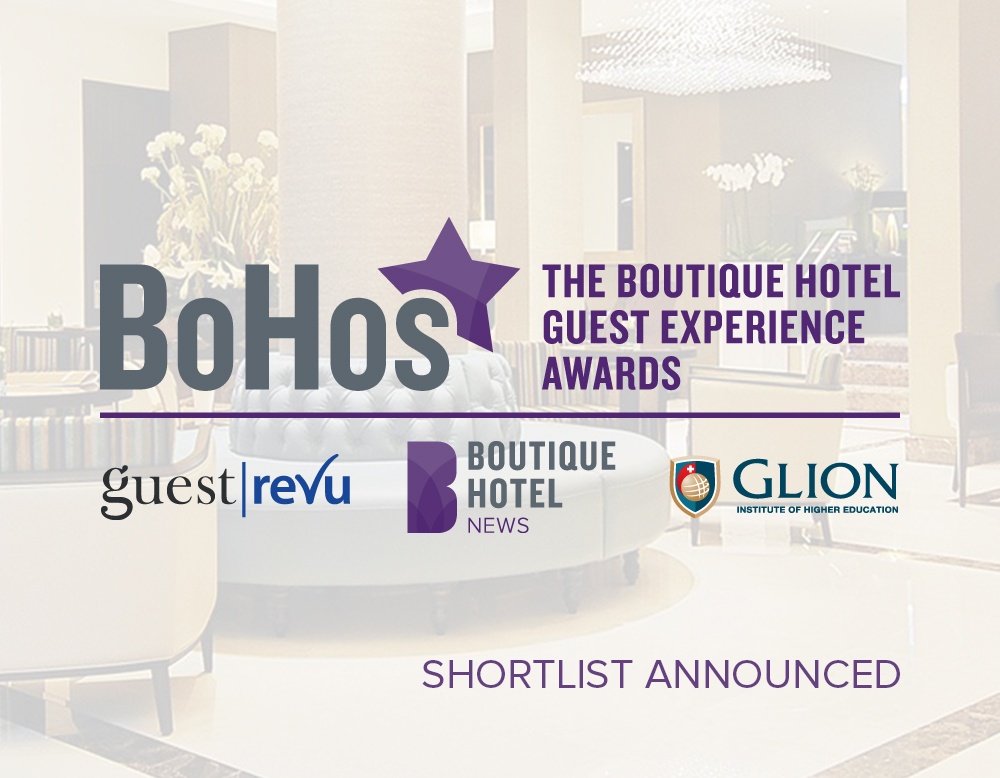 The data collection period for the 2017 Boutique Hotel Guest Experience Awards (BoHos) has concluded, and the winners are set to be announced at the Boutique + Lifestyle Hotel Summit on 22 May.
After two months of guest feedback collection, in the form of online reviews and direct feedback surveys, followed by an intensive period of data analysis by Glion Institute of Higher Education, the following hotels have been shortlisted for their respective categories in the inaugural BoHos:
BoHos Shortlist

UK Country and Coastal

1 - 20 rooms
21 - 50 rooms
51+ rooms

Cedar Manor Hotel, Windermere, Cumbria
Forest Side Hotel, Grasmere, Cumbria
Hipping Hall, Kirby Lonsdale, Cumbria
The Old Quay House Hotel, Fowey, Cornwall
Sweeney Hall Hotel, Oswestry, Shropshire

Coed-Y-Mwstwr Hotel, Bridgend, Vale of Glamorgan
Glenesk Hotel, Edzell, Angus
Hogarths Hotel, Dorridge, West Midlands
Oak Royal Hotel, Chorley, Lancashire
The Valley, Truro, Cornwall

The Imperial Hotel, Llandudno, Conwy
Old Thorns Manor, Liphook, Hampshire
Raithwaite Estate, Whitby, Yorkshire

UK City

1 - 20 rooms
21- 50 rooms
51+ rooms

The Abel Heywood, Manchester
Hotel Bosco, Surbiton

B+B Belgravia
B+B Edinburgh
B+B York
The Draycott, London
The Royal Park, London

The Georgian House, London
Hotel Indigo York
INNSIDE by Melia, Manchester
The Lalit London
The Montcalm Marble Arch, London

International

1 - 20 rooms
21 - 50 rooms
51+ rooms

Derwent House, South Africa
Leopard Mountain Safari Lodge, South Africa
Klaserie Sands River Camp, South Africa
Scale Suites Luxury Apartments, Greece
Tongabezi Lodge, Zambia

Anta Boga Hotel, South Africa
De Hoek Country Hotel, South Africa
Ghost Mountain Inn, South Africa
Rivonia Bed & Breakfast, South Africa
Villa Samadhi Kuala Lumpur, Malaysia

Anantara Hua Hin Resort, Thailand
Hotel Indigo Krakow, Poland
Hotel Indigo Rome, Italy
Hotel Indigo St Petersburg, Russia
Treasury on Collins, Melbourne, Australia

Unlike many other hospitality awards, the BoHos are not awarded based on the opinions of judges, but are rather based on feedback from real guests. This means that the awards are a true reflection of the overall level of service, attention to detail, and excellence of guest experience at the respective venues.
"There are three elements to running a successful hotel – good staff, satisfied guests and an excellent product," said Geoff Lofthouse, General Manager of The Imperial Hotel, which has been shortlisted in the UK Country and Coastal, 51+ Rooms category. "Therefore, it is vitally important that all hotels, no matter how large or small, consistently monitor their guest feedback. We live in a highly competitive world so every hotel needs to be aware of their customer satisfaction levels in detail."
"It is vitally important that all hotels, no matter how large or small, consistently monitor their guest feedback." – Geoff Lofthouse, General Manager, The Imperial Hotel
During the course of the data collection period for the awards, The Imperial Hotel used GuestRevu's online guest feedback questionnaires to gather guest intelligence. "It has been interesting to see more in-depth responses from the online questionnaires," said Mr Lofthouse. "Learning how the little touches we automatically do make such a big difference to a guest's experience as well as how individual staff members have gone the extra mile to ensure the guest's stay has been memorable."
Missed your chance to compete in the BoHo Awards? Make sure that you're signed up to hear about the 2019 Awards as well as other interesting events in the hospitality industry. Click on the banner below to subscribe.