Like many hoteliers, you pay close attention to your hotel's ranking on OTAs and review sites like booking.com and TripAdvisor. You may have watched your hotel shoot from 50th rank to 20th, and steadily climb from 20th to 5th, but now your progress has stalled, and the journey from 5th position to first seems impossible.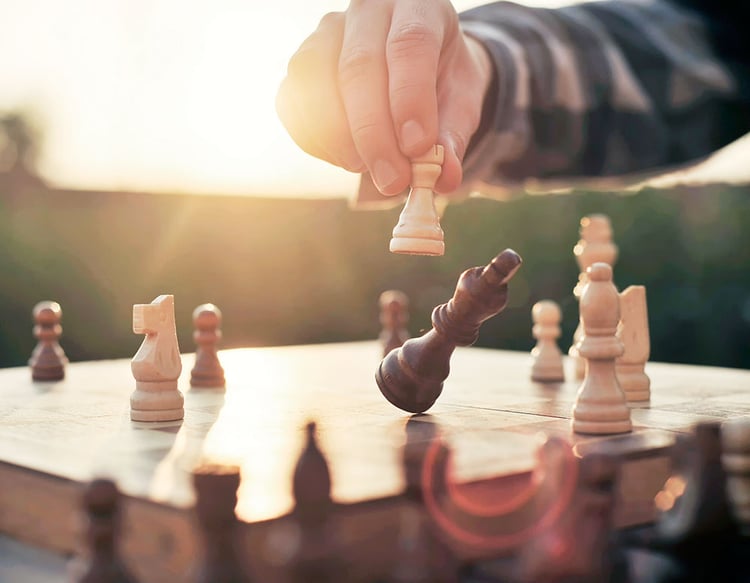 This is a scenario many hoteliers will be familiar with – competition in those top few spots is fierce, and when all your guests rave about your hotel in online reviews, and you score top marks for all the basics measured by review sites (cleanliness, value for money, rooms, service etc.), it can be hard to know what you can possibly do to earn that beckoning top spot.
Often what takes a guest's experience from good to great is the details, so in order to climb the last, most difficult, few rungs in the ladder what you may need is more detailed feedback, and a more detailed way of interpreting and analysing it.
You need to know about elements of guest experience specific to your hotel – would stepping up your safari rides earn you that extra two percent in terms of satisfaction, or is it the spa that is falling ever so slightly short of guests' expectations?
Unfortunately, relying on review sites for feedback from guests on issues particular to your hotel is to hope that guests will answer questions you never asked them. TripAdvisor and Booking.com, for instance, don't ask guests about the quality of your game-drives, spa experience or bicycle trail – not everyone has these to offer.
"Overall satisfaction, value for money and NPS provide an overview of what's happening, but they don't give management any answers on where you're excelling or failing." – Chris Roberts, General Manager, Oceana Beach and Wildlife Reserve
So, while you may get comments now and then in the body of reviews that mention your property's unique features, you will probably find that they are only mentioned when they stood out for some reason, because they fell well below or far exceeded expectations.
When you are attempting to climb the last few ranking spots, however, experiences that are outliers – a particularly wonderful game drive where all of the Big Five were spotted in two hours, or a spa treatment where the electricity went out, for example – are not going to help you find out what you need to improve upon.
What you need is a way to measure your guests' experiences of each aspect of your hotel, especially if it was one of those experiences that was "good" but not exceptional enough to warrant a mention in an online review.
Asking guests for their feedback on specific aspects of your hotel and comparing scores of different areas of guest experience with each other over time is the best way to go about gathering data that will tell you where one aspect of the guest experience is falling short.
As Chris Roberts, general manager of Oceana Beach and Wildlife Reserve and GuestRevu client, says, "Overall satisfaction, value for money and NPS [Net Promoter Score] provide an overview of what's happening, but they don't give management any answers on where you're excelling or failing."
At GuestRevu, we call the nuanced elements of the guest experience that are unique to your offering "Primary Service Ratings" and we have developed a way for you to measure and manage each one, so that you can find out what is holding you back from earning the coveted number one spot.
Head of GuestRevu's client management team, Trish Luies, describes how the Primary Service Ratings report works: "The report pulls data from guest feedback questionnaires about the hotel's main departments (reception, staff, restaurant, etc.) as well as any specialised offerings they have (safaris, spa treatments, etc.) into a single report that outlines how their different departments are doing and makes it easier for hoteliers to immediately identify their strengths and weaknesses."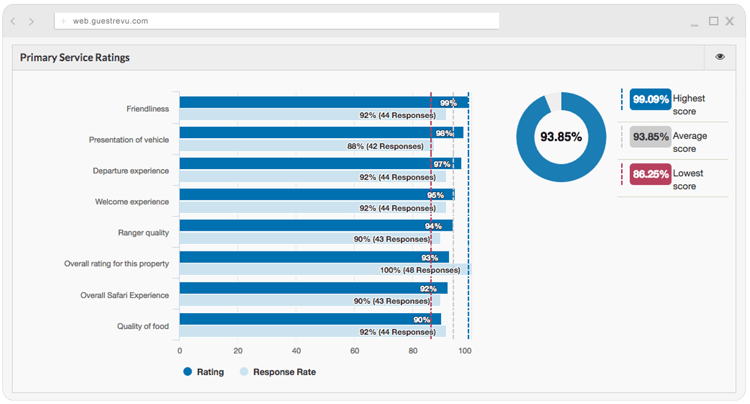 By enabling hoteliers to benchmark one element of the guest experience against another in concrete numerical terms, the primary service rating report becomes something of a to-do list for hoteliers looking to improve an already tightly-run operation.
Derek Martin, revenue management consultant and founder of TrevPAR World, uses the Primary Service Ratings report whenever possible when he works with clients. "It is an integral part of my daily revenue management process" says Martin, "it is very informative and clearly highlights what is happening in the operation on a daily basis."




Roberts also regularly uses the Primary Service Ratings report to inform operational decisions at Oceana. "It's now the main thing I look at after overall satisfaction," says Roberts. "We're constantly comparing the current scores to last month, 3 months ago and 12 months ago. This gives us a constant metric of where we are excelling and where we're falling short. It's allowed us to react quickly when needed."
Often the different categories in the Primary Service Ratings report correlate to different divisions or teams of people within the hotel, meaning that the Primary Service Ratings can be used as a means of ensuring that these teams continue to perform to a certain standard, and they are held accountable if they fall short. "I find my junior and middle management levels respond far better to departmental scores," says Roberts, "it's even become a bit competitive between the different departments, which is never a bad thing!"




"The idea behind implementing Primary Service Ratings was to provide a way for a hotel to raise its overall standards, as well as its online reputation score," says GuestRevu CEO, Chris Alexandre. "When you can look at the most poorly performing categories or service areas in your property, then you can say 'ok, let's work on that one, because if we can make a big improvement on that one we can have the biggest impact on our online reputation and our score.'
"For example if you are getting 98% guest satisfaction for your rooms, and you're only getting 42% out of your restaurant, it makes more sense to fix the area where there's the biggest problem, i.e. your restaurant, because if you can move that guest satisfaction score from 42% up to 85%, that's going to have the biggest impact on your overall score. If you work on the rooms, which are already scoring 98%, you may be able to get guest satisfaction up another 1% or 2% at the very most, but it's not going to have a huge impact on your overall online reputation score, because you're already doing well in that area."
This tends to be where hoteliers get stuck climbing the ladder of OTA rankings. Because they are not seeing their properties the way guests see them, they focus their time, money and effort on trying to improve aspects of the guest experience that are already excellent, often to no avail, while overlooking aspects of the guest's stay that they didn't think were that important, but with a few small changes could make a big difference to guest experience, and therefore overall review score.
Because they are not seeing their properties the way guests see them, hoteliers focus their time, money and effort on trying to improve aspects of the guest experience that are already excellent, often to no avail.
"When you're down at the bottom of the rankings, you can make one or two big changes and you can affect your score quickly." explains Alexandre "If you're consistently scoring around 50% for guest satisfaction and you make changes and you can move your score up to around 70%, you're going to jump quite quickly in the scale of things.
"However, when you get up to the top of the rankings, assuming you have other competent competitors in your space, you will be up against hotels with guest satisfaction ratings up around 85-90%, and it becomes increasingly more difficult to jump spots, because you're already getting those scores. At this point it really becomes all about fine-tuning. Hotels start working on a much finer scale – long-term consistency becomes more important, as does paying attention to the finer details that are going to drive the satisfaction levels of your guests."
For Martin, paying attention to guest feedback, and the nuanced feedback contained in the Primary Service Ratings report is critical to improving hotel operations at all levels. "The Primary Service Ratings can be considered the purest form of data," says Martin. "It is directly from the guests that have stayed with you, that have experienced your service and most importantly paid the room rate. By using guest feedback as a road map to improve your hotel's condition, service levels and operation, an overall improvement will be seen and this will be reflected across all review platforms."