GuestRevu, an award-winning guest survey and reputation management tool designed exclusively for the hospitality industry, proudly announces its new integration with Right Revenue, a leading revenue management solution for hoteliers. This innovative collaboration introduces the seamless inclusion of GuestRevu's guest feedback data directly into Right Revenue dashboards, providing hoteliers with even more critical data in their ongoing mission to optimise guest satisfaction and revenue management.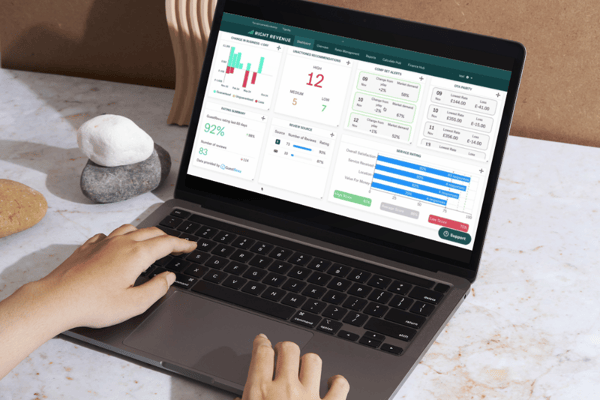 Key features of the new integration include the incorporation of GuestRevu data, such as online review rating summaries, sources, and individual KPI ratings (such as value for money and cleanliness scores) directly into Right Revenue users' dashboards. Released this week, the enhanced Right Revenue dashboard also offers improved customisability and drag-and-drop report widgets, providing hoteliers with even more control and insights.
"Great Revenue Managers understand that there are multiple factors that influence their ability to price their rooms optimally, and guest reviews are one incredibly important piece of the puzzle," says Adrienne Hanna, Founder & CEO at Right Revenue. "What your guests say about your product and service has a direct impact on your pricing strategies, so it made perfect sense for us to partner with GuestRevu. Review data is shown within our Alerts Dashboard in clear and visual graphs, allowing users to see at a glance how many reviews they have had, the score, where the reviews are coming from, and most importantly, what customers are saying about both product and service."
To facilitate the integration, all Right Revenue users gain complimentary access to GuestRevu LITE, the free-forever version of the award-winning software. This ensures that revenue management dashboards are automatically enriched with guest feedback data from popular online review sources. Right Revenue users can get even more from the partnership by claiming their free GuestRevu LITE accounts, where they can connect additional review sources, gain insights into trends over time, and invite additional users to access the account.
Paul Griffiths, GuestRevu's Head of Sales, emphasises the importance of the partnership in the modern hospitality landscape: "Being aware of what customers are saying and keeping an eye on revenue is like having a compass for success. With the new partnership between GuestRevu and Right Revenue, our mutual customers get the best of both worlds by combining both data sets, keeping hoteliers' fingers on the pulse at all times. The whole team at GuestRevu is excited and looks forward to working with Right Revenue moving forward."
Future updates to the integration are set to unveil even more powerful features, cementing GuestRevu and Right Revenue's shared commitment to providing unparalleled tools for hospitality professionals to enhance guest satisfaction and revenue management.
About GuestRevu
GuestRevu provides award-winning guest feedback and online reputation management tools tailor-made for the hospitality industry, enabling hoteliers worldwide to gain a deeper, guest-focused understanding of operational strengths and weaknesses, monitor and manage their online reputation and reviews, and improve guest satisfaction. Listening to and learning from guests enables hoteliers to drive more direct bookings, build lasting loyalty and ultimately increase revenue. As a Tripadvisor Platinum Review Collection Partner, GuestRevu also gives clients the opportunity to boost their online reviews and ratings on the world's largest review site.
About Right Revenue
Right Revenue is a revenue management software solution designed specifically for independent hotels. Designed by a CEO with over 25 years of experience in Revenue Management, we understand the challenges that independent hotels face in an ever-evolving marketplace.
We have 4 goals:
Grow Revenue: year to date (2023), our portfolio has, on average, experienced double-digit growth compared to the same period in 2022.
Save Time: we understand that 'relevant data' is more important than 'big data', producing bespoke reporting which drives key actions.
Revenue Culture: we support your revenue culture by providing industry-leading Revenue Management training for your whole team and customer support that is second to none.
Allow you to operate on a level playing field: Great revenue strategies are not just for the large brands, we ensure you have a technology partner that will allow you the same opportunities.