The hospitality industry is quickly expanding to include a number of niche sectors, from the traditional boutique hotel to serviced apartments and everything in between. With all this diversification in the industry, it can be hard for professionals to find information tailored to their specific needs. What the manager of a serviced apartment building will find helpful is often very different to what a boutique hotelier is looking for.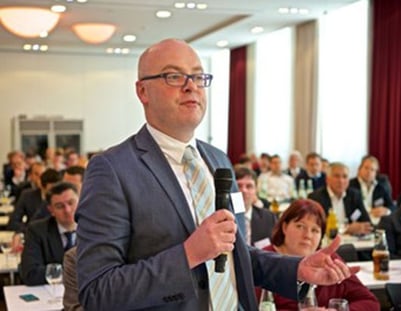 Piers Brown, CEO of IHM presents at So! Apart conference, Berlin
One innovative industry thought leader who is solving this problem for non-standard accommodation providers is Piers Brown, CEO of International Hospitality Media (IHM) which runs websites and hosts summits specifically for serviced apartment providers and boutique hoteliers, and offers advisory services tailored to niche growth sectors in the hospitality industry.
We managed to get this forward-thinking entrepreneur to give us his take on where boutique hotels and serviced apartments overlap, where they stand out, and what makes unconventional accommodation tick.
Where did you begin in the hospitality industry?
I was sales and marketing director of a high-end car sharing club in the early 2000s, and had started exploring the concept in hospitality as part of my MBA.
You seem to have two very distinct, and different, focuses at IHM – Boutique hotels and serviced apartments. How did that come about?
IHM takes a granular approach to growth areas within the hospitality sector. We launched the Boutique and Lifestyle Hotel Summit in 2012, and quickly realised the boutique hotel sector needed an online brand they could rely on and trust, hence boutiquehotelnews.com was born and helps provide resource to drive the sector forward.
We also decided to do the same with servicedapartmentnews.com, and we were subsequently approached by the CEO of a serviced apartment company who encouraged us to launch the Serviced Apartment Summit in London, which takes a similar approach to doing business. I'm delighted to say we now host the summits in Dubai, New York and Amsterdam too.
How do you think boutique hotels and serviced apartments differ in how they approach guest experience?
Both are doing a lot more to offer a sense of place and community at their properties. Boutique hotels do this more from a face-to-face guest experience and service perspective, while serviced apartments have less staff to facilitate this. It's fascinating to see how lots of serviced apartments are embracing technology to perhaps place less reliance on the human element.
Are you seeing a blurring of the lines between the traditional focus of hotels and serviced apartments?
Yes, particularly with the growth of the recently launched "aparthotel" brands, which try to blend aspects of both products by offering more hotel-style service as well as more in-room space (which could include separate living area and kitchenette), communal areas and more.
How do you see the private short term rental market (i.e. Airbnb) affecting both?
I don't believe Airbnb is a threat to boutique hotels as the product is very different, and let's not forget there are over 15,000 boutique hotels already listed on Airbnb and using it as a distribution resource. Serviced apartments have benefitted hugely as Airbnb has indirectly highlighted the potential of an alternative to a hotel room in the consumer mindset.
It's fascinating to see how lots of serviced apartments are embracing technology to perhaps place less reliance on the human element.
Do you think serviced apartments lose out by not providing the traditional, personalised service of a hotel?
No, they are two distinctly different products.
How is the UK serviced apartment market doing in comparison to other international markets? Is there still room and demand for growth?
The UK has lagged behind other main international markets, and is currently a hotbed of growth in the serviced apartment sector.
What's the best hotel you've ever stayed at?
Based on what they meant to me at the time I have four for different reasons! The Old Waverley in Edinburgh because it is a good value 3-star hotel and great location, Highbullen Hotel in North Devon because I have fond memories with the family, The Grand Del Mar in San Diego because seeing Phil Mickelson practicing on the golf course by chance really stands out, and Palazzo Tornabuoni in Florence because looking over the Florence rooftops whilst sharing a glass of wine with friends was just perfect.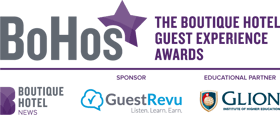 Have you signed your hotel up to the Boutique Hotel Guest Experience Awards? The awards are open to any UK or international boutique, lifestyle or hybrid hotel so enter now!
Want to learn more about the latest industry events? Click on the banner below.