Expectations for hotels have undergone some dramatic changes in recent years with the introduction of new technologies and the development of world events. However, some aspects of the hotel business will never go out of style. Here are 10 hotel amenities that will always earn glowing reviews and keep guests coming back; probably now more than ever.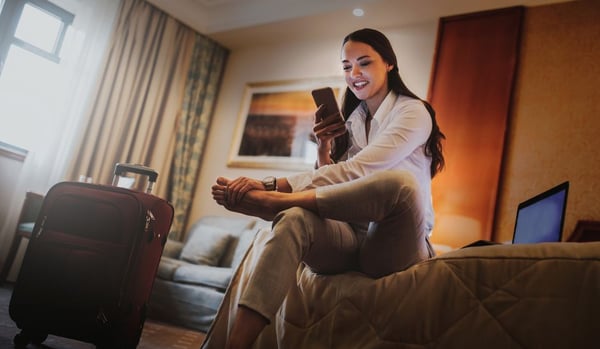 1. Free & Reliable Wi-Fi
Whenever we go to a friend's house for the first time, we always ask for their Wi-Fi password and pray they have a strong internet connection. The same goes for the hospitality industry. Wi-Fi is one of the first things guests look for when they check in, but it often happens even before this at the searching phase of their buyer's journey.Having a free and reliable connection will make a good first impression especially for those planning a workation.
Free Wi-Fi has become even more important since COVID-19 began, as more people are working remotely and need the internet wherever they go. Hotels can help these people do their jobs by providing a stable connection throughout the property.
These hotels have been recognised for having great wifi
2. Free Parking
Few things are more frustrating to a traveller than finding out they have to pay for parking. Paid self-parking can add hundreds of dollars to a trip, and some people simply don't trust valet services.
On the other hand, free parking marks a positive beginning to a guest's stay and makes their travel experience less stressful knowing they can park wherever and whenever they please.
Parking is an especially vital amenity for hotels in busy cities, as almost every parking spot in town has a price tag on it these days. An urban hotel can be a ray of sunshine on a cloudy day by providing free on-site parking.
Check out some of the parking solutions out there.
3. Custom Offers
Every guest has a particular set of preferences and that will never change. Hotels must be willing to go the extra mile and meet those preferences with custom offers. Finding out a specific guest's likes and dislikes used to be a major hurdle, but hotels today can easily learn more about their guests through pre-stay surveys, aggregating guest data,loyalty programs, social media sites, and other hospitality tech tools.
There are many opportunities throughout a guest's stay to provide customised service. You might give them a small gift on arrival or add unique decorations to their room for a special event. Anything that personalises a guest's experience will always earn positive reviews. With feedback technology to help you collect guest data easily and more intentionally, you can target your offers more precisely, as well as upsell more efficiently by using guest data to craft email marketing campaigns and more tailored offers to your varying guest segments in the long run.
4. Mobile Check-In
The newest amenity on this list, mobile check-in, which swept through the hotel industry during the pandemic's peak and isn't going away. The old check-in process used to be time-consuming and often the most unpleasant part of the entire hotel experience. Today, mobile check-in enables guests to gain access to their rooms immediately upon arrival without having to stop at the front desk.
This technology also makes the front desk employees' jobs easier and creates a more eco-friendly check-in without registration cards, room keys, and other paper items. It also gives the hotel greater access to guest data in an easy to use and digital format.
5. Complimentary Toiletries
Complimentary toiletries are always welcome surprises when guests first enter their rooms. A guest might forget to pack a specific item and many people also rely on hotel toiletries because of airline carry-on restrictions. Soap, shampoo, and conditioner are the usual trifecta, but hotels can also provide these items:
Body and face lotion
Toothbrush and toothpaste
Razor and shaving cream
Combs and brushes
Hair-styling tools
Makeup remover
Bathrobe
Given the heightened emphasis on sanitation and hygiene since COVID-19 began, hotels should also provide travel-sized hand sanitiser containers and face-masks to put their at-risk guests at ease.
Here are some hotels with a unique take on toiletries
6. Quality Beds
Many guests have trouble sleeping at hotels because they can't get comfortable in an unfamiliar environment. Hotels can help combat that issue by providing high-quality beds, chairs, and nightstands in every room. A solid piece of furniture should be simple to use and durable enough to last for decades.
Furniture with longevity allows hotels to provide consistent comfort and build a reputation as a pleasant place to stay, so hoteliers must pay close attention to the details during their search. For example, wooden furniture should look smooth and clean with few knots or joints. It should also be easy to maintain to speed up the housekeeping process. Such attention to detail will always impress guests and benefit your hotel's operations.
So which hotels do have the best-rated beds?
7. Health and Wellness Amenities
Health and wellness have become increasingly important priorities in recent years due to COVID-19. Hotels can help their guests maintain those priorities by providing a range of health and wellness amenities. Those who cater to wellness travellers will tell you that a fitness centre, swimming pool, and sauna are great to have, but they are the bare minimum for larger hotels. Some places have also introduced these amazing amenities:
Exercise classes
Cooking classes
Air purification systems
Hypoallergenic bedding
In-room relaxation tools (scent diffusers, white noise machines, etc.)
Hotels also need to accommodate certain dietary restrictions by providing gluten-free and vegan-friendly menu options at their bars and restaurants.
The Guardian has even written about some of the best vegan hotels in Europe
8. Premium Coffee
Coffee is a vital part of most people's morning routines, and the drink is only getting more popular. All hotels should provide premium coffee in the lobby and restaurant, but they can make a stronger impression with in-room services. Fresh, locally sourced beans along with latte, espresso, or cappuccino machines in each room will blow coffee-lovers away. You can also include coffee machines such as a Nespresso machine.
A coffee kit with cream, sugar, cinnamon, vanilla extract, and other additives can also help hotels stand out. Everyone likes their coffee a particular way, so it only makes sense to provide a wide variety of brands and ingredients.
These hotels are providing unique coffee experiences for their guests
9. Free Breakfast
Breakfast is the most important meal of the day, but finding a good meal in a new city early in the morning can be difficult. That's why a free hotel breakfast is so valuable. Guests have immediate access to food first thing in the morning, whether it's a continental buffet or a traditional sit-down meal.
Free breakfast helps guests start their days on the right foot and makes their morning schedules more manageable. Rather than going elsewhere for food or cooking a meal themselves, they can simply walk down the hall and find hot breakfast waiting for them. Who doesn't love that?
According to Tripadvisor reviews, these hotels are getting breakfast right
10. Hotel Lounge
Breakfast amenities are essential in the morning, but the hotel lounge takes over in the evening. Once people get back to the hotel after a long day, they tend to gravitate towards the lounge to unwind. Conversing with strangers over a few drinks is a quintessential part of the human experience, and even more prominently in the guests hotel experience.
There's nothing wrong with providing cocktail stations and other in-room drinking amenities, but hotels should encourage their guests to get out of their rooms. The lounge is the most logical gathering place, so make sure it looks inviting, and that you have a healthy drink variety and experienced employees behind the bar.
Why hotel lounges are so important in the current competitive landscape
Remember the Basics
New technologies like mobile check-in and modern health devices have gained positive feedback and figure to be key parts of the hotel experience moving forward. However, don't let these flashy new amenities distract you from the basics: food, drinks, toiletries, and furniture. Apply a combination of new and old to give your guests a well-rounded experience and earn glowing reviews.
Here are 5 ways to increase hotel RevPAR without increasing room rate