Hundreds of properties from over 40 countries around the world made the choice to let their guests be the judge in the 2019 Boutique Hotel Guest Experience Awards, and on the evening of 22 May, the winners of the prestigious Awards were announced.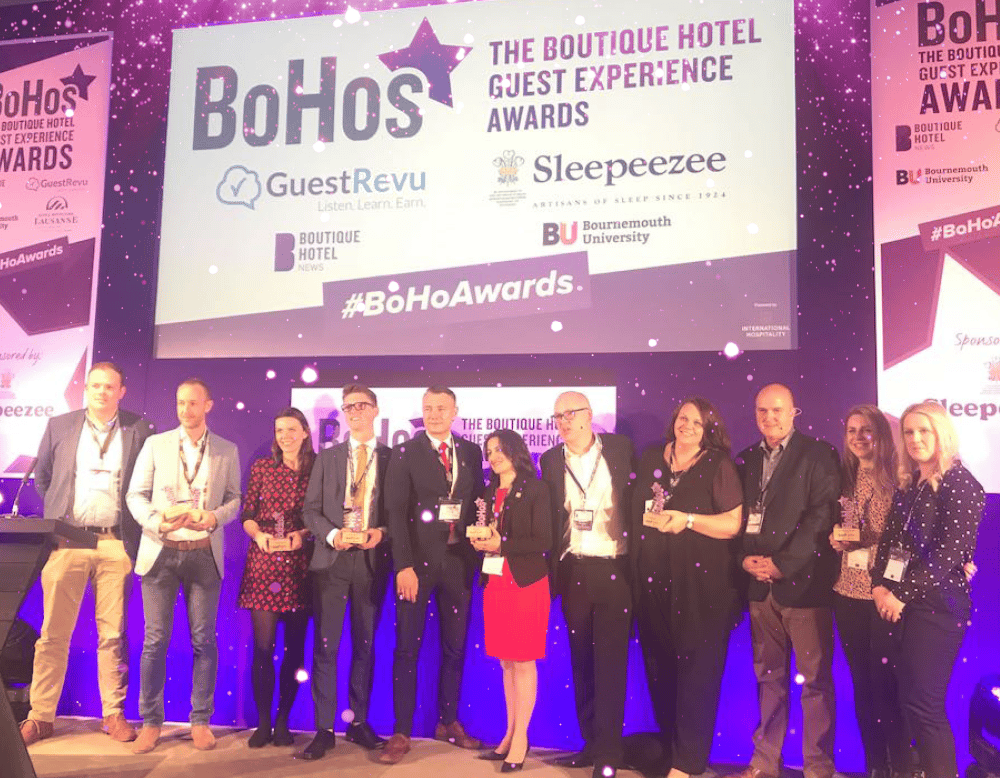 The Awards Ceremony, which took place at The Kimpton Fitzroy in London as part of the Boutique + Lifestyle Hotel Summit, took into account over 15,000 responses to guest feedback questionnaires and over 37,000 online reviews, analysed by students at Bournemouth University, to determine which boutique, lifestyle and hybrid properties offer the best experiences according to those whose opinions mean the most — their guests.
2019 BoHos Winners
UK Country and Coastal
1 - 20 Rooms
Yorebridge House,
Bainbridge
21 - 50 Rooms
Borrowdale Gates Hotel,
Borrowdale
51+ Rooms
Manor House Hotel,
Alsager
UK City
1 - 20 Rooms
Roomzzz Aparthotel,
Newcastle City
21 - 50 Rooms
Tara Lodge,
Belfast
51+ Rooms
The Lalit,
London
International
1 - 20 Rooms
Founders Lodge,
South Africa
21 - 50 Rooms
Rivonia Bed and Breakfast,
South Africa
51+ Rooms
Kapama River Lodge,
South Africa
Overall Winners
UK
Roomzzz Aparthotel,
Newcastle City
International
Founders Lodge,
South Africa
Best Group Brand
Kapama,
South Africa
Sophie Egglestone of Yorebridge House, which walked away as the winner in the UK Country & Coastal 1 - 20 Room category, is delighted with the win. "All of our awards mean so much to us," she says, "but it is particularly satisfying when they are based on actual guest reviews."
And Sinéad Tierney from Tara Lodge, which claimed a BoHo Award for the second time in as many years, agrees: "It's such an honour, particularly because they are based solely on guest feedback. We work tirelessly to ensure our guests get the best possible experience every single time, and the BoHos are such an amazing way for this to be recognised."
This is the first year that recognition was not limited to individual properties, as groups with more than two properties participating stood the chance to win Best Group Brand. With brands that included the UK's Roomzzz, America's AKA, and the Mantis Collection, which boasts properties across all seven continents, competition was tight, but it was South Africa's Kapama who walked away as winners of the coveted Award based on feedback from their guests.
And though only nine properties and one group could walk away with Awards, every property that entered had the option to make use of GuestRevu's award-winning guest feedback and online reputation management technology. Sentiment analysis of the over 37,000 online reviews that were gathered during the Awards' collection period showed that 93% of detailed reviews were positive, and that the average Net Promoter Score for the properties that entered the Awards was 58.83. This is an indication of the quality of the entrants, considering that, according to NICE Satmetrix, the average NPS for hotels in general is 39, almost 20% lower.
Of the platforms that were used to collect online reviews, it was interesting to note that Booking.com was the most popular among guests, making up 42.41% of the reviews collected over the three-month period. TripAdvisor was the second highest used, contributing 23.37% of the reviews, closely followed by Google Reviews with 21.22%. Hotels.com and Expedia were the fourth and fifth most popular, making up 5.31% and 4.59% respectively of the total number of reviews collected.

"It's these kinds of valuable insights into guests and their preferences that can help properties to make operational decisions and direct their marketing efforts," says GuestRevu Founder and CEO, Chris Alexandre. "We're proud to be able to provide properties that participate in the BoHo Awards with guest feedback and reputation management tools that really make their lives easier, and actually show them the areas that their properties are excelling in. It's why both GuestRevu and International Hospitality Media have been active partners and advocates for these Awards, which have celebrated the best in guest experiences since their inception."
Couldn't make it to London for the Boutique + Lifestyle Hotel Summit? Want to hear about the latest hospitality events first? Click on the banner below to subscribe to our events mailing list: