Time flies when your guests are having fun, and it's hard to believe that only three months ago, hotels around the world started collecting guest feedback and online reputation data for the Boutique Hotel Guest Experience Awards 2019. We've received thousands of online reviews and guest feedback surveys, and with the data collection period at an end, and analysis well underway, we are proud to announce the shortlisted properties for these prestigious Awards.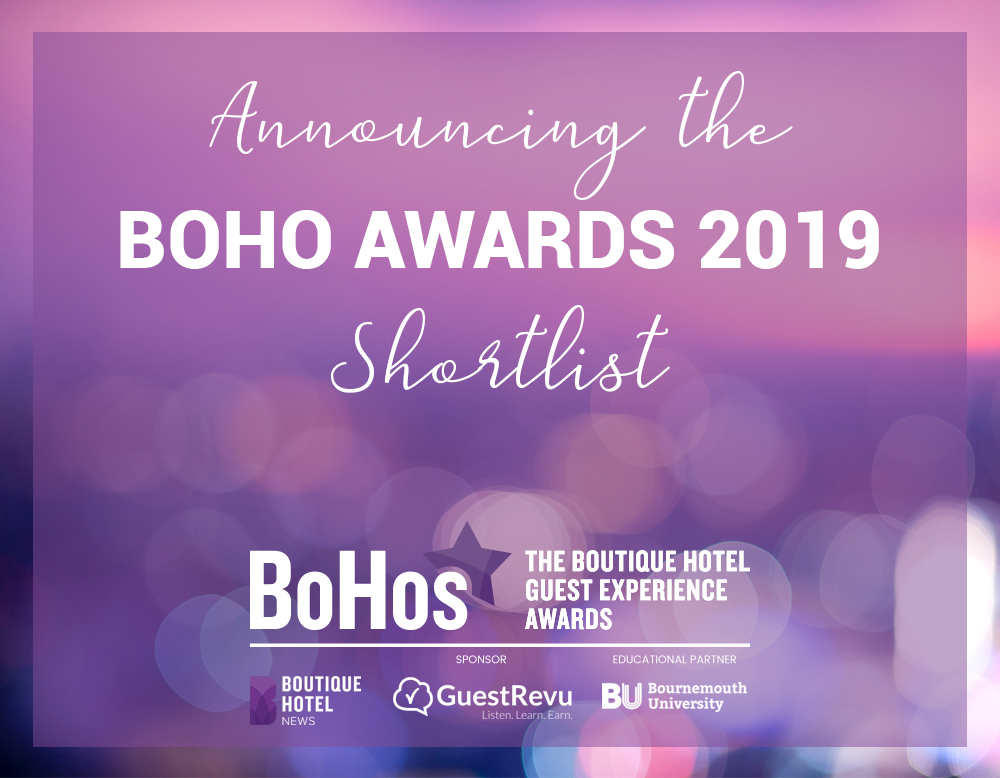 BoHos Shortlist
UK Country and Coastal
1 - 20 rooms
Bethnal & Bec, Buntingford
Glazebrook House Hotel, South Brent
Hurley House Hotel, Hurley
The Old Quay House Hotel, Cornwall
Plas Yn Dre Inn, Bala
Yorebridge House, Bainbridge
21 - 50 rooms
Borrowdale Gates Hotel, Lake District
Caer Rhun Hall, Conwy
Mullion Cove Hotel, Cornwall
Talland Bay Hotel, Cornwall
The Valley, Cornwall
Whatley Manor Hotel, Malmesbury
51+ rooms
Balmer Lawn, Brockenhurst
The Grange Hotel, Granges-over-Sands
Manor House Hotel, Alsager
Orsett Hall, Essex
room2, Southampton
Thornton Hall Hotel & Spa, Thornton Hough
UK City
1 - 20 rooms
The Abel Heywood, Manchester

Ethos Hotel, Oxford

Roomzzz Aparthotel, Newcastle
Montagu Place Hotel, London
21- 50 rooms
The Draycott Hotel, London
The Dunstane Houses, Edinburgh
The Golden Fleece Hotel, Thirsk
Roomzzz Aparthotel, Leeds
Roseate House, London
Tara Lodge, Belfast
51+ rooms
The Lalit, London
Native Bankside, London
Native Glasgow
Roomzzz Aparthotel, Chester
Roomzzz Aparthotel, Manchester Corn Exchange
The Trafalgar St. James, London
International
1 - 20 rooms
Fedha Residences, Kenya
Founders Lodge, South Africa
Good Hotel Antigua, Guatemala
Kapama Buffalo Camp, South Africa
Underwater Explorers, Mozambique
21 - 50 rooms
The Edison George Town, Malaysia
The Lakeside Hotel & Leisure Centre, Ireland
Latitude 15 Degrees, Zambia
Le Mas Candille, France
Rivonia Bed and Breakfast, South Africa
51+ rooms
AKA University City, United States
The Envoy Hotel by Mantis, Nigeria
Hotel Artemide, Italy
Hotel Elizabeth, Slovakia
Hotel Indigo St. Petersburg-Tchaikovskogo, Russia
Kapama River Lodge, South Africa
Best Group Brand
Kapama, South Africa
Mantis, Worldwide
Native, United Kingdom
AKA, United States
Roomzzz, United Kingdom
Providence Hospitality, Worldwide

"It's fantastic to see such a varied collection of properties shortlisted for this year's BoHos," says Editor of Boutique Hotel News, George Sell. "From African safari lodges to English manor houses, they all have one thing in common - they make sure their guests have a great experience. It's particularly exciting to see such a strong showing from the aparthotel sector, demonstrating that this vibrant new form of accommodation is meeting a clear customer demand."
Congratulations to all those shortlisted. We look forward to seeing you at the BoHo Awards Ceremony later this month!
– George Sell, Editor, Boutique Hotel News
That the Awards aren't just based on the opinions of a panel of judges or a popularity contest on social media, makes the BoHos particularly meaningful to the properties that stand a chance of winning, as Sinéad Tierney of Tara Lodge explains.
"It's such an honour to have been shortlisted for the BoHo Awards, particularly because they are based solely on guest feedback. As with all the other hotels who have been shortlisted, we work tirelessly to ensure our guests get the best possible experience every single time, and the BoHos are such an amazing way for this to be recognised."
— Sinéad Tierney, General Manager of Tara Lodge
Sophie Egglestone of Yorebridge House agrees. "We are delighted to have been shortlisted for this award," she explains. "All of our awards mean so much to us but it is particularly satisfying when they are based on actual guest reviews. We pride ourselves on our attention to detail and customer service, and seeing this reflected in our reviews is paramount for our continued success. The team have all taken an active interest in reading and responding to these reviews and the comments have also helped provide some useful feedback for change which we welcome wholeheartedly."
Mica Sturdy of Glazebrook House Hotel and Lucy Varney of Talland Bay Hotel have also been finding the feedback that they've been getting throughout the Awards' data collection period to be invaluable. "In this industry guest feedback is such an important part of everything that happens," says Mica. "To be shortlisted for such a prestigious award shows the hard work of the entire team. We feel very privileged to be recognised by our guests and can not wait to thank them for helping us get to where we are."
"In this industry guest feedback is such an important part of everything that happens. To be shortlisted for such a prestigious award shows the hard work of the entire team. We feel very privileged to be recognised by our guests and can not wait to thank them for helping us get to where we are."
— Mica Sturdy, Assistant Host Manager, Glazebrook House Hotel
"At Talland Bay Hotel, we strive for excellence," Lucy explains, "and GuestRevu [the feedback partner for the BoHo Awards] has given our guests the opening to leave feedback that they normally wouldn't think of. This gives us a great insight to the guest's stay and experience, giving us the opportunity to fine-tune our amazing Hotel."
As students of Bournemouth University continue with a thorough analysis to determine the winners of the Awards, hospitality professionals around the world are preparing to make their way to the Awards Ceremony which will take place at The Kimpston Fitzroy in London on 22 May. The ceremony, which forms part of the Boutique + Lifestyle Hotel Summit, will honour the properties that offer the best in guest experience across the Award categories, and is not to be missed. "We are so excited," says Sophie, "and have everything crossed in the meantime!"