The data collection period for the 2018 Boutique Hotel Guest Experience Awards (BoHos) has concluded, and the winners are set to be announced at the Boutique + Lifestyle Hotel Summit on 21 May.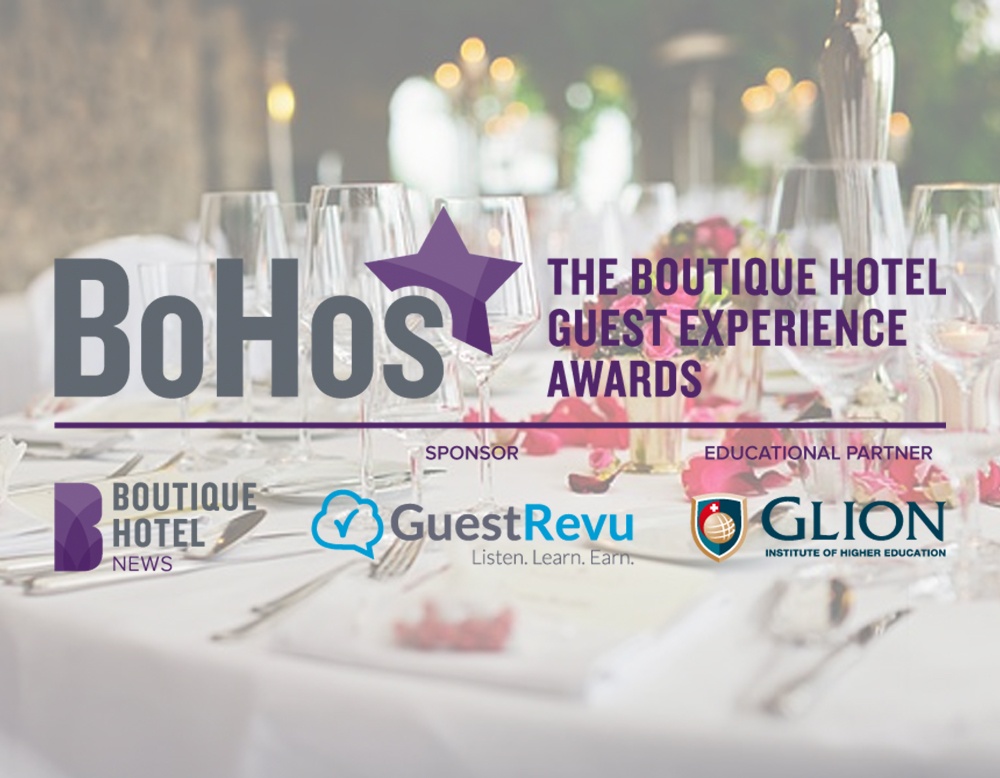 After three months of guest feedback collection, in the form of online reviews and direct feedback surveys, followed by an intensive period of data analysis by Glion Institute of Higher Education, the following hotels have been shortlisted for their respective categories in the second annual BoHo Awards:
BoHos Shortlist
UK Country and Coastal
1 - 20 rooms
Bethnel & Bec, Hertfordshire
Swain House, Somerset
East Thorne, Cornwall
Cedar Manor Hotel, Cumbria
The Greyhound Inn, Oxfordshire
Plas Yn Dre Inn, Bala
21 - 50 rooms
Dunalastair Hotel Suites, Pitlochry
Cotswold House Hotel, Gloucestershire
Grand Hotel Tynemouth
The Montagu Arms Hotel, Hampshire
Mullion Cove Hotel, Cornwall
51+ rooms
Raithwaite Estate, Yorkshire
Balmer Lawn Hotel, Hampshire
UK City
1 - 20 rooms
Langtry Manor, Bournemouth
The Abel Heywood, Manchester
Hotel Bosco, London
Ethos Hotel, Oxford
21- 50 rooms
Tara Lodge, Belfast
The Dunstane Houses, Edinburgh
The Draycott Hotel, London
Montagu Place Hotel, London
B+B Edinburgh
51+ rooms
The Trafalgar St. James, London
Point A Hotels Canary Wharf
The Lalit, London
Sunborn London Hotel
Point A Hotels Glasgow
International
1 - 20 rooms
Clifftop Lodge, South Africa
Klaserie Sands River Camp, South Africa
Founders Lodge, South Africa
Follonico, Italy
Hamiltons Tented Camp, South Africa
21 - 50 rooms
Oceana Beach & Wildlife Reserve, South Africa
Rivonia Bed & Breakfast, South Africa
Villa Samadhi Kuala Lumpur, Malaysia
The Edison George Town, Malaysia
Monate Game Lodge, South Africa
De Hoek Country Hotel, South Africa
51+ rooms
Hotel Indigo St Petersburg, Russia
The Europe Hotel & Resort, Ireland
Royal St Andrews Hotel, South Africa
Hotel Rangá, Iceland
Kievits Kroon, South Africa
Treasury on Collins, Australia

Unlike many other hospitality awards, the BoHos are not awarded based on the opinions of judges, but are rather based on feedback from real guests. This means that the awards are a true reflection of the overall level of service, attention to detail, and excellence of guest experience at the respective venues.
This was precisely what intrigued Craig Webb of the shortlisted Cotswold House Hotel in Gloucestershire.
"It is always interesting to be part of something like the BoHo Awards, in particular when you are rated on actual guest feedback rather than who can generate the most votes on social media."
— Craig Webb, General Manager of Cotswold House Hotel & Spa
Nikki Swart of the shortlisted Rivonia Bed and Breakfast in South Africa agrees wholeheartedly. "There is nothing like it in the hotel industry," the co-owner of the previously BoHo Award winning property says.
"The methodology used to measure success is scientific and based on a (sadly) innovative concept: what the guests think!"
— Nikki Swart, Co-Owner of Rivonia Bed & Breakfast
Missed the last BoHo Awards? Want to learn more about the latest industry events? Click on the banner below.