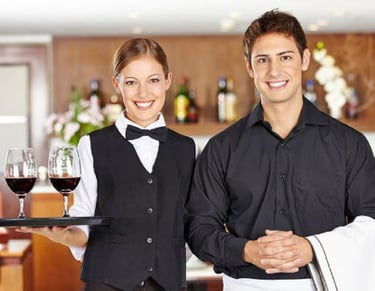 Having a happy, unified workforce provides a solid foundation on which to build a successful hotel. It creates a positive synergy with guests, establishes the reputation of your business, and ultimately leads to positive guest reviews.
In the age of Internet, where almost everyone is a blogger or critic with instant access to thousands (if not millions) of people through social media channels and online review sites like TripAdvisor, building this foundation becomes paramount.
So what can hotel owners do in order to harness the power of their staff?
Recruitment
A hotel might boast grand architecture and a superb location, but without a solid team, it's going nowhere fast. Recruitment is the first step towards building a successful business, and should be taken up with as much vigour as your marketing efforts.
Begin by ensuring you have a strong employer brand. Ask yourself honestly if yours would be a great hotel to work at, and address areas where you think you fall short. The talent you're looking for will overlook you if your employer brand is unappealing.
Social media is also your friend when it comes to recruiting. If you think you've found a good candidate, check out their social media profiles to find out what they'd potentially bring to the table. Does their Twitter timeline exude sarcasm and negativity? Probably not a good match …
a quick read through any hotel's TripAdvisor listing will show you that good reviews frequently mention individual staff members
Recruiting the right people for the right positions in your hotel will ensure that it runs smoothly and guests will be well looked after. Having a friendly and helpful staff makes a good impression on guests, and a quick read through any hotel's TripAdvisor listing will show you that good reviews frequently mention individual staff members.
Improvisation
In a 2016 study conducted by the Centre for Hospitality Research entitled 'The Role of Service Improvisation in Improving Hotel Customer Satisfaction', research concluded that hotel managers should encourage their employees to improvise service processes as necessary, with a goal of improving guest satisfaction.
It pointed out that guests were appreciative when employees took initiative and broke away from their traditional roles within the hotel, doing everything they could to fulfil a request then and there.
But this certainly isn't a new insight.
Isadore Sharp, founder of world-renowned hotel brand Four Seasons understood this better than most when he started building his empire.
Despite knowing next to nothing about the hospitality industry when he began building hotels in 1961, Sharp had a keen instinct for what guests wanted, and his hiring policy ensured that the right people were brought in to achieve the high standards of customer satisfaction with which Four Seasons has become synonymous.
He encouraged personalised service by giving all staff the authority to act instantly if guests made a request, regardless of position.
"If we're seen showing greater concern for power, prestige and costs than for the customer and the values we profess, then we forfeit belief and trust along with our goal of trying to be the best," he said.
Today, Four Seasons generates around $4-billion in annual revenue and is an industry leader in terms of cultivating positive guest relations.
Employee Satisfaction
If you take care of your employees, they will take care of your guests in turn, and those guests will ultimately pass on the word, online and offline, and attract new business. Imagine trying to summon a smile to greet a guest when you're working your fingers to the bone for a poor salary, no benefits and a surly boss. Why should your team bother if you don't?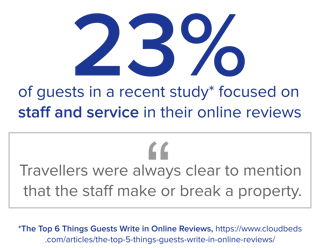 Recognise your team for doing a good job and give accolades when someone earns a positive guest comment, or when you reach a certain TripAdvisor ranking. This will go a long way towards developing a strong team.
It's also important to ensure there's a strong culture of leadership within your hotel. That hands-on attitude filters from the top brass down to the front desk.
"We are in the service industry. This means that despite the cost of labor and benefits, we need to provide good service to our employees as well as our guests," says President of hospitality consulting firm R. A. Rauch & Associates, Robert Rauch.
"Employees who are satisfied at work, show up with a positive attitude, receive strong guidance, have clear expectations and are recognised for their efforts convey these attributes to our guests and provide a substantially better service experience."
A culture of reviews
Make sure that employees know that they are instrumental in the success or failure of the business, and that reviews are one of the cornerstones of success. Each team member should understand that all of their actions, behind the scenes as well as in face-to-face interactions with guests, will influence the business's online reputation, and that it is in their best interests for the business to thrive.
Cultivate a culture of reviews by encouraging your team to ask visitors to leave reviews, and rewarding individual members of staff when they are mentioned by name in reviews.
You need a team that offers such exemplary service that visitors feel compelled to mention individuals in an online review. Recognising and rewarding staff members who are achieving this goal will encourage the rest of the team to do the same.
Cultivate a culture of reviews by encouraging your team to ask visitors to leave reviews, and rewarding individual members of staff when they are mentioned by name in reviews
If you have people in your team who care about guest satisfaction and hospitality, give them the freedom to make decisions that will enrich a guest's experience, make sure that they are satisfied in their jobs and want to do their best, and that they are aware that their performance impacts the business's online reputation, you should have a team that inspires guests to write positive reviews for your hotel.
If your staff is enthusiastic and eager to please, that positive energy is transferred to the guests, and their pleasant experience ends up online for the world to see. It's that simple.