Occasionally in hospitality, less really is more – even if that means less space. While some guests may opt to book your presidential, honeymoon or penthouse suite, there will always be guests who are looking for a room that is smaller, simpler, and frankly a better fit for their budget. And what could be smaller, simpler, or less costly, than a pod?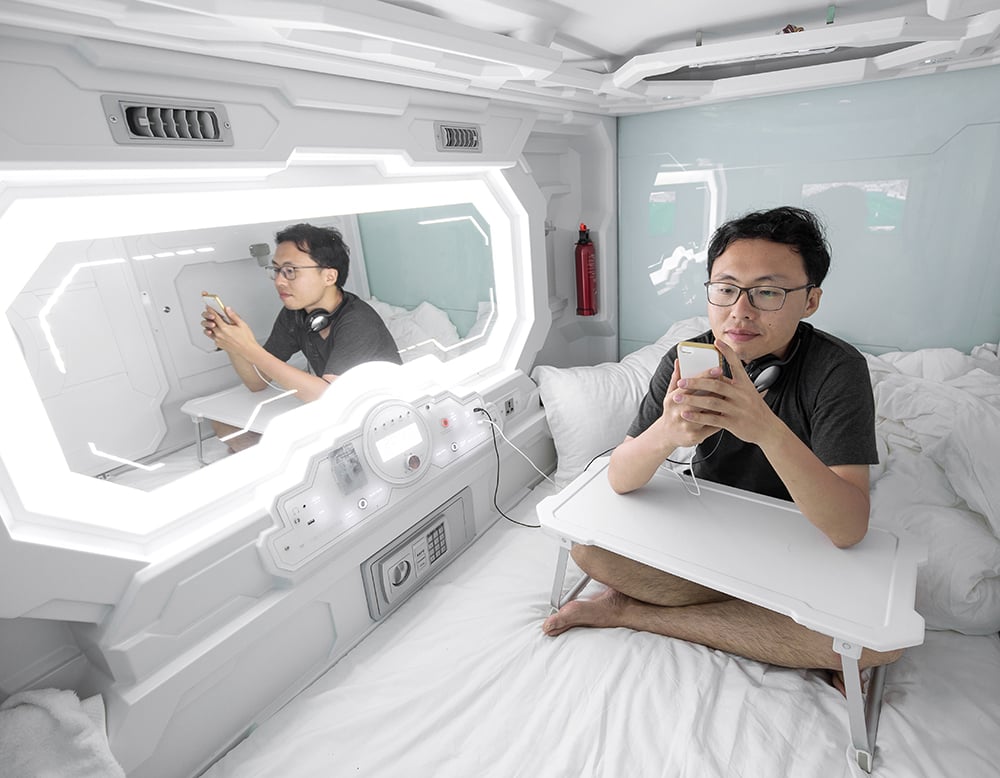 This month, we look at the trend of pod hotels, which have been steadily expanding across the globe from their native Japan, to Istanbul, Israel, the UK, the USA and beyond.
What is a pod hotel?
Pod hotels, also commonly referred to as capsule hotels, may seem like a 21st century idea, but it's hardly a new one. The first of its kind, Capsule Inn Osaka, designed by renowned Japanese architect, Kisho Kurokawa, opened its doors in 1979.
At its bare bones, a pod hotel features guest rooms that are only just big enough for a single bed that a guest can crawl into and sit up on, but certainly not big enough to stand in. While amenities on offer in the room often include a television and plug points; bathrooms, lounge areas and other facilities are almost always communal, making it easier to rent out multiple tiny spaces in a night at a low cost.
"For the same price as a lengthy train ride to their homes in the outskirts, they could instead slide their weary bodies into a personal pod, complete with TV and alarm clock, within minutes of calling it a night." — Cynthia Drescher, Condé Nast
While Cynthia Drescher explains in her Condé Nast article that capsule hotels were originally intended for workers as a "place to pass the hours between and buy a clean shirt before beginning the cycle anew each day", the bite-sized rooms are becoming more popular amongst travellers who need somewhere to sleep for a night or two that won't break the bank.
Read the full article at Condé Nast >>
Why do guests want to stay in pod hotels?
Crawling into (and out of) a space to sleep may sound more like a prison break than the great escape from reality that travellers often seek, but the simplicity that pod hotels offer is often exactly what travellers want, particularly when strapped for time, travelling on a low budget, or looking to travel with a reduced footprint.
''Many people had graduated from staying at a hostel but couldn't quite afford to stay at a hotel… We try and only charge people for the space they use." — Russell Kling, FRAME
Russell Kling, who opened Pangea Pod Hotel, the first of its kind in Canada, with his wife Jelena in late 2018 is no stranger to travelling on a budget. In fact, he and Jelena met in a hostel in Prague, and, according to FRAME, it was while planning a trip to Whistler in Canada that the two discovered a lack of budget accommodation, and the opportunity for a pod hotel in the small ski-town. At only 4.6 square metres, the pods Pangea provides are certainly smaller than your average hotel room, but as Leigh McAdam explains, they can hardly be described as uncomfortable.
"Once inside the pod, it felt cozy but not tight. I could comfortably sit up, wriggle into a pair of shorts and touch the walls from the middle of the bed. The ceiling doesn't feel like it's suffocating you and with a curtain I didn't feel closed in the way I would with a door. I literally heard nothing from the moment I closed my curtains – not a cough or a snore or a door closing." — Leigh McAdam, Hike Bike Travel
The simplicity and space efficiency that pods can provide also lend them well to airport accommodation according to Travel + Leisure - they offer a perfect spot for travellers with long layovers to rest and recharge (both minds and devices). Pod hotels can already be found at airports in London, Paris, Istanbul, Singapore, Edinburgh, and locations around the USA, and the trend is hardly slowing.
Read the full article at FRAME >>
Read the full review at Hike Bike Travel >>
Read the full article at Travel + Leisure >>
How does the trend benefit hoteliers?
Knowing that travellers are interested in space-efficient accommodation may be enough for some hoteliers to consider embracing it, but how many travellers are showing interest, and what other benefits do pods offer to accommodation providers?
"Since 2016, there's been a 95% increase in compact-sized hotels rooms, and they're appearing in UK cities like London, Edinburgh, Belfast, and Dublin." — Travel Pulse
A good place to start is understanding that whether you're looking to offer pods or not, rooms are getting smaller. According to Travel Pulse, though your average hotel room in 2015 was 32.5 square metres in size, by 2018, 18% of UK hotel rooms had shrunk to 11.2 square metres or less.
Brands like Premier Inn are showing hoteliers that it doesn't have to be an either-or situation when it comes to room size. According to Travel + Leisure, their ZIP hotels' rooms offer a compromise in size, fitting into the compact sector, but providing more space than a pod at 8.5 square metres in size.
Between the increased demand from travellers for compact and affordable accommodation, the shortage of accommodation in general in areas like Dublin, and the opportunity for creativity in design, pod hotels shouldn't be too far from many hoteliers' minds.
Read the full article at Travel Pulse >>
Read the full article at Travel + Leisure >>
Read the full article at The Irish Times >>
Things to consider before taking the leap
Though many pod properties manage to make the most of their limited space by converting it into cozy but comfortable sleeping quarters, there are properties that have been less successful in their efforts to transform rooms into pods.
"From poor lighting to intrusive noise-levels to inadequate surface materials and more, not all travelers necessarily agree that the comfort level of micro-hotels equals that of traditionally-sized rooms." — Kadie Yale, Buildings.com
As Kadie Yale points out in an article for Buildings.com, areas such as lighting, layout and acoustics become both essential and tricky to get right in a pod environment. And, as many visitors to Corbigoe in London (including the Consumers' Association, Which?) have discovered, it's not just the size of rooms, but what you do with it that matters. Corbigoe boasts the smallest hotel room in London at under five square metres (including an en-suite bathroom), but guests have found that it's hardly the restful space they were looking for. It is smaller than a parking spot, after all.
Reviews of the property itself show that even when paying a budget price for accommodation, guests still expect a level of comfort and service that Corbigoe clearly doesn't offer, but pod hotels, even with their smaller sleeping areas, are able to provide.
Read the full review at Buildings.com >>
Read the full article at Which? >>
What does the future of pod hotels look like?
Pod hotels are not only gaining in popularity around the world, but they're also evolving at a rapid pace. Take, for example, the pod of the future as conceptualised by Aprilli, which incorporates the technology of self-driving cars to offer guests pods that drive themselves between destinations.
Read the full article at Digital Trends >>