Love it, hate it, respect it or loathe it, TripAdvisor is a goliath of the travel industry and affects your hotel whether you know it or not.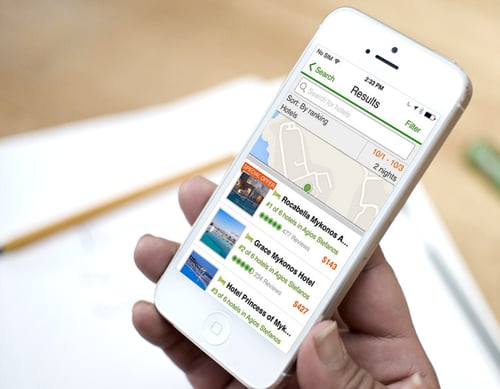 Because of its influence, we have written several articles about TripAdvisor and what hoteliers need to know about the platform to make the most of it to promote their hotel. Here is a round-up of eight of the top things about TripAdvisor hoteliers need to know:
1. How TripAdvisor calculates your ranking
When a tourist searches for hotels in a certain area, TripAdvisor shows the hotels in a list, but the order of the list isn't random – it is determined by a hotel's ranking as measured by TripAdvisor's popularity index algorithm (which was updated in 2016, mainly to level the playing field between new and established hotels, and again in 2018, to better reward consistency in review scores over time). Your popularity isn't simply determined by how many bubbles you get in your reviews it is also influenced by how many reviews you get and how recently your hotel was reviewed. Find out more about what determines your ranking and how you can improve it.
2. Real reviews, even when negative, are beneficial to your hotel
Articles praising or questioning the integrity of TripAdvisor reviews frequently appear in travel trade publications, and there is even an entire industry geared towards unfairly (and sometimes illegally) manipulating business's TripAdvisor rankings. Take The Shed, for example. What the unethical hoteliers that engage in these practices seem to forget, however, is that honest reviews, even when negative, can provide valuable business intelligence, and can even act as a catalyst for you to boost your online reputation. Find out more about how honest online reviews can help your hotel succeed.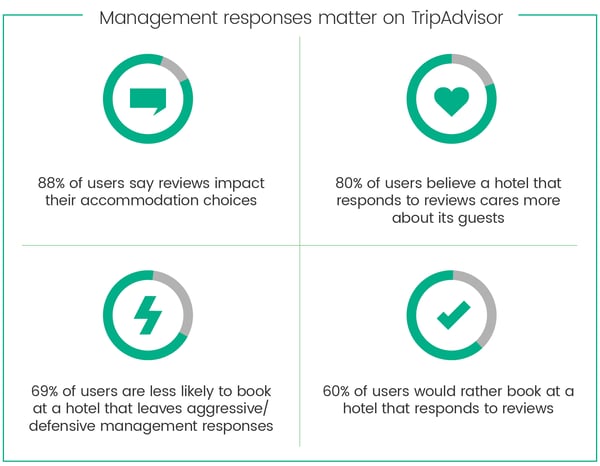 3. Users will think more highly of your hotel if your respond well to negative reviews
Negative feedback is a part of the hospitality industry. Things do go wrong, milk gets spilt, and you can't please all the people all the time. However, the manner in which you deal with criticism (good, bad or ugly) is often far more important than the criticism itself – especially when you are dealing with it online for all the travellers of the world to see. The "three Rs" technique – react, respond and repair – can help you to manage negative reviews so that they don't damage your online reputation.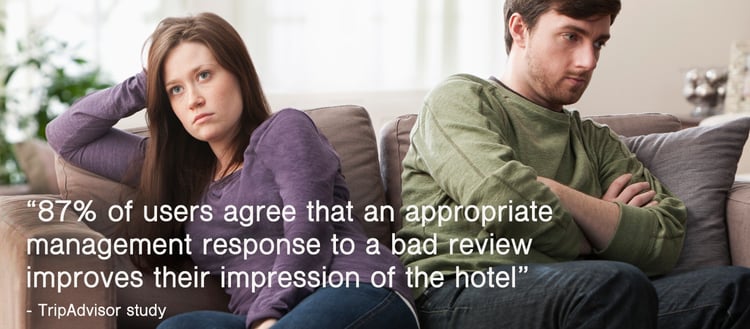 4. Defend your hotel against being blackmailed with the threat of bad reviews
It is happening more and more, even to the most tender-hearted hoteliers – unscrupulous travellers threaten to write a scathing review of an establishment unless they are given discounts, room upgrades or other freebies. However, dealing forcefully but diplomatically with would-be blackmailers can sometimes quell the situation, and TripAdvisor offers ways for hoteliers to get in contact with them to preemptively prevent libellous reviews from reaching the site. Have a look at our suggestions for dealing with review blackmail threats, in case this happens to you.
5. Why some reviews don
'

t get published

Many hoteliers have suffered the disappointment of being promised a stellar review by a guest when they leave, and then never having that review materialise on TripAdvisor. It could be that your guest forgot or got busy, or it could be that they accidentally violated one of TripAdvisor's quality control guidelines. Some of them are obvious (like no swearing) but others are easy for the inexperienced TripAdvisor user to inadvertently overlook (like using all CAPS too much). Make sure that when you ask a patron to write you a review, they are aware of the review guidelines.
6. What TripAdvisor awards are and how you can earn them
In the information age, your online reputation is one of your most important marketing tools, and one of the best ways to boost your reputation is with an award – especially one earned by impressing other travellers, such as those awarded by TripAdvisor. TripAdvisor awards include Certificates of Excellence, GreenLeader Certifications, and the coveted Traveller's Choice awards. Find out more about TripAdvisor awards and how to earn them.
7. TripAdvisor
'

s free widgets can bring parts of your TripAdvisor listing to your own website

TripAdvisor provides a number of widgets that you can place on your website free of charge. These widgets automatically pull your most recent reviews, your bubble rating or your ranking for your area directly from your TripAdvisor listing to your website. TripAdvisor's widgets can provide valuable social proof that will help convince travellers to trust your hotel. Find out more about using widgets on your website.
8. You can use an official partner to collect more reviews
The most crucial element of any TripAdvisor listing is a constant stream of high quality reviews, but sometimes getting guests to post these reviews seems like a fruitless slog. Working with a recognised TripAdvisor review collection partner makes it easier for you to ask your guests reviews, often by automating the process, and makes it more convenient for guests to post their reviews. Find out more about working with a TripAdvisor review collection partner.